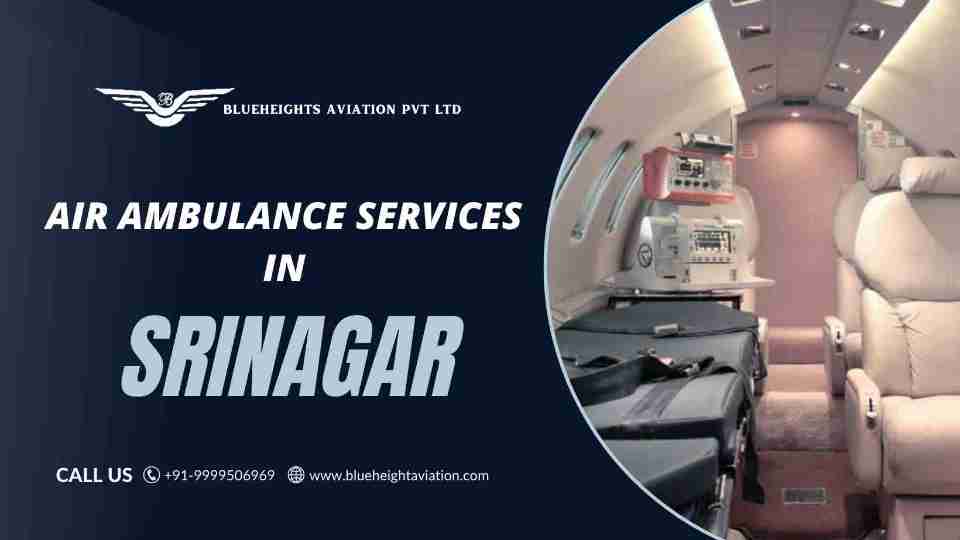 Air Ambulance Services in Jammu & Kashmir
Air Ambulance services are very important for patients who suffer from serious medical conditions and need immediate medical attention. They provide emergency transport to hospitals across India.
There are several advantages of using air ambulance services over other modes of transportation such as road or rail. These include faster response times, better quality care, and lower costs.
If you are looking for Air Ambulance Services in Srinagar, you are at the right spot!
Air Ambulance Service In Srinagar
Srinagar is home to several government hospitals and private clinics. These include the Sheri Kashmir Institute of Medical Sciences (SKIMS), Mubarak Hospital, JVC Hospital Bemina Srinagar, and Super Speciality Hospital. While these hospitals offer good medical facilities for general treatment, ofthen the people from Srinagar require emergency evacuation for medical complications.
It is where the role of Air Ambulance becomes pivotal. It provides a safe and reliable mode of transportation for patients requiring urgent medical assistance. The cost of an air ambulance service can be quite high but it is worth every penny if compared with the risk involved in taking a patient on a road vehicle.
The best part about air ambulances is that they have advanced life support systems which ensure that the patient gets all the required medical attention during the flight. This includes oxygen supply, monitoring equipment, and intravenous fluids.
Blueheights Aviation Air Ambulance Services in Srinagar
The most reliable and hi-tech low-cost air ambulance in Srinagar is here to provide you with the best quality of life-saving services. You don't have to worry about anything because our team is always ready to take care of you. We are providing 24/7 emergency medical assistance to people across India.
Our main aim is to make sure that we reach you within 30 minutes of receiving the call. We know how important it is to receive proper medical attention during critical situations. So, we are offering round-the-clock emergency medical services.
Our highly trained paramedics are ready to assist you anytime. They are well-equipped with the latest technology and medicines.
We are providing specialized services like neonatal, paediatric, cardiac, trauma, orthopaedic, neurosurgery, etc. We offer affordable prices for our services.
With the help of our efficient team members, we can reach the destination within no time. Our well-trained paramedics carry out the required procedures to ensure the safety of the patients during the flight. We are always ready to assist people in case of any emergency situation.
How to Choose the Best Air Ambulance Services in Srinagar?
Air ambulance Srinagar is the best way to get your loved ones out of a remote location. They provide the fastest and safest means of transporting patients from one place to another. Air ambulances have been used for many years now, but they have only recently become more popular than ever before. There is no doubt that these vehicles are very useful when it comes to saving lives. However, there are some things that you need to keep in mind while choosing an air ambulance company. Here are some of them:
• Availability: Make sure that the air ambulance company you choose has enough resources to handle emergencies. If not, then you should look for other options.
• Cost: The price of the air ambulance service depends on various factors such as the distance between two locations, the number of passengers, the type of aircraft, etc. The pricing varies among the different private operators but the quality of service they offer also plays a pivotal role in governing their pricing.
• Medical Equipment: Air ambulance companies must have the necessary medical equipment to treat patients properly. A low-cost air ambulance without the required equipment is of not use.
• Experience: A good air ambulance company will have a lot of experience in this field. They are well-versed in the right process to speed up the medical evacuation. Therefore, you should check their track record before hiring them.
• Emergency Response Time: It is very important to find out whether or not the air ambulance company can respond quickly to emergencies.
• Reputation: Check the reputation of the air ambulance company before hiring them. Highly reputed companies ensure quality services with prompt customer service.
Why Choose Blueheights aviation Air Ambulance Services in Srinagar?
Blueheights Aviation is one of the fastest-growing air aviation companies in India. We provide quality medical care to people living across the globe. Our mission is to provide world-class healthcare solutions to our clients by providing high-quality medical facilities, trained doctors, paramedical professionals, and well-maintained equipment. With over 150 branches spread across India, we continue to expand our network to reach out to more people and make Healthcare accessible to everyone.
Our vision is to become a global leader in the field of Medical Tourism, Hospitals Management, Corporate Health Care Solutions, Research and Development and Education.
Our team of highly skilled paramedics and drivers ensures that every patient receives the utmost care and compassion during transportation. We take great pride in ensuring that our patients receive the most effective treatments in hospitals located near their homes.
We market a fleet of modern ambulances and state-of-the-art hospital buses. These vehicles are fully air-conditioned and equipped with modern life support systems. They are manned by experienced paramedics and drivers who are dedicated to delivering excellent customer service.
What is the Cost of an Air Ambulance in Srinagar?
The average Air Ambulance cost in Srinagar is 4.5 lakh to 5 lakh. However, there are several factors that decide the final Air Ambulance price in Srinagar. Factors such as the location of the airport from which the flight departs, the time of departure, the requirement of the paramedic team, the condition of the patient, the medical equipment required while transfers, etc. play an important role in determining the overall Air Ambulance Price per hour.
You May also like :
Your Private Charter Journey Starts Here
Subscribe and we'll send the best deals to you