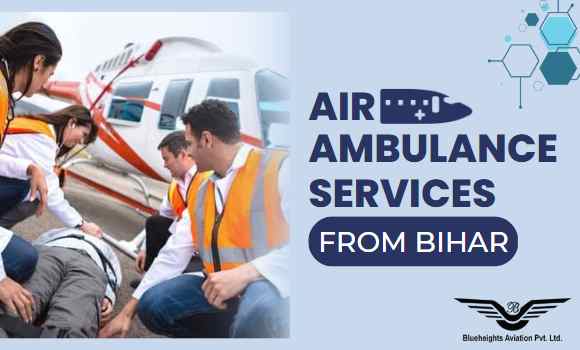 Air Ambulance in Bihar
An air ambulance is a helicopter or other aircraft that can quickly transport individuals needing medical attention to healthcare providers. Air ambulances have the potential to save countless lives, which is why they are increasingly utilized around the world.
In Bihar, air ambulances offer an essential service and provide a vital link between remote rural areas and better-equipped urban hospitals.
The Need for Air Ambulance Services in Bihar
Bihar is India's most populous state and a major agricultural producer. But the region still needs to work on its infrastructure and healthcare system. Its far-flung villages remain isolated from medical treatment, particularly during natural disasters that make roads inaccessible. These limitations prevent people suffering from serious injuries or illnesses from accessing quality care in time, which is why air ambulances are crucial for Bihar's rural population.
Benefits Of Air Ambulances In Bihar
The use of air ambulances within Bihar has been beneficial on numerous occasions. With the help of air ambulances, several patients were rescued in just the nick of time. One of the significant challenges is the timely arrivals across difficult terrain conditions or challenging roads due to landslides/ other natural disasters. Hence, transportation via regular ground ambulance becomes impossible at times.
Air Ambulance services also effectively transport critically ill patients who require specialized medical treatment quickly from a distant location. Air Ambulances are crucial in saving lives by reducing critical waiting periods, which could otherwise prove fatal if not attended immediately.
Blueheights Aviation - Most Reliable Air Ambulance Services
Blueheights Aviation is one of the most reliable air ambulance services in Bihar. They provide a wide range of medical evacuation services to patients needing urgent medical care. Their team of experienced and highly trained professionals is dedicated to providing the highest quality care for their patients.
The company has been providing air ambulance services in Bihar for the last 10 years., and they have a fleet of helicopters and airplanes. With their vast experience in the aviation industry, they are the leading providers of private jet charters, Charter helicopters for Chardham and Do Dham yatra, and air ambulance services worldwide.
Experienced Staff
A highly experienced and dedicated crew staffs the air ambulance in Bihar. The team consists of medical professionals, pilots, and technicians who are all trained to provide the highest level of care for patients in need of emergency transport.
The pilots are highly experienced in flying in challenging conditions and terrain and have the necessary skills to transport patients from one location to another safely.
Well-Equipped
The medical staff includes doctors, nurses, paramedics, and other healthcare professionals experienced in providing critical care during transport. They know the latest treatments and protocols for medical emergencies and can provide the best care possible.
Bed-to-Bed Transfer
Blueheights Aviation offers a bed-to-bed transfer facility for critically ill patients. Separate arrangements were made for the patients suffering from Covid-19.
Experience
We have shifted many patients from Patna by Charter Air Ambulance, Train Ambulance Services Road Ambulance- Ventilator Ambulance, ICU, Cardiac Ambulance, Normal Ambulance, and Dead Body Ambulances are Available in Entire Bihar.
What is the cost of an Air Ambulance from/to Bihar?
The cost of an air ambulance from/to Bihar depends on various factors, including the type of aircraft used, distance traveled, the medical crew required, and any additional services needed. Generally speaking, air ambulance services in Bihar can range anywhere from Rs 1 lakh to Rs 5 lakh or more.
For example, an air ambulance service from Patna to Delhi may cost around Rs 2.5 lakh, while an air ambulance service from Patna to Mumbai may cost around Rs 4 lakh. To avail of the best prices, Call Blueheights Aviation now!
Air Ambulance in Bihar - A Necessity
An effective transportation system combined with well-staffed medical facilities go hand-in-hand for optimum healthcare outcomes for any region - this applies even more so within less developed states like Bihar, whose population needs constant support with regards to infrastructure & services, especially where rural populations are involved since they typically lack access compared to those living metro cities.
With the emergence of advanced technology and awareness campaigns & initiatives run by NGOs highlighting the importance of sound emergency response systems such as Blueheights, including those utilizing aviation technologies.
More citizens have become aware of the timely lifesaving benefits these measures can bring about during crises, leading to successful outcomes when combined with rapid but professional actions on behalf of healthcare providers across various settings ranging from remote areas & urban regions both alike in Bihar.
Your Private Charter Journey Starts Here
Subscribe and we'll send the best deals to you