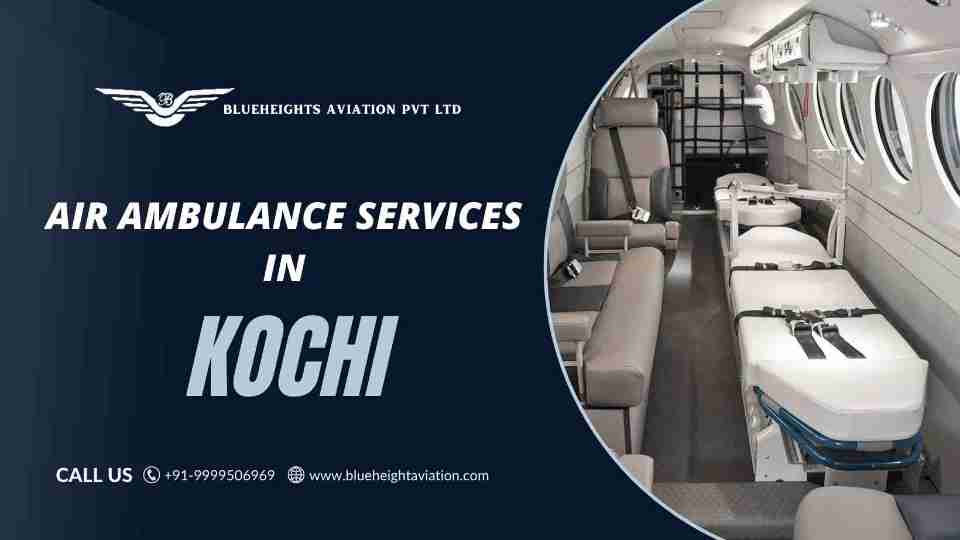 Air Ambulance Service in Kochi
Located on the southern tip of the Indian Peninsula, Kochi has always been known for its beautiful backwaters and lush green forests. The state also boasts some of the oldest temples in India. Kochi is home to several tourist attractions such as Cherai Beach, Marine Drive, Santa Cruz Basilica, etc.
However, the city struggles with chronic diseases widespread in a significant proportion of its population. The real challenge is accommodating medical emergencies, as the city has lower compliance with them. Owing to the high healthcare costs due to inadequate medical facilities, people in Kochi often look up to other metros for advanced medical facilities.
Traveling via road is challenging, especially for critically ill patients, due to the longer travel duration. Hence, Air Ambulance Services in Kochi is one of the promising avenues many patients and their families are exploring.
Why Blueheight Aviation is Pioneer in Air Ambulance Services?
Blueheight Aviation in Kochi is a reliable partner for any medical evacuation. Our experienced employees are available day and night to talk to you. They can arrange medical transport for patients within the shortest possible time by jet or helicopter. You can inquire about phone calls or fill out our contact form.
Our long experience in international air evacuations also means we can provide quick responses in Kochi, India; we also handle the entire journey giving you one single point of contact.
We provide intensive care air ambulance Kochi flights from or to Cochin international airport. Our aircraft are fully equipped with permanent intensive care facilities, including ventilators, defibrillators, and monitors.
It allows us to provide rapid emergency treatment during the entire flight. If necessary, we can also transfer patients to nearby hospitals or clinics.
We can assist you with air ambulance transfers from Cochin airport if you need urgent care. Our highly trained professionals will take good care of you during your flight. We offer quick and efficient medical evacuation to ensure you receive the best treatment.
Our services include:
• Emergency Transfer
• Prehospital Services
• Post Hospitalization Care
• Patient Transportation
• Home Health Care
We offer a bed-to-bed transfer facility to our patients.
What is the Air Ambulance Price in Kochi?
The Air Ambulance cost in Kochi starts from 1.10 lakh and increases with the higher distance to be covered. Several factors need to be considered before finalizing the price. These factors include:
1) Distance between patient's residence and destination hospital
2) Type of aircraft used (Jet Vs. Helicopter)
3) Number of passengers carried
4) Duration of flight
5) Medical equipment required
6) Other Air Ambulance charges like ground handling, bed-to-bed transfer facility, etc.
Please note that these pricing are the air ambulance cost per hour.
How does Air Ambulance work?
Air Ambulances are designed to carry patients who require immediate medical attention. In case of emergency, they can be deployed at short notice. The aircraft has advanced life support systems allow it to land on unprepared runways. It also has sophisticated medical equipment onboard that provides critical care to the patient.
How Are Air Ambulances better than Road Ambulances?
Several aspects make road ambulances a better choice than road ambulances:
Highly Equipped: Air ambulances are highly equipped with life support systems to aid critically ill patients. It includes an oxygen supply, ventilation system, cardiac monitoring devices, intravenous drips, blood pressure monitor, defibrillator, pulse oximeter, suction machine, infusion pumps, IV fluids, medications, vital signs monitors, etc.
Faster Response Time: Air ambulances have faster response times than road ambulances. They can reach their destinations within minutes instead of hours for places with poor accessibility.
Better Comfort: Air ambulances are more comfortable than road ambulances. They are spacious and well-ventilated. Patients do not feel claustrophobic as there is no space constraint. There are no bumps on the road.
No Traffic Congestion: Unlike Road ambulances, air ambulances are not prone to face heavy traffic congestion. It saves time, thus transferring critical patients to medical facilities.
Reaching Inaccessible Places: While road ambulances are not feasible for reaching inaccessible areas, air ambulances can easily access these places. They can even fly over mountains or highlands, which is not valid with road ambulances.
How Can I Book Air Ambulance in Kochi?
You can call us at. A representative at Blueheight aviation will answer all your queries and proceed with your booking application. Alternatively, you can send us an email at. We will revert you in the shortest possible time to know about your exact requirements and proceed with the booking process.
Frequently Asked Questions
Q. Can you provide International Air Ambulance Evacuations?
A. Yes, we also arrange international evacuations. Our team of experts will help you plan and execute your evacuation needs. However, international evacuations require a few days to arrange the visa and comply with other formalities to travel abroad.
Q. How much time does it take to arrange the Air Ambulance?
A. While most transfers are arranged within a few hours of booking, emergency transfers are taken up on a priority basis. These transfers generally take place within 2 to 4 hours of booking.
For international air ambulances, there are several factors such as the passport and visa of all the passengers, including the patient, the requirement of advance flight crews on the long haul, the permissions on the destination land as well as the landing arrangements that decide the total time taken in transfers.
Q. Does Blueheight Aviation Offer Bed-to-Bed Transfer Facility?
A. Yes! Blueheight serves critically ill patients with a bed-to-bed transfer facility. Under a bed-to-bed transfer facility, the patient is transferred from one hospital bed to another. The patient is placed on a stretcher and then moved to the new location via helicopter. The aviation company's complete responsibility is to accomplish the patient bed-to-bed transfer.
Get a Free Quote from Blueheight Aviation Today!
You May also like :
Your Private Charter Journey Starts Here
Subscribe and we'll send the best deals to you