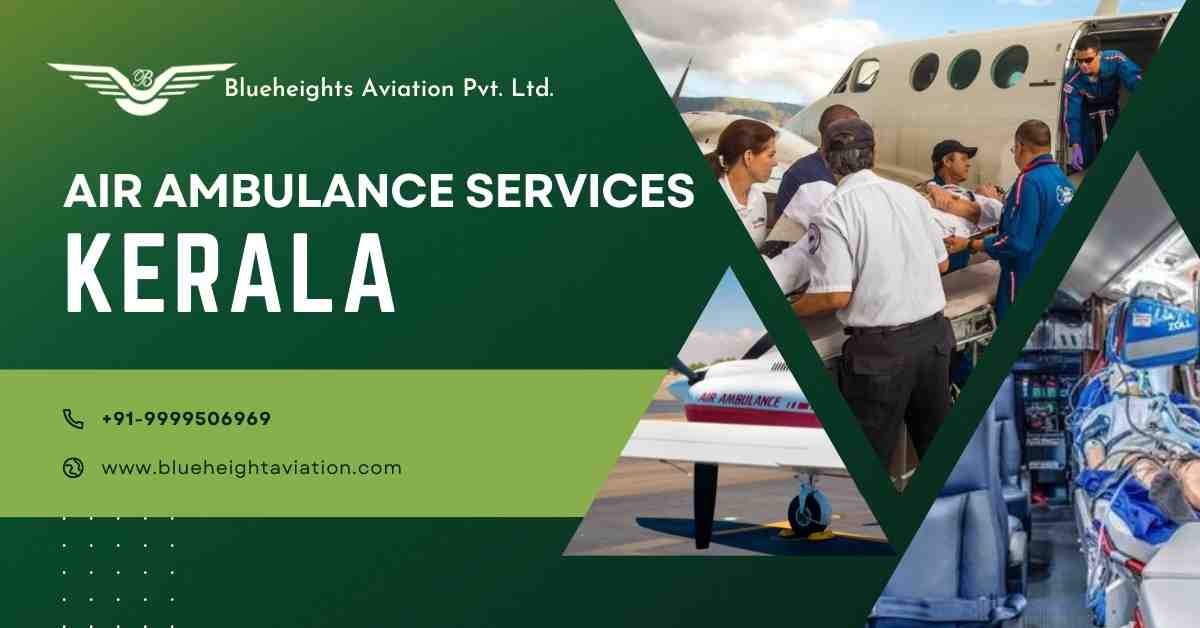 Air Ambulance Services in Kerela
Air Ambulance services have gained popularity this decade for their commendable comfort and quick evacuation. The air ambulance is the most advanced mode of transport the medical team uses to transfer patients from one place to another, even if they are located at great distances.
The air ambulance service has been developed as an alternative mode of transportation for emergency cases that require immediate attention. It is also used to provide better treatment options for critically ill or injured people who may not be able to reach hospitals on their own. These services can be availed 24 hours a day, 7 days a week, and 365 days a year.
What is Air Ambulance Service?
An air ambulance service is a medical transport company that provides emergency medical services to patients using aircraft, helicopters or other similar means of transportation. The primary purpose of an air ambulance is to provide immediate life-saving care during an emergency. It can be used for transporting people from one location to another when they cannot travel on their own due to health issues or any other reason.
What are the benefits of using an air ambulance service?
There are many reasons why you should consider using an air ambulance service instead of taking your loved ones to the hospital. Some of these include:
* You don't have to worry about waiting around at the airport for hours with your family members.
* An air ambulance will take them directly to the nearest hospital, where treatment can begin immediately.
* They may not require as much time and effort to get there compared to driving yourself.
* There won't be any traffic delays.
* They'll arrive faster than if you were to drive them yourself.
* If you need to make multiple trips, it's easier to use an air ambulance because they can stay in the air longer.
*They can fly over rugged terrains such as mountains and forests, making it safer for the patient.
*You can choose the type of vehicle (helicopter, plane) depending on what kind of trip you want.
Why do I need an air ambulance?
It could be a heart attack, stroke, severe asthma attacks, diabetic emergencies, etc. These conditions can cause sudden changes in blood pressure, loss of consciousness, seizures, coma, and even death. If you think that your loved ones might be in danger, you should contact an air ambulance service.
How to choose the best air ambulance service?
When choosing an air ambulance service, you need to look for several things. Here are some tips to help you find the perfect fit:
* Ask friends who have used air ambulance services before.
* Check online reviews.
* Ensure that the relevant governing body has accredited the air ambulance service.
* Find out how long they've been operating.
* Look for customer testimonials.
* Do not forget to check the price of the service.
* Contact the air ambulance service to ask questions.
* Ensure that they offer 24/7 assistance.
* Ask for a list of hospitals near your home or workplace.
* Ask about insurance coverage.
* Choose a reputable air ambulance service.
* Be careful of companies that charge extra fees for additional services.
* Avoid those that are too expensive.
* Compare prices between different companies.
What is the cost of the Air Ambulance Service in Kerela?
The cost of Air Ambulance services in Kerala varies from 6 lakhs to 18 lakh depending on the distance covered, the condition of the patient and the availability of a paramedic team for medical evacuation.
Why Consider Blueheights Aviation Air Ambulance Services as best?
We are a leading Air Ambulance Service provider in India, offering world-class medical services to patients from across the globe. We provide air ambulance services at affordable rates with a highly experienced team of doctors and paramedics. Our fleet includes modern aircraft like King Air B200, Twin Otter, Bell 206 Jet Ranger, Cessna Citation XLS+, etc.
We have been providing our service to various hospitals and clinics in India and abroad for the last 10 years. We offer a 24x7 emergency response service to all major cities in India.
We aim to provide excellent medical care to patients around the clock. We also ensure that every patient receives the best possible treatment & timely evacuation.
Our doctors and paramedic staff are trained to handle any kind of emergency, including cardiac arrest, stroke, trauma, high altitude sickness, heart attack, etc. They are equipped with the latest life support equipment and medicines to treat critical conditions.
We understand the importance of the time factor while dealing with emergencies. Hence we ensure that no delay takes place during the transfer of patients. The entire transportation process is done under strict supervision by our ground crew.
We offer bed to bed transfer facilities to ensure smooth transfer to hospital and vice-versa
We use state-of-the-art technology for monitoring the condition of patients throughout their journey. It helps us keep track of their vital parameters such as blood pressure, pulse rate, body temperature, oxygen saturation level, etc.
Separate arrangements are available for COVID patients to ensure a safe transfer. We strictly follow the COVID-19 protocols to ensure the secure transfer of our COVID and Non-COVID patients.
All the international flights are available in the major cities like Delhi, Mumbai, Hyderabad, Bangalore, Chennai, and other international airports across India.
To book an Air Ambulance from Cochin International Airport, Trivandrum International Airport, Kannur International Airport & Kozhikode Airport in Kerala, Call Us Now @ 9999506969,9650578989
You May also like :
Your Private Charter Journey Starts Here
Subscribe and we'll send the best deals to you