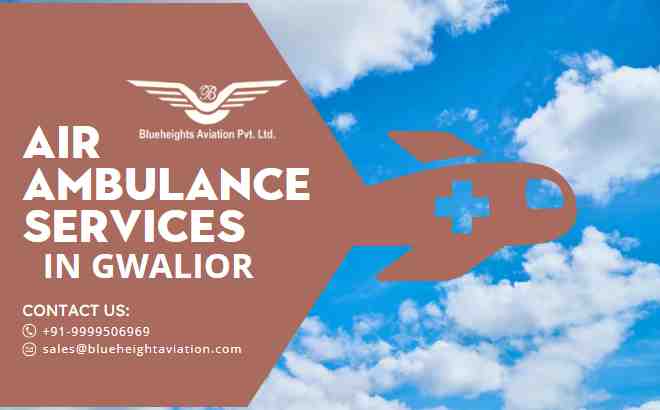 Air Ambulance Services in Gwalior
Gwalior is one of the most beautiful cities in Madhya Pradesh that also host the best-in-class medical facilities. It is one of the reasons why people from the neighbouring cities and states move down to Gwalior for better medical facilities. Also, the excellent connectivity of Gwalior via air ambulance allows its residents to move to other states or even countries for advanced treatments.
Technological advancements have paved the way for transportation as well. Air ambulances are gradually replacing ground ambulances for inter-city and inter-state transfers.
But how does an air ambulance service differ from other medical transport services? What makes them unique? Let's find out.
What is An Air Ambulance Service in Gwalior?
An air ambulance is a helicopter or plane equipped with emergency medical equipment and trained personnel who provide immediate medical care to patients requiring urgent transportation. They are designed to rapidly reach remote areas where ground ambulances cannot travel safely.
Air Ambulance Services in Gwalior are becoming increasingly popular due to their ability to provide rapid response times and high-quality patient care. The cost of using an air ambulance service is significantly higher than ground ambulance services. Still, they are becoming popular transportation due to their incredible advantages.
Air Ambulance - An Ultimate Choice when Time is Essence
Air medical services can travel faster than ground ambulances. They can fly long distances without refuelling and reach remote locations more quickly than a land ambulance. In addition, air medical services can often cover more significant geographic regions than land ambulances. For example, one study found that helicopters could access 80% of the population within one hour compared to 40% for ground ambulances.
1) The advantages of air medical services apply equally well to rural areas with fewer hospitals and less specialized expertise. Air ambulance services save the lives of communities' lives in places with no hospital beds or below-average medical facilities.
2) Ground ambulances were associated with increased mortality rates for severe medical cases in these communities. Air Ambulance is helpful in rural settings where it is difficult to transfer patients to a hospital quickly.
3) Another advantage of air medical services is that they can operate 24 hours a day, 7 days a week.
4)Air Ambulances are also better suited for transporting critically ill patients. The survival rate for patients transported by air ambulance was twice as great as those transported by ground ambulance.
5) Air Ambulances are trained to administer CPR and perform advanced life support procedures such as intubation. These skills are only available in some ground ambulance crews.
6) Air Ambulances have special training in treating trauma injuries. They know how to stabilize patients before transferring them to a hospital. In many cases, this prevents unnecessary hospital transfers, which would only delay treatment.
7) Air Ambulances are also specially trained to handle emergencies such as cardiac arrest. They can treat patients with heart attacks and strokes.
8) Air Ambulance Service is the ultimate choice when time is of the essence. It saves lives and reduces suffering.
Hiring air ambulance services in Gwalior can be a cost-intensive affair compared to ground ambulances. However, the level and the quality of services they offer make them a unanimous choice. Air ambulances are far more equipped with advanced technology to provide life support even during transit.
Role of Paramedics in Air Ambulance
Paramedics are trained professionals working in hospitals, ambulances, and community settings. Their role includes assessing patients' needs, providing treatment and transporting patients to the hospital or another appropriate facility.
Paramedics play a vital role in emergencies. They assess patients' conditions and decide whether they require immediate transport to the hospital. If so, paramedics will call an air ambulance service provider to arrange for their transportation.
Paramedics may also be called upon to assist in the prehospital management of patients requiring urgent care. They may help prepare patients for transport and monitor their condition while en route.
Paramedics are often involved in the initial assessment of patients who arrive at the hospital via air ambulance. They will check if the patient requires further investigation or treatment.
Paramedics may also be required to accompany patients from the scene of injury to the hospital. They will ensure that the patient receives proper care and that any necessary investigations are carried out.
The role of paramedics varies depending on the type of emergency. For example, paramedics may be called upon to deal with the following:
Cardiac arrests
Trauma incidents
Stroke
Severe Burns
Poisoning
Severe asthma
Acute respiratory failure
Respiratory distress
Heat stroke
When Should I Avoid Calling an Air Ambulance?
Unless you are not struggling with a severe medical condition and need to be evacuated on an emergency basis, there is no point in calling an air ambulance.
If you or someone else has been diagnosed with a medical condition that is not life-threatening, there are many ways to treat it without needing to call an ambulance. You can consider visiting a general practitioner or a pharmacist.
What is the process of booking an Air Ambulance?
The process of booking an Air Ambulance in India is straightforward. You can contact the relevant air ambulance provider via call or email. Most of these providers have a website that reveals the type of Air Ambulance they deal with. You can also choose to connect with them via the website.
Once you connect and explain your patient's condition, the paramedic team will understand the emergency and arrange the air ambulance services accordingly.
What is the Cost of booking an Air Ambulance in Gwalior?
The Price of Air Ambulance Services in Gwalior varies depending on various factors. The price depends on the distance between the location where the patient is located and the destination, the condition of the patient, the type of medical equipment required on board, whether there is any requirement for a paramedic team on board, the reputation of the Air ambulance provider etc. to conclude the Air Ambulance Services cost per hour in Gwalior.
Why Choose Blueheights Aviation Air Ambulance in Gwalior?
Blueheight Aviation is a pioneer in providing Air Ambulance Service in India. We provide 24/7 Emergency Air Ambulances to all major cities in India. Our Air Ambulances are equipped with state-of-the-art technology and highly trained paramedical staff. BlueHeights Aviation provides world-class Air Ambulance Services in Gwalior at affordable prices.
We take pride in providing the most reliable and safest services available today. We strive to ensure that we meet the highest standards of safety and professionalism while delivering the best-in-class service.
Our Air Ambulance Services include:
• Prehospital Care
• Intra Hospital Transfer
• Inter Hospital Transfer
• Post Traumatic Evacuation
• Cardiac Arrest Management
• Stroke Management
• Severe Asthma Management
• Poisoning Management
• Respiratory Distress Management
• Acute Respiratory Failure Management etc.
We also provide bed-to-bed transfer facilities. Special arrangements are made for covid and non-covid patients separately. We follow the strict Covid-19 protocols to ensure the highest safety of our patients. All the international air ambulance services are available from major cities like Delhi, Mumbai, Kolkata, Hyderabad, Chennai, and other leading international airports across India.
You May also like :
Your Private Charter Journey Starts Here
Subscribe and we'll send the best deals to you