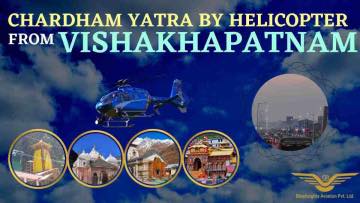 Chardham Yatra Tour Package By Helicopter From Hyderabad
CharDham Yatra includes the most revered sites in Hinduism that is beelived you to take you to the path of Moksha. It holds the highest significance in Hinduism and every devotees wish to complete this yatra atleast once in their lifetime.
In Char Dham Yatra, you will visit the holy sites of Kedarnath, Gangotri and Yamunotri and finally reach Badrinath. You will also see the beautiful sights of the Himalayan Mountains and the lush green forests. These four shrines are considered sacred by Hindus all over the world. Although there are two ways to Chardham yatra - by road and by helicopter, the most convenient is to avail yourself of the Chardham Yatra by Helicopter.
This post will guide you if you are looking for Chardham Yatra by Helicopter from Hyderabad.
As we know that the Chardham Yatra begins from the Shahastradhara helipad in Dehradun. First, you need to reach Dehradun from Hyderabad.
Day 1: Hyderabad to Dehradun
There are many ways to reach Dehradun from Hyderabad. If you are looking for the cheapest alternative, consider boarding a train to Hazarat Nizamuddin from Hyderabad and then board another train from Delhi to Dehradun. However, it will be a long and tiring journey of 32 hours. Alternatively, you can consider boarding a flight from Hyderabad to Dehradun. There are many direct and connecting flights available from Hyderabad to Dehradun.
Once you reach the Dehradun airport/railwaystation, one of our representative will escort you to your hotel. Blueheight aviation provides a complimentary overnight stay in Dehradun to its passengers to embark on a joyful and memorable journey for Chardham.
Day 2: Dehradun to Kharsali
The first of our visits to among four Dham will be to Yamunotri. Awake early morning to a delicious breakfast and then you will be ready for the journey to Dehradun Helipad - Sahastradhara to take the helicopter. The helicopter will arrive at Kharsali within 20 minutes. You will then be transferred to your hotel. After lunch, you'll head for these hot springs at Yamunotri by trekking, palki, or pony. It is also possible to pay a visit to the Shani temple before returning to your hotel to rest.
Day 3: Kharsali to Harsil
The next day, we'll take a trip towards Gangotri Dham, which is known as the place for holy river Ganga. We will travel to the Harshil helipad from Shastradhara Helipad via Helicopter and head towards Gangotri temple to celebrate Dharshan. Along the way, you'll be able to discover the vast apple orchards as well as the stunningly beautiful scenery of nature. It will take about 50 minutes to get to the Gangotri Temple by road. There is also Harshil's Shiv Temple in Harshil Bagodi Village Walk along the nature trail to Jhala and a quick trek towards Chholmi village.
Day 4: Harsil to Sersi
Next Day, you'll travel towards Harsil Helipad to get to Sersi to seek darshan of Kedarnath Ji. Shuttle service to Kedarnath Ji is available. It takes around 2 hours to visit Kedarnath Ji. Kali temple, located in Guptakashi, is an excellent excursion for devotees.
Day 5: Sersi to Badrinath
The devotees will depart for Badrinath after breakfast in Sersi. After the helicopter has been de-boarded at Badrinath, the pilgrims will be transported by vehicle from their hotel for the trek to Badrinath temple. Mana village is among the most popular tourist destinations near Badrinath. Mana village is also known as the last village in India due to its proximity to the China border.
Day 6: Dehradun
After visiting all four dhams, it's time to return after soaking in to the soulful memories. If you've booked for the Maha Abhishek Puja, you must be at the venue between approximately 4:30 to 6:30 at dawn. The time for arrival in Shastradhara at around 9:00 am. You will be transported to the Dehradun hotel to pick up your luggage from the cloakroom. Then, you will be taken to the railway station or the airport to take a train to Delhi. Blueheight aviation can also organize the flight tickets and helicopter charter services for Dehradun to Delhi, depending on the client's preference.

Terms & Conditions For Blue Height Aviation Helicopter Services
The passenger shouldn't carry baggage that weighs more than 2-5 kilograms. The excess weight of luggage will not be accepted on the helicopter.
All children over the age of 2 has a full ticket.
Don't confuse the reporting time and departure time. The reporting time is one hour earlier than the departure time.
Passengers are asked to come into our office wearing a CTT voucher.
The minimum wait time for a traveler is 2 hours, based on the conditions of the weather.
The temples are all in high altitudes, so travelers must carry a medical equipment with them.
There is no restriction or other concessions for children or older adults.
Any additional night of stay due to weather conditions will be the responsibility of the guest the hotel.
Our Services reserves the right delay the time of flight due to weather conditions that are not ideal.
Senior citizens and those with disabilities will be given preference
The duration for passenger darshan is 1hr 30 minutes.
In the helicopter ride, we do not take responsibility for your baggage.
If you take any shortcuts during your trek, we're not accountable for it.
Chardham Yatra Packages 2022 would be designed to accommodate passengers in groups of their own. It is however not always feasible at all times to split passengers into groups to allow for weight adjustments.
Important Note:
In the event of a flight being was cancelled or changed due to weather conditions technical difficulties, lack of passengers, or other reasons the passengers will be required to travel on their own, based on the package you purchased, a complete refund will be given. If you have any issues with 4 Dham Yatra helicopter tour services contact us on our support number and our experts will resolve your issue immediately.
Once you book Char Dham helicopter services, we will provide the finest services to ensure you have a relaxing and luxurious experience. In line with the increasing demands of our clients, we have a forte in providing the best helicopter services. Our team of experts regularly communicate with our customers and offer an option to rent a helicopter in accordance with their requirements and purchase these services from us at an affordable price.
Our access to fleet includes 100+ aircrafts as well as helicopters to ensure that no matter your travel requirement, we have the perfect aircraft for you within the shortest time. To enjoy an unparalleled air charter experience, book on with BlueHeight Aviation.
Why Consider Blueheight Aviation for your Chardham Yatra From Hyderabad?
Blueheight Aviation is one of the most reputable air charter companies with more than 10 years of experience in the industry. Our Chardham exclusive Yatra plans for 2023 can be highly customizable to meet our customers' particular needs and preferences. We provide our customers with the complete end-to-end arrangement to ensure their journey is memorable.
If you want to experience the ultimate pilgrimage experience, Chardham Yatra By Helicopter from Blueheight Aviation will bring you the soulful experience that you will cherish lifetime. You'll visit four holy spots along the way: Yamunotri, Gangotri, Kedar Nath and Badrinath. When you fly by helicopter from Dehradun to the sacred sites, you can see breathtaking panoramas of snow-capped mountains and lush valleys.

Experience The Best of Char Dham Yatra By Helicopter with Hyderabad Packages
For those seeking spiritual renewal, Blueheights Aviation is offering a unique and exclusive Char Dham Yatra tour package from Hyderabad. Enjoy visiting the holiest sites of India's Hindu tradition with a memorable helicopter experience that will take you on a journey of discovery and enlightenment.

Learn About the Char Dham Yatra Package from Hyderabad.
Our Char Dham Yatra package from Hyderabad offers pilgrims the chance to visit and experience the world's most important Hindu pilgrimage sites, all in the comfort of an exclusive helicopter tour. You will be taken on an unforgettable journey as you soar above India's beautiful cities, stunning mountains, and sacred rivers to reach each holy site for a serene and moving spiritual experience.

Understand How Helicopter Tour Saves You Time & Money.
Our helicopter tour package is designed to save you both time and money in comparison to traditional Char Dham Yatra tours by road. By flying directly from Hyderabad, you will bypass the long, tiring road journeys associated with the trip and significantly reduce your overall travel time. In addition, as our exclusive helicopter tour accommodates up to seven passengers, you can also significantly reduce your costs compared to other group travel options.

Avail of Beneficial Offers and Discounts On The Trip.
With Blueheights Aviation's best-priced helicopter package, you can avail of beneficial offers and discounts on the trip. Our team is continuously working to ensure that our customers receive the maximum benefit from their Char Dham Yatra experience at Hyderabad. You can also look forward to special packages during the peak pilgrimage season.

Get Ready to Explore Spiritual Wonders of the Char Dham Temple
With Blueheights Aviation's exclusive Char Dham Yatra package, you can now explore the mysteries of spirituality with ease and comfort. Our helicopters are equipped with state-of-the-art technology to ensure a safe and memorable journey. Our guides and experts will guide you through your spiritual experience in this pious pilgrimage, letting the beauty of Char Dham captivate your heart and soul.

What to Expect During The Pilgrimage Tour of Char Dham Yatra?
Char Dham Yatra is considered as one of the holiest sites in Hinduism, which would let you explore the divine beauty and insight of Hinduism. During your visit to the pilgrimage site, you will get a chance to explore all four major holy destinations- Badrinath, Kedarnath, Gangotri , and Yamunotri . You can pay visits to numerous beautiful temples, sacred places of worship and gain knowledge about their religious importance by learning from our tour guide. The pilgrim is sure to be blessed after visiting these spectacular sites!
You Might Also Like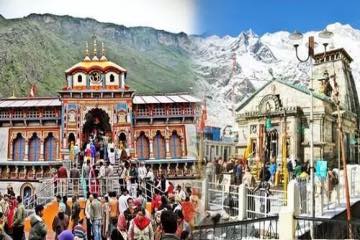 2N3D Helicopter Tour Package @ 120,000/ pax

5N6D Helicopter Package @ 199,000/ pax


Your Private Charter Journey Starts Here
Subscribe and we'll send the best deals to you