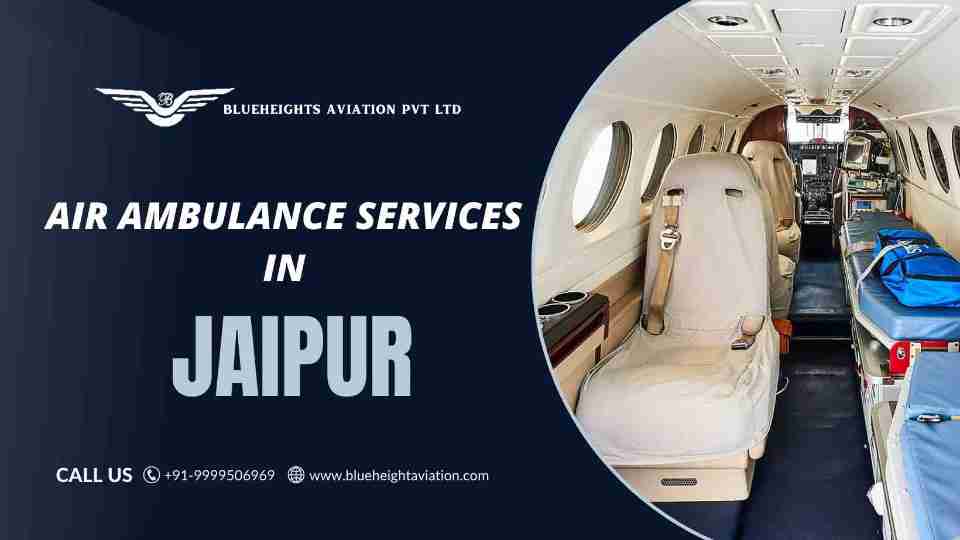 Air Ambulance Services In Jaipur
Jaipur, also known as the Pink City is one of the popular tourist destinations of India that is known for its rich cultural heritage. This bustling city is growing up with many amenities including better infrastructure, better amenities, and a better transportation system.
With over 40 hospitals, Jaipur has well-known medical aids and qualified doctors but inter-city transportation to seek medical aid via road ambulances is still challenging.
With technological advancements, the demand for air ambulance services in Jaipur is growing in Jaipur. Air Ambulance is the best way to reach in the shortest possible time and hassle-free if you or your loved ones are required to be transported inter-state or internationally.
So. let's explore more about air ambulance in Jaipur:
What is an air ambulance service?
An air ambulance service is a medical evacuation service that provides emergency medical care via aircraft. They provide life-saving treatment and critical care to patients during flight.
Who needs an air ambulance service?
An air ambulance service is ideal for people requiring urgent medical attention anywhere in the world. People may require an air ambulance if they have suffered serious injuries such as head trauma, spinal cord injury, burns, cardiac arrest, stroke, etc.
A person who suffers from any of these conditions should immediately seek help from an air ambulance service provider.
Air Ambulance Vs Road Ambulance - Why Air Ambulance is best?
Road ambulances are usually slower than air ambulances. In addition, road ambulances need to follow strict traffic rules which make it difficult to reach the destination on time.
On the other hand, air ambulances do not face traffic issues and can travel faster than road ambulances. Moreover, air ambulances can fly through clouds and even land in areas without proper landing strips.
Some of the Key benefits of opting the Air Ambulances are:
Quick Transportation
In case of emergency when a quick medical evacuation is required, an Air ambulance is the ultimate rescue. A patient will receive immediate medical attention while being flown to a hospital.
Highly trained professionals
The staffs of an air ambulance are highly trained and experienced. They know how to handle all types of emergencies and perform advanced procedures. They are also equipped with the right equipment to deal with such emergencies.
Well-Equipped
Air ambulances are highly equipped as compared to road ambulances. It has a complete setup of life-supporting equipment and medical staff to deal with any emergency.
No Traffic Jams
Unlike road jams, the air ambulance has no chance of getting struck in the jams. Often, it has been observed that in major cities patients lose their lives on account of not reaching the hospital in time. Ambulances are often struck in traffic jams and take hours to release. Air Ambulances Jaipur can transport emergency patients from one corner of the city to another in less than 30 minutes.
Better Accessibility
Far-flung areas which have not have much road accessibility, air ambulance is a boon. It can easily reach to such places to evacuate the patients and tranfer them to the required medical facilities.
What is the Air Ambulance Price in Jaipur?
The air ambulance cost in Jaipur depends on the factors like type of aircraft used, distance covered by the aircraft, number of passengers carried, etc. The average air ambulance cost per hour ranges between Rs 1 lakh to Rs 2.5 lakh.
Frequently Asked Question
How do I Know If I need an Air Ambulance Service?
You can use the air ambulance service in emergency and non-emergency situations. The team at Blueheight aviation will help you to analyze the situation to understand the best option for you.
Can A Loved One Accompany me On the Air Ambulance?
Yes! Depending on the capacity on board, your loved ones can accompany you during the flight. However, the final decision always rests with the medical crew on board of an air ambulance.
How Quickly Can An Air Transfer be Arranged?
To determine how quickly an air transfer be arranged factors like the availability of aircraft and crew availability plays a crucial role. Other factors like landing permissions, visa and passport requirements, and availability of specialist beds also play a pivotal role in deciding the air transfer time.
However, most air ambulances can complete the transfer process within 24 hours of receiving permission. We have a team of dedicated air ambulance representatives to help you with all your queries. For urgent transfers, our team of critical care medical representatives will start making appropriate arrangements ASAP.
Am I allowed to Bring Luggage on the Aircraft?
The limited space onboard is often occupied by the medical equipment required for critical patient handling. Depending on the number of people traveling on board and the airline restrictions imposed, only limited luggage is allowed to be carried on the aircraft.
How Can I Book Air Ambulance in Jaipur?
You can book Air Ambulance online or call us at 09999-50-6969, 09650-57-8989 to schedule your medical evacuation. We will immediately forward the request to our medical professional who will assess the patient condition after evaluating the condition of the patient and his medical history.
Why choose Blueheight Aviation for an Air Ambulance Service?
We offer 24/7 round-the-clock services across all major cities in India. Our team of highly trained professionals will ensure that you receive the best possible medical care while on board our aircraft.
We understand how important it is to get back home safely to your family members. That's why we make sure that you reach your destination without any delays.
We also offer door-to-door pickup and drop-off services. You don't have to worry about finding parking spaces near hospitals or airports. Just tell us when and where you want to go, and we'll take care of everything else.
You May also like :
Your Private Charter Journey Starts Here
Subscribe and we'll send the best deals to you