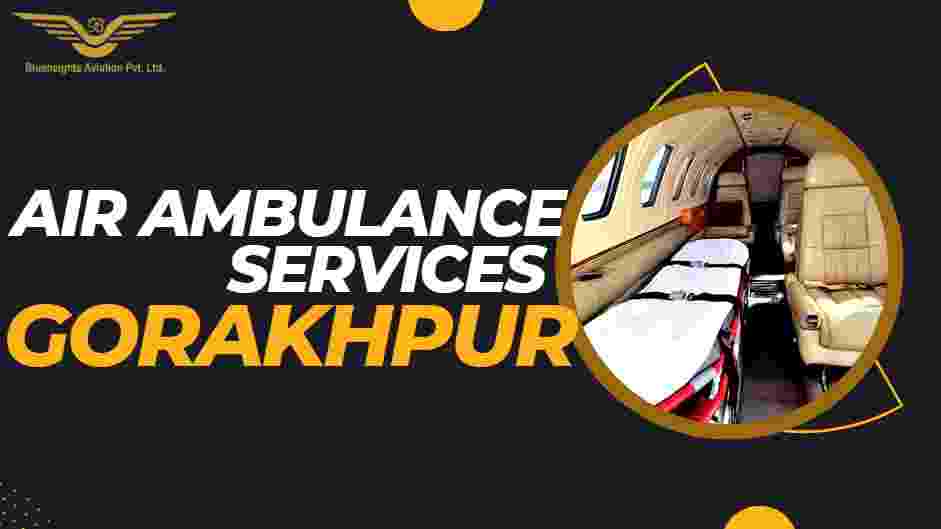 24/7 Air Ambulance Services in and Around Gorakhpur
Are you looking for a reliable air ambulance service from Gorakhpur? Look no further! With 24/7 service and professional care teams, your loved one can receive the best care possible at competitive rates.



Overview of Air Ambulance Services in Gorakhpur.
Air ambulance services in and around Gorakhpur provides a safe, efficient, and cost-effective way to transport patients in need of critical or specialized medical care. In case of an emergency, air ambulance personnel are equipped with advanced medical expertise and the latest life-saving equipment to ensure patient safety while in transit. Additionally, our aircrafts are outfitted with state-of-the-art ventilators and oxygen tanks to sustain vital signs during the transport process.

These specialized air ambulance services have become a valuable asset for the sick and injured, as they provide swift and safe transport to critically ill patients from Gorakhpur to other parts of the country. In addition, air ambulances have been used to repatriate people stranded abroad due to natural disasters or other emergencies. At Air Ambulance Services in Gorakhpur, our team of professional medical specialists remain committed to providing quality health care during transit and assistance with insurance claims. Equipped with experienced paramedics, who excel in lifesaving medical treatment on the ground and in-flight, we ensure the safety of our patients at all times.
The Benefits of Air Ambulance Services.
Air ambulance services can be highly beneficial for those in need of emergency medical care due to their quick dispatch times and access to specialized medical personnel. Furthermore, air ambulance services are the safest and most reliable way to transport those who require medical attention over long distances. Lastly, air ambulance services offer the most comprehensive coverage for both private individuals and insurance companies alike.

Tips for Choosing the Right Air Ambulance Service - Blueheights Aviation
When choosing an air ambulance service in and around Gorakhpur, there are a few considerations to keep in mind. The first consideration is the cost of the service, as it can vary depending on your needs and the company providing the services. It's also important to ensure that the service you choose offers 24/7 availability and access to specialized medical personnel who can provide the best care for your needs. Lastly, be sure to check what kinds of insurance coverage are included with each potential provider before making your decision.
One great option for air ambulance service from Gorakhpur is Blueheights Aviation. This company offers both medical and leisure flights, so you can trust that all of your air travel needs are covered in one place. Blueheights Aviation is also fully insured and their staff members, including pilots and flight attendants, are highly skilled and experienced. Furthermore, they offer 24/7 availability so you can be sure you'll get the care you need when you need it. By considering all of these factors, you can make an informed choice when selecting an air ambulance service from Gorakhpur.

How Much Does an Air Ambulance Cost? Air ambulance cost from Gorakhpur to Delhi/ Mumbai/ Hyderabad
| | |
| --- | --- |
| Sector | Cost |
| Gorakhpur-Delhi | 5 Lac -6.5Lac |
| Gorakhpur- Mumbai | 8 Lac -12 Lac |
| Gorakhpur - Hyderabad | 9 lac -12 Lac |
The cost of an air ambulance from Gorakhpur to Delhi, Mumbai, and Hyderabad can vary, depending on the particular service you choose. However, in general terms, the average cost is between Rs. 125,000 per hour of flight. The price could be higher if you're traveling a longer distance or needing more specialized medical care during the flight. As each service offers different amenities and payment options are available, it's best to compare your options before making any decisions.
When it comes to air ambulance services, having the right crew and aircraft is often essential. So do research when considering your options. Read customer testimonials and check if they have any certifications or accreditations that make them trustworthy. Many operators also provide flexible payment plans so you can make the service more affordable for yourself. With the right information in hand, you can know exactly how much you'll need to spend for your air ambulance from Gorakhpur to Delhi, Mumbai, or Hyderabad.
FAQs About Air Ambulances in Gorakhpur.
When considering an air ambulance from Gorakhpur, you may have some questions about the cost, timing and service options. Here are some of the more frequently asked questions that can help you make your decision:
1) How much does an air ambulance from Gorakhpur typically cost?
Air ambulances are a fast and safe way to get medical care transport patients to hospitals or other healthcare facilities when they face medical emergencies. The cost and duration of air ambulance service from Gorakhpur will vary depending on the individual circumstances of each case.
2) What types of services do different air ambulance companies provide?

Air ambulance services can provide specialized emergency medical services, including medical personnel, oxygen tanks, life support machines and other equipment, that can make all the difference in keeping a patient stable during transportation.
3) How long will it take to book an air ambulance?
Minimum 3-4 hours to activate flight from base like delhi or nearby location plus flight time to reach Gorakhpur from base with medical team.
4) What payment options are available?
Most air ambulance companies offer payment options for traditional methods such as bank transfers, on line payments through credit cards as well as long-term payment plans which may be tailored to meet your budget.
If you or a loved one require air ambulance service from Gorakhpur, there are many companies offering this type of medical transportation. Make sure to research each company's credentials and experience prior to selecting a service provider. Find out if the company is certified for safety and if their pilots, medical staff and equipment meet all necessary standards and requirements.

Additionally, some companies may offer additional services such as ground ambulances for transport to and from airports, emergency response teams to provide care during the flight, and even charter flights for destinations more remote than what is available through traditional routes.

For booking air ambulance in Gorakhpur or nearby, Call to our expert on 09999506969 , 9650578989
Your Private Charter Journey Starts Here
Subscribe and we'll send the best deals to you