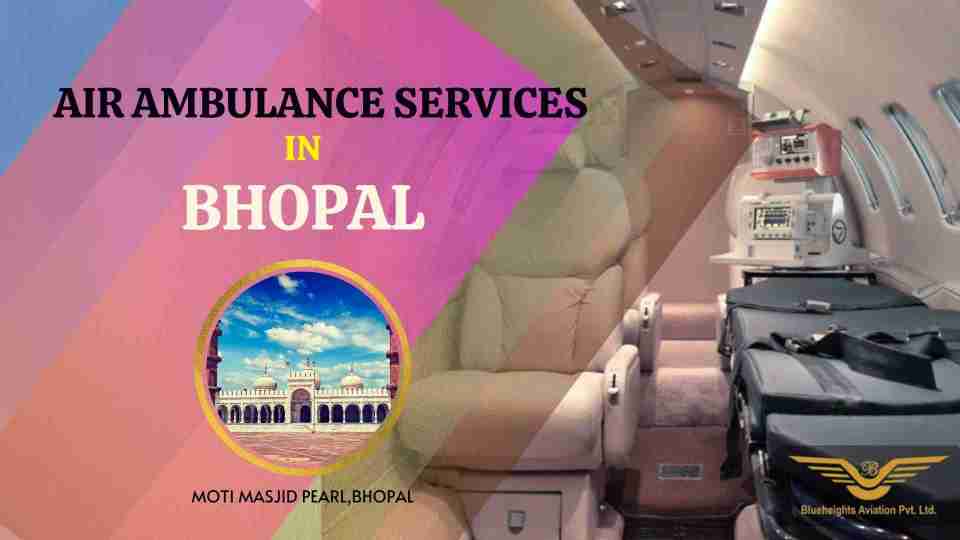 Air Ambulance Services in Bhopal

Bhopal is the capital city of Madhya Pradesh and is always an attraction for tourists as the City of Lakes offers various natural and artificial lakes. It is the 16th largest city in India and offers many scenic spots. The city has derived its name from the Bhoj Tal (Bhoj Lake) made by Hindu Kin Bhoj.
Besides its historical relevance, the city is also brimming with growing medical infrastructure. There is a 137% rise in healthcare spending amidst Covid, making the mark of this city in the medical infrastructural facility.
The city also takes the lead further by offering the Air Ambulance Service in Bhopal by premier Air Charter Services like Blueheight Aviation. If you are new to the concept of Air Ambulance Services, this blog post is an excellent resource to update your knowledge.
What is Air Ambulance?
An Air Ambulance in Bhopal is a medical service that provides emergency transport of critically ill patients from one location to another using aircraft or helicopters. It is also known as an "air ambulance," "helicopter rescue," and "medical evacuation." Coming to air ambulance charges, there are so many factors that affect the cost of air ambulance in Bhopal
Why use air ambulance services?
There are many reasons why you should consider using air ambulance services. Some of these include:
• You can get to your destination quickly.
Air travel is the fastest way to travel, as we know. Compared to other means of the ambulance as road ambulance and train ambulance, the Air ambulance is the fastest way to commute to reach the hospital in time.
• There is no need to worry about traffic congestion.
No road jams and no traffic lights. While road ambulances are meant not to be stopped on the road because of an emergency, there are still many instances where these ambulances get stuck in massive road jams, leading to prolonged delays. It may cost the life of patients if the patient is in serious condition.
• You don't have to wait around for hours at the hospital.
As most air ambulance services directly connect with top-notch hospitals, you don't need to run through the various formalities and wait long hours before the patient gets admitted to the hospital. Most competent air ambulance services provide hassle-free transfer and admission to renowned hospitals.
• You can avoid long queues at the airport.
Going via commercial flights takes you through the hassle of many formalities at the airport. It is a time-consuming process and requires a lot of time and effort. Air Ambulance services by Blueheight Aviation provide a bed-to-bed transfer facility and quick evacuation to get immediate medical attention.
What does an air ambulance cost in Bhopal?
Theair ambulance price in Bhopalvaries depending on where you live, how far away the destination is, what type of helicopter they use, etc. However, there are some things that you should know when looking into air ambulance prices. For example, if you want to fly out of India, you may pay more than if you were flying outside India.
On Average, an air ambulance cost per hour in Bhopal is 110,000? .The Air ambulance cost per hour varies depending on the patient's condition, medical assistance required on the way, nature of the aircraft, etc.
Other factors such as the requirement of medical equipment and availability of paramedic staff also vary the cost of an air ambulance.
How do I choose the right air ambulance company?
When choosing an air ambulance company, make sure that you look into their credentials. If possible, ask friends and family who have used them before. Also, check online reviews. Finally, make sure that they offer 24/7 customer support. This way, you can contact them whenever you need help.
Most competent air ambulance services like Blueheight Aviation have tie-up with the premier hospitals across India to get admission safely without any hassle.
If you are looking for a reliable air ambulance service, you are at the right place. We provide 24/7 Air ambulance services across India.
Our team of highly trained professionals is always ready to assist you.
Call us now @ 09999506969,9650578989 to book air ambulance in Bhopal
Or you can mail us sales@blueheightaviation.com
We offer affordable air ambulance services in India. We also provide emergency medical evacuation (EME) services in life-threatening situations. We have our fleet of aircraft and well-equipped ambulances. We also have experienced paramedics who ensure the safe transportation of patients.
We aim to provide quality healthcare services at affordable prices. We believe in providing high-quality care to every patient irrespective of financial status.
Our mission is to provide world-class healthcare services by maintaining a healthy environment and using state-of-the-art technology and the latest equipment.
Blueheight Aviation is one of the leading providers of air ambulance services in India, with over 10 years of experience. We specialize in providing cost-effective solutions for all your medical emergencies. Our dedicated team of doctors, nurses, and paramedical staff will take good care of you during your stay in the hospital.

More About Blueheights Aviation
BlueHeight Aviation was founded in 2018 as an air ambulance company in India. It has been overgrowing ever since. Today we are one of the largest air ambulance companies in India. We operate from several cities, including Delhi NCR, Mumbai, Bangalore, Chennai, Hyderabad& Pune.
Also, All the international air ambulance services are available from the major cities like Delhi, Mumbai, Kolkata, Hyderabad, Chennai, and other leading international airports across India.
We have an extensive network of hospitals and clinics to which we can quickly transfer you if needed. We have a dedicated team of doctors, paramedics, nurses, and other support staff on board our aircraft.


Why Choose Blueheight Aviation?

1. Affordable Cost:
2. High-Quality Care:
3. World Class Facilities:
4. Emergency Medical Evacuation Service:
5. On-Time Delivery:
6. Safe Transportation:
7. 24x7 Customer Support:
8. Dedicated Team:
9. Reliable Service:
10. Flexible Payment Options:
11. Best Rates:
12. No Hidden Charges:
13. Easy Online Booking
14. Fastest Response:
15. Lowest Price Guarantee:
16. 100% Satisfaction Guaranteed:
17. Trusted Company:
18. Available Worldwide:
19. International Coverage:
Do you still need more reasons for a reliable air ambulance service with us?
How to Book Air Ambulance?

For Booking air ambulance in Bhopal or near by in Madhya Pradesh . Call us now! 9999506969,9650578989.
Alternatively, you can also send a mail to email id: sales@blueheightaviation.com
Although we will try to book your air ambulance immediately once we receive a booking confirmation, the unavailability of aircraft or any other circumstances beyond human control may lead to delays in Booking.
We ensure to update our clients for any such delays as we are dedicated to offering the best services to all our esteemed clients.
If you have any queries or concerns on air ambulance services in Bhopal , chardham Yatra by helicopter from Bhopal , Private jet charter in Bhopal or charter helicopter in Bhopal , please feel free to connect here!
You May also like :
Your Private Charter Journey Starts Here
Subscribe and we'll send the best deals to you