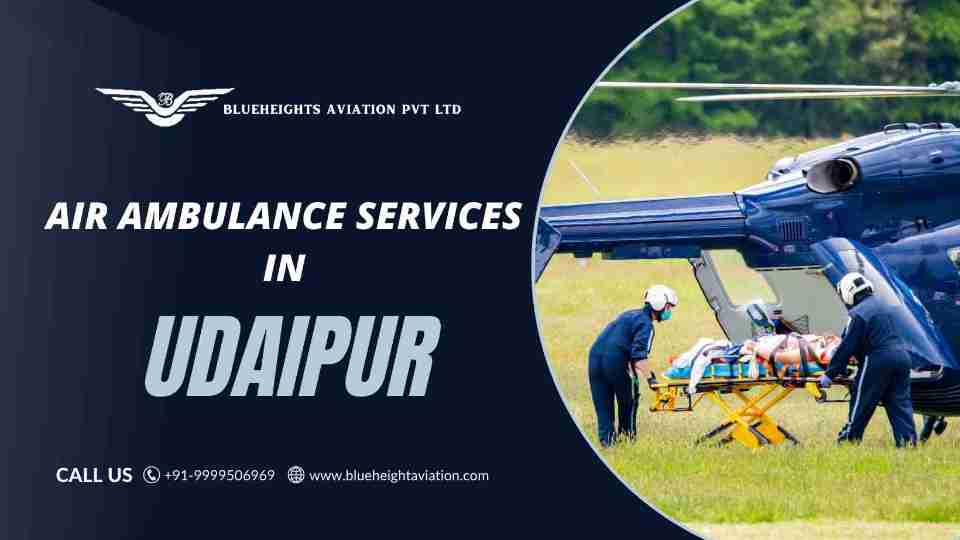 Air Ambulance Services in Udaipur
What kind of medical services does Udaipur offer? What are the top hospitals in Udaipur? How much does it cost to visit these places?
Udaipur is known as the 'Venice of the East due to its unique architectural style. The city has several tourist attractions, such as Lake Pichola, Jag Mandir Palace, City Palace, Eklingji Temple, Saheliyon ki Bari, Fateh Sagar Lake, etc.
Udaipur offers various types of medical care, from primary health centres to advanced treatment at private clinics. There are also government-run hospitals in the city. Some of them provide free healthcare services to patients.
Why Consider Blueheight Aviation Air Ambulance in Udaipur?
Blueheight Aviation Air Ambulance provides 24/7 round-the-clock medical assistance to the patient. We provide specialized hospitalization and treatment services to our clients. Our highly skilled team of doctors and paramedics ensures timely diagnosis and treatment. Our well-trained technicians ensure the safe transportation of the patient. We also provide complete post-treatment care.
We offer customized packages according to the requirement of each client. Our packages include pre-hospitalization, hospitalization, post-hospitalization, and repatriation.
We provide our services to both domestic and international clients. We have successfully handled several missions across the globe.
Our goal is to make every patient feel comfortable during their journey. We strive hard to achieve excellence in providing quality healthcare services.
How do Air Ambulances work?
Air ambulance services in Udaipur are lifesaving services available to patients in need of emergency medical care. These aircraft provide the fastest and most efficient way for patients to receive treatment at hospitals across the country. Air ambulances can transport patients from one hospital to another or even from home to hospital. They also can fly over mountains and other rugged terrain.
Once you call the Air Ambulance in Udaipur, they will ask the relevant questions to assess the patient's condition.
Considering the urgency and the approval requirements, they will arrange the air ambulance and inform you about this in the shortest possible time.
While the inter-city air ambulance can be easily arranged within 24 hours, it takes a few days for an international air ambulance as it involves the visa and passport along with other MEDEVAC approvals.
Why Consider Air Ambulance Services in Udaipur?
It becomes tough to reach hospitals in emergency situations due to traffic congestion and road accidents. You don't have to worry about going to hospitals with air ambulance Udaipur services because they care for everything. A well-equipped hospital, experienced doctors, and paramedical personnel helps you recover faster. You can even opt for specialized treatment such as brain surgery or cardiac arrest.
The following are some significant benefits of air ambulance services in India:
1. Medical Aid During Emergencies - People require immediate medical attention when sudden incidents like road accidents, heart attacks, strokes, etc. However, it is only sometimes possible to reach hospitals quickly. It is where air ambulance services come into play. They ensure that you receive proper medical attention within no time. These ambulances are fully equipped to handle any medical emergency in transit.
2. 24/7 Care - Air ambulance services offer round-the-clock assistance to patients. If you're suffering from a severe illness, you can rest assured that someone looks out for you every second.
3. Personalized Service - Air ambulance services make sure that you receive personalized service. It is where the Blueheight Aviation services stand out among others because of our unique ICU setup. We understand what you want, and we strive to deliver just that.
4. Quick Response Time - In case of emergency, air ambulances can evacuate critically ill/injured patients in just 2 hours. Moreover, Air Ambulances have the efficiency to transport over long distances in a shorter span of 30 minutes, which is impossible with road ambulances.
Premium Air Ambulance Services like Blueheight Aviation offer bed-to-bed transfer facilities to patients for easy transfers.
What is the Air Ambulance Price in Udaipur?
The Air Ambulance cost per hour in Udaipur begins from 1.6 lakh. It may go as high as 3 lakh depending on the hospital's location, medical equipment requirements, the patient's health, the paramedic team's requirement, etc.
Frequently Asked Questions:
Q. How Do I Know if I Need the Air Ambulance?
Air Ambulances can be used for emergency and non-emergency situations. After a comprehensive analysis of the patient's condition, Air ambulance services are provided when essentially required.
Q. Can My Loved Ones Accompany Me On Air Ambulance?
Yes! Most air ambulances have ample space to accommodate your loved ones. However, the decision to board your loved ones rests with the Paramedic team at the air ambulance. Usually, 1 to 3 members can accompany the patient for transfers via air ambulance.
Q. What is Bed-to-Bed Service?
A bed-to-bed service is when the medical staff from the air ambulance or the emergency response vehicle (ERV) will come to the hospital where the person was discharged from, assess the person's condition and help them get ready for transport. Then they will accompany the person in the ERV to the airport or plane.
At the destination city, the medical team travels with their patients to the destination hospitals. They will provide a brief to the doctors there. It ensures continuity of care for the whole transfer.
Q. Does Blueheight Offers International Air Ambulance Evacuations?
Yes, we can help you. We have experience transferring people from one country to another all over the globe. You need to inform us at least three weeks before your trip so that we can arrange visas and all other formalities required for international travel.
To get the most competitive quotes or Book Air Ambulance in Udaipur, Call Us Now!
You May also like :
Your Private Charter Journey Starts Here
Subscribe and we'll send the best deals to you