Why Should You Book a Private Jet in Advance?
Jun 02, 2023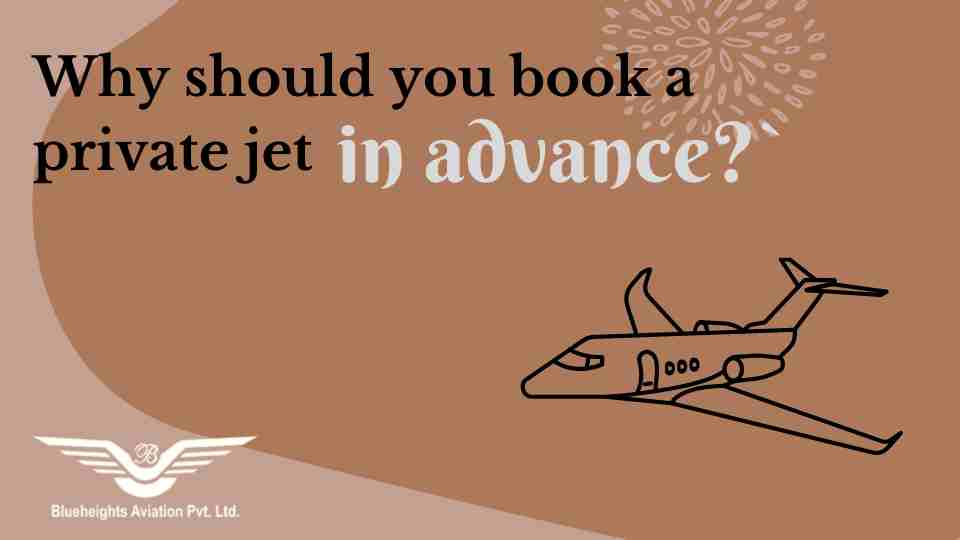 Private jets are becoming increasingly popular these days. One of the primary reasons for the growing demand for private jets is people's ability to trade money for time. Today, companies offer their top executives to fly via private jet to save precious time and hassles with boarding and landing.
It also saves them from traffic jams and other delays. The other reason why people prefer to travel by private jet is that they can relax while flying. They don't have to worry about anything as the company or airline takes everything.
What are the advantages of Booking a Private Jet in Advance?
There are many benefits of booking your private jet in advance. Here are some of them:
1) It allows you to customize your flight.
Booking early gives you plenty of time to plan. We can make sure there are no delays, and we can ensure that everything goes smoothly. It allows us to provide you with a truly personalized experience tailored to your needs.
We know that sometimes it takes time to decide what extras you need and how much extra work you're willing to put into your trip. But booking your private jet in advance helps you to get the most out of it.
2)You get to choose your seat.
Booking early means more comprehensive options to choose from. You don't need to dig into the limited seat available and choose accordingly. Instead, we can nudge you towards seats according to your preference. The number of choices could be higher when you book the flight at the last minute.
3) It helps you save money.
If you book your private jet in advance, you can avail discounts and deals which may not be available otherwise. There can be a lot of budget stress owning to costly private jet charter flying if you plan to book it at the last moment. For example, if you book your flight at least three months before its departure date, you can avail of the Early Bird discount and highly customized customer-friendly services.
4) Higher flexibility
You can get readily available for the peak times quickly; Once you book in advance, you can block the travel dates, departure points and times hassle-free.
How Advance Should a Private Jet Charter Be Booked?
Booking a private jet charter up to three months in advance is generally ideal. However, there are exceptions, such as when you want to fly on a specific date or when you know exactly what type of aircraft you want. If you're flexible about dates, finding some great deals closer to departure is possible. But if you've got a tight deadline, it makes sense to book well in advance.
The reason why you should book early is that you'll have access to better aircraft. When you book close to departure, you compete against many others trying to do the same thing. As a result, you might end up flying on a less desirable aircraft, or worse still, no aircraft.
If you're looking for a particular model, check out our list of the best private jets. Some operators offer discounts for booking early, so always ask around.
Why do Most Airlines Prefer a 1-2 month period?
Most airlines require a minimum lead time of one to two months before the flight departs. Why? Because they need enough time to prepare the plane, arrange crew members, reserve fuel, etc.
However, this means that you should try to book at that time. It's recommended that you book as far in advance as possible. That way, you can take advantage of any special offers and discounts the airline offers.
Under the best scenario, a three-month prior booking is ideal. The operators can arrange the best booking deals and some additional services, otherwise not possible on shorter notice.
Can I Book A Charter Less Than A Month In Advance?
Yes! We understand your emergency at times that constrain you to book your flight on shorter notice. You can still opt to book a charter for your last-minute travel plans. Blueheight aviation offers customized programs that make your travel a superior experience with us for your urgent charter travelling requirements.
Do I Need to Book three months Earlier for Empty Flight Legs?
The rule for pre-booking does not apply to Empty Flight Leg Charter. It would help if you did not consider booking before two weeks of departure to get the best deals on Empty Legs. One of the most apparent reasons is the cancellation of charter flights near the travel date, which enables empty legs. You can save up to 50% of the standard private jet charter prices.
However, no personalized customized is available as such flights come with stricter schedules and no catering option. Moreover, there is no surety that you can secure an empty leg near your travel schedules.
Book A Private Jet Charter With Blueheight Aviation
Blueheight Aviation provides a wide range of private charter options, including Business Class, First Class, Executive Class, Premium Economy, Standard Economy, and even empty legs. We offer tailor-made solutions for our esteemed clientele by including their exclusive preferences. Our team of experts also guides you in choosing the right plans to make the most out of your trips.
Talk to our experts to make your next private charter experience exemplary!
Your Private Charter Journey Starts Here
Subscribe and we'll send the best deals to you