Explore the Top 5 Private Jet Routes Across India
Jun 02, 2023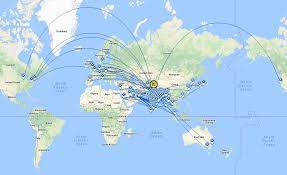 If you are looking for a luxurious and comfortable way to travel in India, then consider taking a private jet. This guide will discuss the top 5 private jet routes in India that offer the best combination of convenience, cost, comfort, and styling. Learn about these routes to make your next trip an unforgettable experience!
Mumbai-Delhi Route
The Mumbai-Delhi route is by far the most popular private jet route in India. This flight is both fast and convenient, taking around 1 hour and 20 minutes while offering a stunning aerial view of the two great cities. With luxury jets available, you can expect to experience top-notch service along with luxurious interior styling.
Those travelling on the Mumbai-Delhi route can expect to pay between USD6,000 and USD8,000 depending on whether it's an JET or a rugged aircraft. Due to the length of the flight, travelers can also enjoy complimentary beverages and snacks. Plus, in order to guarantee a stress-free journey, private jet operators will pick you up from your desired location in advance and take you directly to the airport terminal; so you don't have to worry about going through long lines at security check points. With flights available 7 days a week, this route is an ideal option for those looking for comfortability, speed and convenience.
Chennai-Mumbai Route
The Chennai-Mumbai route is the second most popular private jet route in India. This 2hour flight offers beautiful aerial views of the Arabian Sea as well as the city of Mumbai. With modern and spectacular interiors installed not just inside but outside the plane, your journey to Mumbai will be nothing short of memorable! Add luxury touches such as flowers and snacks to make it a truly special experience.
The direct Mumbai-Chennai route is convenient for private jet travelers as it cuts down time and distance compared to commercial fliers. Moreover, the Chennai domestic airport can provide fueling facilities to quickly catch up with your tight schedule. What's more, experienced crew members offer unparalleled service during this flight aboard a luxurious aircraft chosen from a wide array of certified operators in Chennai. Fly over panoramic aerial views of Chilka Lake and Godavari River Delta in your smart jet making your private jet journey a seamless and unforgettable experience!
Bangalore-Delhi Route
Bangalore-Delhi route is the third most popular in India for private jets. This sparkling 2 hour and 25 minutes flight takes you up to 10,258 ft. above sea level! Travelers can experience majestic aerial views over the city of Delhi and its sky scraping structures. Enjoy your flying pleasure with a collection of modern amenities, such as panoramic windows, state-of-the-art entertainment systems and fully reclining seats. Don't forget a touch of luxury - flowers, snacks, chocolates and more!
Bangalore-Delhi route is one of the most sought-after private jet route in India, with travelers enjoying its benefits such as access to direct flights and increased safety - hassle free! The northbound journey offers some breathtaking views over the states along the way combined with luxury amenities that take care of all your needs. Private jets are also extremely cost effective; they allow you to enjoy a budget friendly journey while still ensuring comfort, convenience and safety. Whether you're visiting family, attending business meetings or exploring the unexplored corners of India, trust this route to be your go-to for all your travel requirements.
Delhi-Kolkata Route
The 4 hours and 11 minutes flight between Delhi and Kolkata is one of the most favourite private jet routes in India. Enjoy the luxury of a fully stocked bar, 24/7 Wi-Fi service and complimentary snacks during your journey. Indulge in stunning aerial views of stunning architectural structures such as Qutub Minar from the sky. Experience heavenly bliss with high end interiors that come equipped with fine leather seating upholstery, plush carpets and exotic artwork.
Fly in the utmost comfort with large privacy windows that can be retracted, and an ergonomically designed rest area aboard your private jet. Recharge yourself during your journey with an energizing drink or take a quick power nap, this flight provides you with plenty of luxury for up to 8 passengers depending on the type of aircraft. Ensure a baggage allowance of around 100 kgs according to the chosen aircraft. With your own personal host onboard to attend to all your needs and desires, the Delhi-Kolkata route is one convenient way to kickstart your luxurious journey away from the husle & bustle of daily life.
Kolkata-Hyderabad Route
The second popular route in India is the 1 hour and 56 minutes flight between Kolkata and Hyderabad. Relax in comfort during this short yet worthwhile journey - enjoy views of the rural terrains, mountain ranges and waterfronts of eastern India, as you make your way to the city of pearls. Take advantage of special features such as private bathrooms, useful remote controls for lighting and temperature settings, fine woodworks and stylish entertainment systems.
Indulge in hospitality with snacks, hors d'oeuvres and drinks as you travel with your friends or family. Take control of your desired comfort level by simply adjusting the thermostat - enabling you to switch from warm to cold depending on the climate during this flight. Or choose from an array of dining options while admiring the Indian landscape coast-to-coast and arrive at Hyderabad well-rested, energized, and ready for whatever awaits you next.
Your Private Charter Journey Starts Here
Subscribe and we'll send the best deals to you