Renting a Private Jet: What You Need to Know
Jun 02, 2023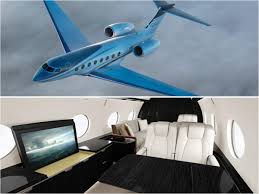 Experience the ultimate in comfort and convenience by renting a private jet for your next flight. With tips and tricks on how to choose the best plane and what to expect during your journey, you can enjoy luxury air travel with ease.

Different Types of Private Jets.
There are several different types of private jets ranging from mid-size to jumbo jets. Choose the best one for your trip depending on the number of people traveling, the distance, and any other factors. Turboprops are economical options for short or regional flights, while larger jets typically offer more comfort for larger groups and longer distances. Be sure to research your options thoroughly before booking a plane.
Mid-size jets are the most popular in this category, as they can accommodate up to 8 passengers. These jets typically have a longer range than smaller turboprops and usually come equipped with updated amenities like satellite TV, Wi-Fi, and sound systems. Larger jets such as Heavy Jets and Ultra-long Range Jets are ideal for accommodating large groups of people or lengthy flights that require additional amenities including conference tables, staterooms and showers. The range of different private jet options tends to meet any needs that a person might have from shorter trips to luxury travel experiences.

Making a Reservation and Booking a Jet.
Making a reservation to rent a private jet is as easy as contacting the provider by phone or booking an aircraft online. Most major providers like Blueheights Aviation offer both options, and they will provide you with information on the available jets, available dates and times, and most other details. You'll book your flight quickly and effectively if you know the exact details of your trip ahead of time. Be sure to keep in mind additional considerations such as catering and any special baggage requirements for your journey.
After the reservation has been confirmed, be sure to call ahead before your flight departs in order to receive check-in instructions. You'll need to have your passport or driver's license on hand when you arrive at the airport and also plan for any delays as it may take some time for the jet company staff to verify any documentation. Upon arrival at the airport, proceed directly to the private jet lounge where a representative will meet you and provide further information regarding your trip and cabin services. Most cabins are stocked with food, beverages, and other amenities so when you board a private jet it's important to remember that no rental fees apply - just enjoy!


Estimating Cost and Advantages of Flying Private.
Estimating the cost of your private air charter flight is an important part of the booking process. On average, the cost of a typical round trip private charter flight may range from $4,000 to $20,000 for each flight hour depending on the type of aircraft being used and other costs associated with flying privately, such as catering and ground transportation. Flying aboard a private jet offers many advantages including privacy, enhanced safety protocols and protocols to protect passengers against any potential exposures related to Covid-19 while in transit. Additionally, travelers often find they save significant amounts of time as there's no need to wait at airports or go through security checks before boarding.

Understanding Air Charter Laws and Regulations and Inflight Catering
Before arranging a private jet rental, it's important to understand the laws and regulations that govern air charter services. It's also important to familiarize yourself with the type of catering services available on board to ensure you have an excellent travel experience. Catering onboard a private jet is generally quite varied and can include a range of cuisines, depending on your preferences. In some cases, meals may even be cooked fresh by gourmet chefs for an exceptional in-flight experience.
Many private jet charter services provide in-flight catering, with a range of different menus and meal options available depending on your requirements. This can range from pre-prepared snacks to multi-course gourmet meals cooked freshly onboard. Alcoholic beverages can also be provided if requested. It's important to note that different laws and regulations apply if you wish to consume alcohol while on board a private jet, so researching air charter laws is an important step before planning any flight. Knowing the rules around alcohol consumption, meal types and other services can ensure you have an enjoyable and compliant flight experience when traveling by private jet.
Tips for Ensuring Maximum Comfort Onboard Your Flight.
To ensure utmost comfort during your private jet rental experience, it's important to pay attention to details such as lighting, climate conditions, seat and bedding preferences, and entertainment. Talk to the airline prior to booking about their onboard features so you can make sure that the plane is equipped with all of your desired amenities for maximum comfort in the air. Furthermore, many charter services offer special requests like custom light fixtures and specialized furnishings to add a touch of luxury to the flight experience.
To get the most out of your private jet rental, you will want to focus on all areas of comfort including ensuring the cabin temperature is at the desired level, bringing your own favorite pillows and blankets to relax during the flight, curating an ideal playlist or movie selection for entertainment, and requesting customizable light fixtures that create an atmosphere that's just right. Comfort should be paramount when planning a private jet rental experience so make sure to book with premium services in mind. Doing these extra steps can drastically improve overall enjoyment of your flight!

Your Private Charter Journey Starts Here
Subscribe and we'll send the best deals to you