Six Reasons Private Jet Charter is Safer Than Commercial Airlines
Jun 03, 2023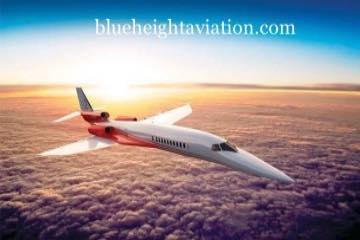 If you are heading for your business meeting with your important client to sign a business deal or you are planning to spend quality time with your family during a vacation, nothing can beat the luxurious experience of air travel and that too by reserving a seat on a private jet.
Flying somewhere in a private jet will make you feel alluring. Now you might be wondering how safe is private jets?
Well, there are multiple reasons why people these days are preferring private jets instead of commercial flights.
Traveling in private jets will help in maintaining your privacy and let you enjoy your journey by making your feel comfortable. Not only this but also when it comes to the benefits of private jets, one of the biggest advantages which most people tend to forget is the safety of the travelers.
The private jet companies make sure to take all the precaution measures so that travelers can have the safest journey. That being said, let us have a look at some other reasons on why private jets charter services are safer as compared to commercial airlines:
Skilled and Family Crew
When we travel through commercial flights, you don't even know the name and qualifications of the pilot who will be boarding the flight. Not only this but also we don't get any details about the crew members who will be present inside the flight. An unprofessional crew member will ruin your flight experience. This is where private jets are different from commercial flights.
The pilots and the other crew members of Blueheights Aviation always undergo strict background checks as well as medical examinations before boarding a flight.

If you are our existing client then you may even find the same pilot and flight attendants which will make you feel more comfortable. When it comes to private jet safety, familiar faces are always best as compared to unknown ones.
Third-party Safety Checks
When you travel through a commercial flight, you will check the departure time, price, and transfer.
Have you ever thought about safety?
We guess your answer is "No". When it comes to how safe is private jets? The private jet companies will maintain the safety inspection before the takeoff. On the other hand, commercial flights too go through all the safety measures, but private planes have fewer jets for inspecting. This is why they do not face any issues related to lack of time during the third-party safety checks.
We in Blueheights Aviation always ensure that your jet is fit and safe to travel. Apart from this we also review its incidents history, maintenance records, crew certification, and insurance coverage. If the flight fails to adhere to safety rules, then we will not use them. That's why most clients always agree to the fact that private jets are safe.
Multiple Airport Options
One more reason to travel in a private jet is that you will be having the access to the top-notch airports of your country. Not only this but also you will receive multiple airport options as compared to commercial flights.
As private jets are smaller in terms of size, they always have the flexibility, and that's why they can easily land at any airport. It also acts as the biggest benefit especially during an emergency when you have to change your flight or you make an unexpected landing.
Latest & Advanced Technology
If someone asks you if private jets are safe? You can explain to them about the adoption of advanced technology. The companies that offer private jet charter services always remain updated technological equipment that helps in providing better while flying. On the other hand, commercial flights generally adhere to conventional technology.
Private jets also have the capability to land faster because of their smaller size which a commercial plane can't.Not only this but also, they can easily change their routes if the client insists on a quick landing.
If there are potential turbulence and bad weather condition, then they can also fly at a higher altitude. So, all these things can certainly help you in making a meaningful decision about opting for a private jet charter.
Limited Passengers
It is obvious that private jets will have a lesser number of passengers which will result in smooth operations. If you fly in a private jet charter, you will notice that there are only 8 to 10 passengers.
On the other hand, commercial flights have lots of passengers to board. So, when a flight a few passengers then the crew members are able to provide quality service to each and every traveler starting from their safety checks to fulfilling their personalized needs.
Fewer Mishappening & Incidents
You can conduct meetings or conference and use your time in a much productive way without any sort of worry. The overall time of your travel will be less visible when you are in your business jet charter. Hence to help you in preserving your privacy all throughout the important deals as well as negotiations is our prime concern.
Quality Service
Have you ever come to know about any tragic incidents faced by the private jets?
We guess you haven't seen such reports. While you have heard about many commercial plane crashes per year. This is because the private jet service providers always go through strict safety checks as mentioned above. All the private aircraft of such companies should comply with Federal Aviation Administration Part 135 of Title 14 that needs to maintain detailed investigation.
Conclusion
So, through all the above-mentioned points of private jets vs commercial flights, we hope you came to know how safe is private jets. We in Blueheights Aviation offer customized services tailored to the customers' requirements. We always make sure that all the needs of our clients are given proper attention. We know that our passengers want to have the most luxurious and safest flight experience. Thus, we curate everything seriously as per your preference.
You May Also Like
Five main reasons: Why private jets are painted White?
How does weather affect the private jet flight?
Can you beat jet lag by hiring a private Jet?
8 most important things to consider before booking a private jet flight
Your Private Charter Journey Starts Here
Subscribe and we'll send the best deals to you