Where is Kedarnath
Jun 02, 2023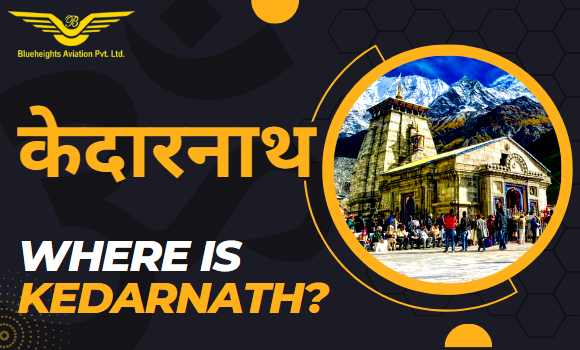 Located in the Himalayan mountain range of Uttarakhand, India, Kedarnath Temple is an ancient pilgrimage destination admired for its stunning beauty. From exploring its spiritual roots to finding out how to visit this iconic structure, learn all about one of India's most awe-inspiring landmarks.
History and Legends of the Kedarnath Temple.
Kedarnath Temple has a long and storied history that goes back to the 8th century. It is believed to have been built by Adi Shankaracharya, an Indian saint and philosopher, and is dedicated to Lord Shiva. There are several legends associated with the temple, such as the story of Nara-Narayana penance and a conflict between Krishna and Banasura. The temple has also been mentioned in ancient Hindu texts such as the Mahabharata, Ramayana, and Skanda Puranas.
Kedarnath is located in the northern state of Uttarakhand, India. The temple sits at an elevation of 3,569 meters (11,725 feet) above sea level and can be reached via a steep trek or helicopter ride from nearby towns such as Gaurikund or Guptkashi. Pilgrims usually begin their journey to the temple by traveling to Gaurikund and then completing a 20 kilometer-long trek to reach the shrine. Along the way, they can see stunning landscapes consisting of snow-capped peaks, lush green forests, emerald meadows dotted with wildflowers, and waterfalls cascading down the rocky slopes.
Where is The Kedarnath Temple Located?
The Kedarnath temple is located in the Himalayan mountains of Garhwal district in Uttarakhand, India. It is the most important temple of Lord Shiva and one of its twelve Jyotirlingas, making it a place of great religious significance. The temple stands 3,583 meters above sea level, at the mouth of Mandakini river valley, near the base of Kedarnath mountain range (also known as Kedar). Visiting this beautiful sacred site requires a steep 14km trek from Gaurikund or a helicopter ride to Sonprayag.
The Kedarnath temple is one of the most important pilgrimage sites in India, as per Hindu mythology. Thousands of devotees come here to seek blessings and offer their prayers to Lord Shiva. Every year during the festivals of Mahashivratri and Kartik Purnima, the temple is opened for darshan (a spiritual sight of God). People come here from all around the world to experience a feeling of true devotion and detachment from worldly affairs. All this while they can also witness the beauty and tranquillity that nature offers, overlooking snow-capped peaks and stunning waterfalls!
When Should You Visit The Kedarnath Temple?
Visiting the Kedarnath temple at the right time is essential to experience its beauty. During summers, the iconic temple opens up for pilgrims. Since winters are very harsh in Garhwal, with heavy snowfall, the best time to visit is during summer and early autumn months—from April to October. The Char Dham Yatra festival held annually in Kedarnath is an ideal period to witness traditional rituals and festivities of the temple. As a pilgrim, you should plan your trip carefully during this peak season as it can get quite crowded!
The Kedarnath temple opens up post-summer on Akshaya Tritiya. While the opening date can vary every year, this usually marks the beginning of festivities at Kedarnath. The closing of the temple gets declared one day in advance and is initiated with a procession at 7 PM in the evening before Aashwin Sudi Ekadashi. Post closure, devotees wait for another seven months until the temple doors reopen to them.
What are the Popular Rituals, Festivals and Prayers Performed at The Kedarnath Temple?
The popular rituals, festivals and prayers performed at the Kedarnath temple include Murti Pujan, Shivratri celebration, Aarti ceremony, Rudrabhishek pooja and Bhairav puja. During Murti Pujan and Rudrabhishek pooja, devotees offer water to the idols. On Shivratri celebration, special events are held to honor lord Shiva. On Aarti ceremony, devotees do evening prayer with incense sticks and oil lamps. Lastly during Bhairav puja rituals are performed for the protection of the shrine's deities.
Kedarnath is an important temple dedicated to Lord Shiva, located in the state of Uttarakhand. It is situated in the Garhwal region of the Himalayas and is one of the twelve sacred char dham temples located near Badrinath and Gangotri. Kedarnath has been a spiritual center since ancient times and is renowned for its intricate carvings and beautiful architecture that are hundreds of years older. People from all over India visit this temple to pray and offer worship at this holy destination. All these rituals take place usually during summer season when the weather is pleasant and Kedarnath temple's opening hours are from 6 AM to 9 PM every day.
What Accommodation and Other Services Can You Enjoy Near The Sacred Site?
Tourists visiting Kedarnath can enjoy accommodations near the temple complex. There are a variety of restaurants, lodges and accommodations that cater to the needs of pilgrims. Additionally, there are multiple ATMs, shops and banks available nearby to ensure pilgrims an easy stay. For those looking for more spiritual activities, the temple offers spiritual programs, lectures and meditation classes regularly. Additionally, porters and personal guides can be hired for assistance navigating around the site for an immersive experience.
Kedarnath is located in the lush hills of Uttarakhand, deep within the Garhwal region. It has traditionally been a site of reverence for Hindu pilgrims since ancient times, and is one of the 12 Jyotirlingas – powerful Hindu temples believed to be manifestations of Lord Shiva. The complex is situated near a small village, close to other popular destinations like Badrinath and Gangotri. The area around it is a nature's paradise, as pilgrims can enjoy breathtaking views of snow-covered mountains, rivers, dense forests and pastures.
Your Private Charter Journey Starts Here
Subscribe and we'll send the best deals to you