10 Must You Know Tips for Chardham Yatra
May 29, 2023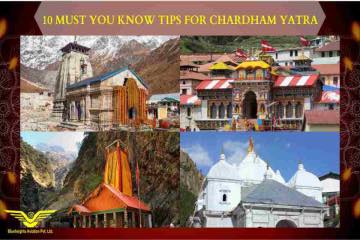 One of the notable expeditions among the Indians and foreign tourists in the Himalayan valleys is the Chardham Yatra in Uttarakhand.
This expedition is considered one of the problematic Yatra in India as it includes the visiting of sacred shrines through challenging trekking routes.
Because of the Chardham Yatra's popularity, Uttarakhand tourism took the expedition very seriously by arranging different commutation and transportation facilities.
If you want an exotic yet beautiful experience, go for Chardham Yatra by Helicopter. If you want to travel with a specific budget, then travel by road transports.

Tips to Keep in Mind before going for Chardham Yatra
Chardham Yatra for Indians is one of the holiest expeditions. One with a strong will and determination in mind can only opt for this yatra. This yatra is full of hassles and problems, but when you reach the high peaks of the sacred Himalayas, it is a divine feeling that cannot be expressed in words.
Along with strong determination, here are ten tips that you should follow before starting your journey for the Chardham Yatra:
The temple in Kedarnath is one of the 12 Jyotirlingas of Lord Shiva, situated at an elevation of 3553 meters. It is also a part of Chardham Yatra, which is not easily accessible by all the pilgrims. So, for the people who are unable to take the route of a long trek, Kedarnath Yatra Helicopter Services are best for them.
Look for the right timing:
The first thing to check before starting the Yatra is to look for preferable times to visit the shrines. The yatra generally begins in April-May and generally ends in October-November annually. The peak season for the yatra is generally in September. September is the time for a great expedition of Chardham Yatra by Helicopter or by road transports.
Hiring a tour operator:
It is better to hire a trustworthy and experienced tour operator than a self-managed tour. It will help you in accessing the best services from your arrival to your departure.
Check the reviews and feedback:
Before going for any tour operators or any other accommodations, check their reviews and feedback. The services you require should be matched with the services the tour operator provides, like transportation services, meals, and hotel accommodations.
Avoid carrying heavy luggage:
Make sure that you carry luggage only with items that you need. For maintaining safety, make sure not to carry any precious items as you have to leave the luggage at Haridwar. Whether you opt for Chardham Yatra by Helicopter or by road transport, carrying extra luggage will be a hassle.
Physical health:
Make sure you are physically fit for the journey. Before three months of the journey, make sure you consult a physician. If you suffer from high blood pressure, diabetes, or cardiac diseases, this journey may not be suitable for you.
Carry necessary medication:
Along with the luggage, the prescribed medications and ailments are necessary for your journey. Medications for stomach aches and ailments for sprains is necessary to carry.
Carry enough warm clothes:
Carrying enough comfortable and warm woolen clothes is necessary for the trip. At a high altitude, it is impossible to survive if you don't have enough warm clothes.
Practice for Long walks:
If you are not used to long-distance walks, make sure to start an earlier practice before the trekking. Helicopter facilities, including Kedarnath Yatra Helicopter Services, are there for sure, but practicing long walks is necessary for the trekkers.
Carry some snacks:
Carrying some dry fruits like raisins, almonds, and cashews will help you to regain your energy while you are walking non-stop in your journey.
Plan your trip in a group:
Plan the Chardham Yatra with your family or friends. The routes are quite challenging, and you might face some difficulties. So, assistance for your trip will be a great option.
Cost Related to Chardham Yatra
The Chardham yatra includes visiting the shrines of Kedarnath, Badrinath, Gangotri, and Yamunotri. Chardham Yatra Pricing depends on the type of vehicle or the type of accommodation, a pilgrim chooses.
We in Blue Heights Aviation, collect all the details about the passengers and you will be flying with a crew examined by a team of experts. Our experts will brief the crew based on your preferences as well as company policies.
Cost of Traveling Chardham Yatra by Air
For visiting Chardham yatra by air, i.e., helicopter, you first have to travel to Dehradun, Haridwar, or Rishikesh. The helicopter service can be a bit costly but cost-effective as it takes a lot less duration to complete the distance.
In Dehradun, for four nights and five days package, the approximate fare per pilgrim is INR 1,90,000. In Rishikesh, for five night six days, the fare is INR 1,90,000. In Haridwar, for five night six days, the fare is INR 1,90,000. But these rates changes based on your chosen helicopter services.
Cost of Traveling by Public Transport
The Chardham Yatra Pricing by Public transport, i.e., through GMOU Bus and Taxi services, has its fixed cost determined at the point of the journey.
The cost of taxi services is between INR 26,000-27,000. The cost of government bus services ranges between INR 2400-2700. In the case of car rentals and private buses, the cost is higher.
Then there are travel packages for your Chardham Yatra Pricing. The rates will vary according to the package you choose.
Conclusion
These suggestions and tips will be in handy when you want to opt for Chardham Yatra. The choice of transport and communication is undoubtedly up to you. Some may choose helicopter services, and some may choose road transportation services.
For the case of helicopter services, Blueheights Aviation is one of the renowned and registered private companies that offer facilities of charter helicopter services in India. They offer the best services at the best rate along with additional facilities. Make your devotional tour of Chardham Yatra, a memorable one, with Blueheights Aviation services or any other services you prefer.
You May Also Like
Chardham Yatra at Incredible India: A tour to Chardham
5 Things You Didn't Know About Kedarnath Temple Darshan By Helicopter
How Much Does It Cost to Visit Chardham Yatra?
Importance of Do Dham Yatra in Hindu Religion
What is the best time to visit Kedarnath?
Your Private Charter Journey Starts Here
Subscribe and we'll send the best deals to you