CharDham Yatra at Incredible India: A tour to CharDham
May 29, 2023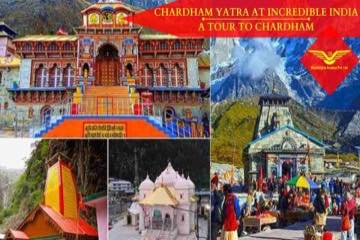 For any religious enthusiast, Chardham yatra tops the list of their pilgrimage wishlist. During the 8th century, an attempt was made to revive Hinduism and unify the Hindu population across the world. Chardham is associated with a pilgrim tour in Garhwal Himalayas.
Coined by the famous Hindu reformer Adi Sankaracharya, Char Dham Yatra tour is the pilgrimage tour of four sacred centers in India, which are spread four different directions. There is unrivaled importance of Chardham yatra, according to Hinduism.
Chardham Yatra by Helicopter is the most convenient way to cover all the four sacred Dhams in a hassle-free way. Now-a-days, Do Dham Yatra by Helicopter is incredibly popular as it is easy and quick way to visit the important Hindu pilgrim.
Char Dham Yatra's opening dates for the year 2021 is 26th April to 30th October 2021.

Here are the essential places to be covered under Chardham:
• Yamunotri • Gangotri • Kedarnath • Badrinath
Also known as chota char dham, these four pilgrims are spread in the four different directions in Uttrakand which can be covered with Char Dham Yatra by Helicopter services.

Yamunotri Dham
Referred to as the seat of Holy river Yamuna, this Dham is perched at an elevation of 3,293 meters. Situated on the Kalind Mountian, the renowned Champasar Glacier is known to be the source of the sacred river Yamuna. It is located atop the Bandar Poonch Parvat edge.
• Temple timings: Dwar opens from 26th April till 30th October 2021;
• Aarti timings : 6:30 AM to 7:30 AM and 6:30 PM to 7:30 PM.
Places you can visit during your Yamunotri Dham Yatra
• Shani Dev Temple: Located 2km away from the Yamunotri Dham Temple, this famous temple is dedicated to Shani Dev and a must-visit when you are on your way to Yamunotri.
• Jankichatti: A residential area that is 4 km away, trekking to this place is an excellent idea while going to Yamunotri will make your tour worthwhile.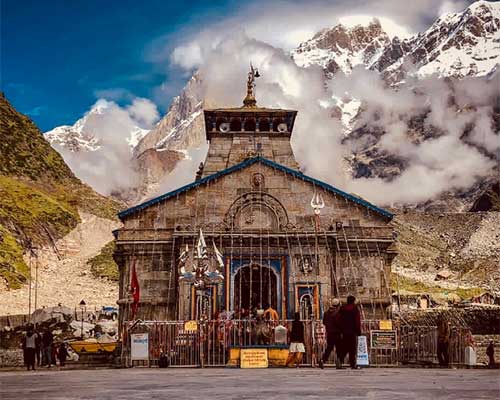 Gangotri Dham
A small town on the river Bhagirathi at an elevation of 3100 meters, Gangotri Dham, is nestled in higher Himalayas and enclosed to enchanting Garhwal Hills. It is a significant part of Char Dham yatra, where the aartis are performed on the bank of Holy River Ganges. The temple here was constructed in the 18th century by General Amar Singh.
The destination you can cover enroute Gangotri and Yamunotri
• Divya Shila:
Located close to Surya Kund, Divya Shila is a rock pillar. You will enjoy climbing this massive embankment. You will love the tranquil environment of its surroundings.
• Surya Kund:
Located near Yamunotri temple, it is one of the premier attractions of Yamunotri Dham. As river Yamuna is considered as the offspring of Sun God, the temperature of Surya Kund is as high as 88 degrees. Snow-covered peaks make an exemplary border to this thermal spring and create an astonishing ambiance.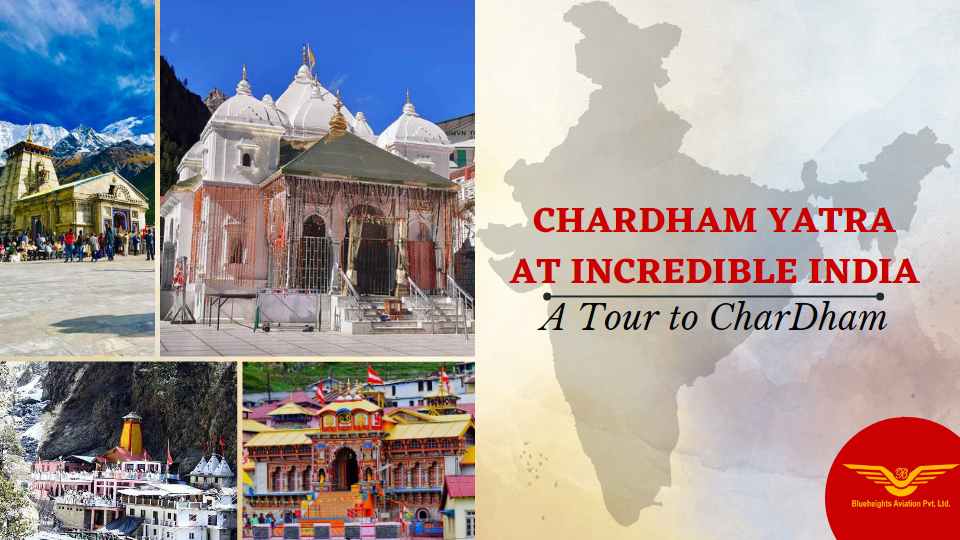 Kedarnath Dham
Located in Uttarakhand in the district of Rudraprayag, it is a revered and divine place referred to as the seat of Shiva. Surrounded by the snow-clad mountains, Kedarnath is enclosed with Mount Kailash, which is known as the home to Lord Shiva. It is one of the renowned 12 jyotirlingas of Lord Shiva. Resting at the altitude of 3584 meters, the holy river 'Mandakini' outfall from the place.
• Temple timings: Opens from 28th April to 30th October 2021
• Aarti timings: 5:35 AM. Sampurna Aarti at 6 PM to 7:30 PM

Destinations to be covered en route Gangotri and Kedarnath
Guptkashi
Located within the Mandakini River Valley, Guptkashi lies within the Northern Himalaya belt. Devotees visit the place to worship Lord Shiva at the dedicated Viswanath temple.
Uttarkashi
Adorned with a large number of temples and ashram, this place is also known as the Kashi of North. You can also visit the Nehru Institute of Mountaineering here.
During Kedarnath Darshan Yatra, below are some of the renowned tourist points which you can explore:
• Gaurikund:
An enjoyable trekking route from Gauri Kund to Kedarnath. Just located 14 km away from Kedarnath, it is the nearest motorable place.
• Chandrashila Trek:
Enjoy the breathtaking views of Himalayas from Haridwar to Chandrashila. Just 31 km away from Kedarnath, pilgrims visit the place to adore the beauty of Tungnath Temple.
• Bhairavnath Temple:
Dedicated to Lord Bhairav, this temple is just 500 m away from the Kedarnath Dham and situated at the hilltop.
Kedarnath Helicopter services are also available to take you through a quick one-Dham tour of Kedarnath Ji.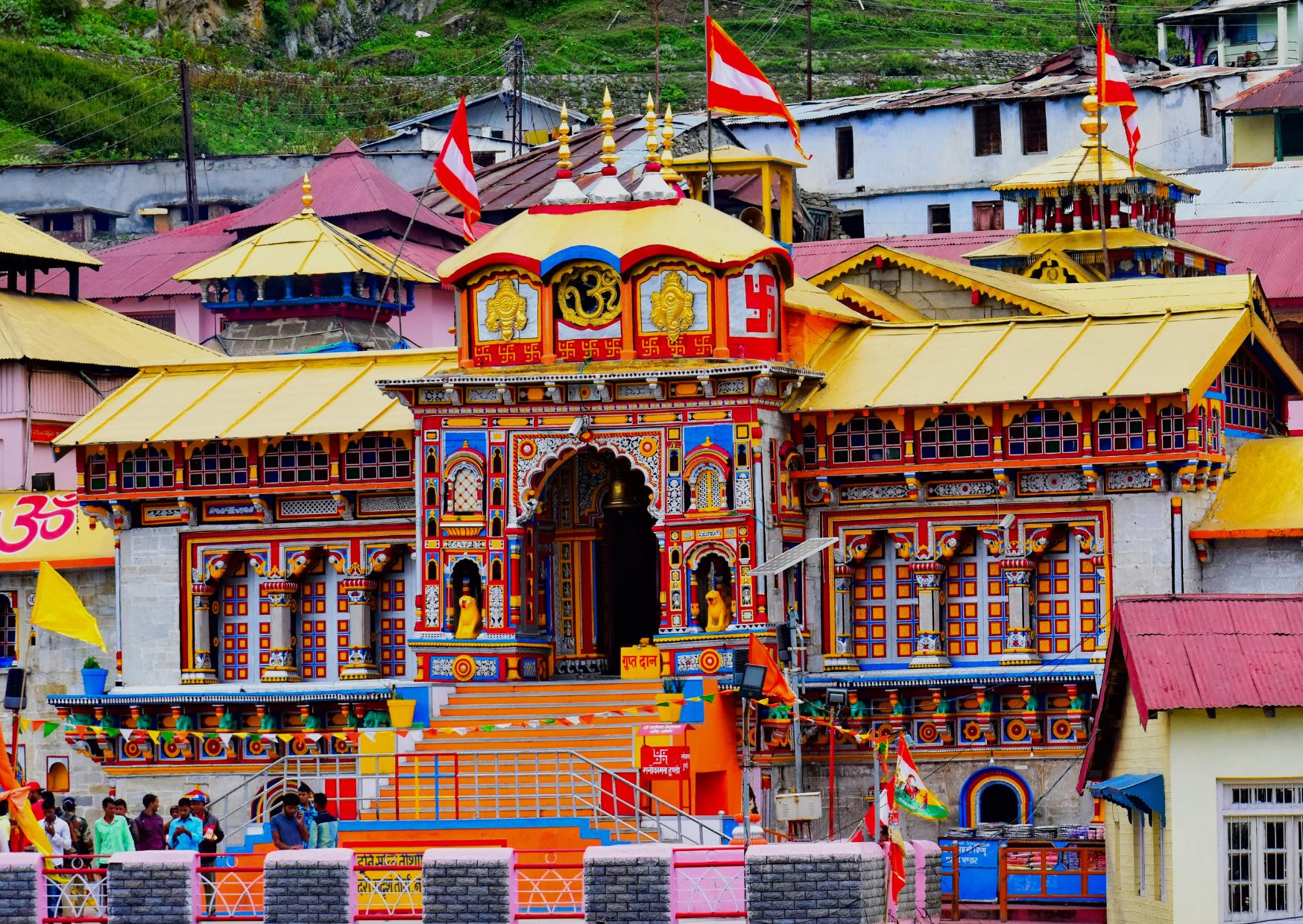 Char Dham's tour ends with this Dham. It is an abode to Lord Vishnu, which is strategically situated in Garhwal Hills. Located at 3415 m above sea level, Badrinath, together with Kedarnath, is often visited to cover the incredible Do Dham Yatra by Helicopter.
• Temple timings: Opens from 28th April to October 30th, 2021
• Aarti Timings: 4:30 AM and 8:30 PM
Destinations enroute Badrinath and Kedarnath
This pilgrimage center is located in Chamoli and also known as the renowned Sikh pilgrimage center. It is devoted to Guru Gobind Singh Ji (tenth Sikh Guru).
Rudraprayag
It is a point of confluence of River Mandakini and River Alaknanda. Hence it is counted as one of the Panch Prayag of Alakhnanda river.
Here are some famous places near Badrinath
• Charan Paduka:
Just 3 km away from Badrinath, this holy place is known for the first stop of Lord Vishnu with his footprints on a rock on this earth.
• Topt Kund:
A natural hot water spring which is known to be the abode of Lord Agni. The pilgrims explore the holy water of topt Kund for its therapeutic properties.
• Bheem Pul:
A natural stone bridge located 4.8 km from Badrinath Dham is believed to be created by the Bheem (one of the Pandava) to cross the Saraswati river.
There are large numbers of tour operators that offer several packages with varied Char Dham yatra costs.
Conclusion
Known as teerth yatra, the awe-inspiring beauty of Garhwal Himalayas can be explored to its best with this Char Dham Yatra. For ages, it is known as Dev Bhoomi, where pilgrims visit to wash away their sins. Among the four goals prescribed in early Indian Vedas as Kama, Dharma, Artha, and Moksha, this yatra is the pursuit of the goal – Moksha.
Badrinath Dham Yatra
You May Also Like
5 Things You Didn't Know About Kedarnath Temple Darshan By Helicopter
10 Must You Know Tips for Chardham Yatra
How Much Does It Cost to Visit Chardham Yatra?
Importance of Do Dham Yatra in Hindu Religion
What is the best time to visit Kedarnath?
7 Lesser-known facts about Door Opening of Kedarnath temple
Your Private Charter Journey Starts Here
Subscribe and we'll send the best deals to you