What foods can I get on private jet charters?
Jun 03, 2023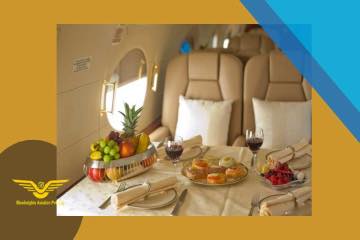 Whatever be the reason for travel, comfort is the main priority. On a private charter, all your minor wishes are diligently followed to make your trip pleasurable and memorable, the same is for jet food services.
The private jet charter services India tender to all its client's heart desires and arranges foods accordingly that may be light snacks, a full four-course meal, or any other special requests.

You also have the option to choose your inflight catering depending on your flight time length and the amenities available on the plane. Most of the planes accept wide range of tastes, allergies, specific dietary restrictions.
You also get the benefit of certain specific dietary requests- such as gluten-free items, non-fat items, vegetarian, vegan, etc.
The flight attendants would arrange all the items keeping in mind your religious observance or vegetarian options. The staff follows the private jet etiquettes to ensure a hygienic and delicious meal.
Beverages such as tea, coffee, and soft drinks would be available on the flight irrespective of its duration. Most of the private charter companies also serve alcohol especially champagne or sparkling wine. You can request your necessities beforehand and it would be attended to.
Is there any set menu?
Though one can order anything they wish to, a private charter has a menu that includes food items and beverages for their clients who did not had time to select their meals beforehand. The most common jet foods are:
• Sandwiches,
• Pastries,
• Pasta,
• Grilled fish and chicken,
• Salmon.
Many luxury private jet service providers let arranges a VIP in-flight catering service that gives your immense pleasure and memorable delicious food that would not make you feel uneasy because of food service.
The food options may vary, depending on the size of the aircraft. Smaller aircraft will have limited space in the kitchen, and it would be difficult to prepare a large quantity of food. Short flights most probably have options for some light snacks and dishes such as- salads, sushi, sandwiches, fruits, etc.
Ultra-Ultra long-range jets can arrange a full meal or light dishes according to your preferences.
You can even plan a special occasion on a charter. The charter company will take care of the necessities to make the occasion a special one. You can ask them for birthday cakes, champagne and even to decorate the cabin.
Many of the eateries like Joe's Stone Crab in Miami and Cipriani in New York provides takeout containers to be served directly to the private jet passengers. It consists mostly of their signature dishes with quality packaging which ensures the preparation and reheating of the items on the aircraft will not hamper its quality.
Best food to have on the flight:
Catering on an aircraft is a difficult affair as it gets affected by passengers' tastes, schedules, dietary requirements, aircraft, etc. It is always recommended to have light and refreshing foods and avoid 'saucy and spicy' items when you are on a plane so that you do not make your stomach upset.
Eating light foods can help you calm your nerves in case you are tired, worried, or also when you are afraid of the flight.
Ultimately you can order anything you want no matter how extravagant it may be. Even if you want champagne for your breakfast or lobster for lunch it can easily be arranged. However, all this must be pre-opted.

Final Words
Most of the private jet companies cater to the requests of their clients diligently and try their best to accommodate them. It can be about fine dining or any other specific requests to make your flight extraordinary and pleasant. Bluheights Aviation tries to make every flight a memorable one for their clients. Book a private jet with us today to avail of all our unforgettable hospitality during your air travel.

You May Also Like
How to find Best Top Private Jet Charter Companies
How much does a charter plane cost in India?
How much luggage can I take on a private jet?
How to Book a Private Jet – 4 Easy ways to do.
Your Private Charter Journey Starts Here
Subscribe and we'll send the best deals to you