Tungnath Temple - A Hidden Gem of Uttarakhand
Jun 02, 2023
Nestled amidst the majestic Himalayas, Tungnath Temple is a spiritual destination in Uttarakhand that offers a tranquil and peaceful experience for visitors. Sitting at an altitude of 2600 metres, this ancient temple is the perfect getaway for those seeking to reconnect with nature and their own spirituality.
Introduction to Tungnath Temple.
Tungnath Temple is one of the oldest temples in India, and it is believed to have been built more than 1000 years ago. Located in the Garhwal region of Uttarakhand, Tungnath temple stands at a majestic altitude of 2600 metres about sea level, surrounded by beautiful views of the Himalayan Mountains. This hidden gem offers visitors a peaceful and tranquil experience that can be enjoyed through hiking and meditation.
Built by the legendary Pandava brothers from the Mahabharata epic, Tungnath temple is located at a distance of 12 kilometres from Chopta. This 10th-century temple complex is an important part of Hindu mythology, and it holds great spiritual significance for many devotees. Structures like the Bhim bel amidst three other temples symbolise strength and courage, reminding pilgrims to keep a never giving up mentality in their lives. Tungnath temple has become increasingly popular in recent times, with it's mystical story drawing tourists in to explore this extraordinary place.
When to Visit Tungnath Temple?
Constructed in the early 10th century, Tungnath Temple is a perfect spot to experience spirituality and serenity. The weather can be variable in this region so it is recommended that you visit between the months of May and October when the mountain trails are safe to travel. During these times of year, Tungnath Temple is open to visitors and you can explore the beauty of Uttarakhand while also enjoying spiritual and peaceful surroundings.
Some of the best times to visit Tungnath Temple would be during festivals or special occasions like Mahashivratri and Ram Navami, when the temple is decorated with vibrant colors. For those looking for a quieter, more peaceful experience, avoid these peak times and instead focus on visiting off-season when there are fewer crowds. During these times, you can enjoy the serene atmosphere of Uttarakhand and find solace within the majestic Himalayan mountains.
How to Reach Tungnath Temple?
The most common way to reach Tungnath Temple is through a trek. You can begin the trek from Chamoli and Garhwal. During the trek, you will be able to enjoy the beauty of the Himalayas, wander through villages and experience some of the best sunsets in Uttarakhand. It will take around 8 hours to reach Tungnath Temple so it is advised that you make sure to plan your trip well in advance and bring enough water, food and other supplies for the trip.
From Chamoli and Garhwal, the hiking trail for Tungnath Temple passes through Deoriya Taal and Madhmaheshwar. There are several guesthouses from where trekkers can stay overnight to break up their journey. After reaching Madhmaheshwar, you will have 1-2 hours of uphill climb before arriving at Tungnath Temple. Make sure to take some time to explore the local area and appreciate its natural beauty. Once you reach the temple, there are spectacular views across the valley which make for wonderful photos that will last a lifetime!
History and Legend Behind the Tungnath Temple.
The Tungnath Temple is one of the oldest temples in India and has a long history associated with it. According to Hindu mythology, it was constructed in veneration of God Shiva by the Pandavas, who were returning from the Himalayas after they had won the epic battle of Mahabharata. Legends also say that Adi Shankara made a visit to this temple, making it even more special.
The temple is situated at nearly 3,500 meters above sea level and is the highest Shiva temple in the world. Every year, many devotees flock to this sacred site during the festive season or to see its unique architecture. The temple has a beautiful green valley view and is surrounded by lush vegetation. Inside it features wooden carvings of various gods, along with an ancient bell that tolls before puja time every morning.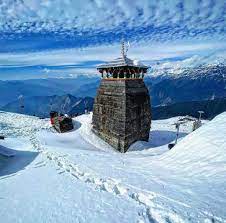 What are the Tourist Attractions in and around Tungnath Temple?
Located in the picturesque setting of Uttarakhand, the Tungnath Temple is surrounded by many tourist attractions that add to its beauty. The beautiful waterfalls of Chopta, Madmaheshwar Temple, Deoria Tal lake and Panch Kedar are all situated close by. For those looking for adventure activities, trekking and camping in the nearby regions is a great idea. As for wildlife enthusiasts, an excursion to Khirsu Wildlife Sanctuary or Rajaji National Park will offer them multiple opportunities to spot wild animals.
Some of the popular tourist attractions near Tungnath Temple include Chandrashila Peak, Kempty Falls at Mussoorie and Valley of Flowers in Uttarakhand. Visitors can also enjoy a cable car ride to Auli and explore the 17th century temples of Badrinath, Gangotri and Yamunotri for a spiritual experience. With its mesmerizing views, lush green meadows and dense forests, the region around Tungnath temple is simply ideal for nature lovers. The Mandakini River flows beside the temple offering many breathtaking views along its sides. With so much to explore, this quaint mountain town has something to offer everyone!
Your Private Charter Journey Starts Here
Subscribe and we'll send the best deals to you