4 New Private Jet Trends That Industry Will Follow in 2023
Jun 03, 2023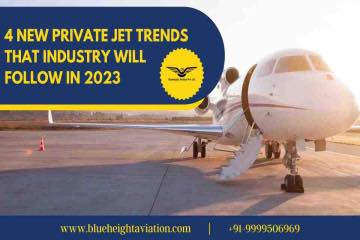 Private jet travel is booming. It's expected to grow at the double the pace of commercial air travel over the next five years, according to a recent report from PwC.
While the global market for private jets is forecasted to reach $110 billion by 2025, there are still some challenges ahead.
For one thing, the number of passengers flying worldwide is growing faster than the number of airplanes. And the industry needs help to keep up with demand.
But even though the industry is facing headwinds, people aren't giving up on private jets entirely. They're planning to fly more in the coming year than they did in 2022. A new private Jet Buyer's Guide survey found that 51% of respondents planned to fly more than 2021.
So, what are the best private jets trends in 2022 that will rule the industry? Let's check out the following:
Safety features are strict post-covid
Airline cabin filtration has gone through an upgrade in recent years because of the coronavirus' airborne transmissibility. Some systems, like the one onboard the Gulfstream G800 model, use plasma ionization technology to neutralize 99% of bacteria, allergens, and odours. These systems allow passengers to breathe a sigh o relief—without the fear that they might get sick.
Gulfstream has also introduced its innovative Predictive Landings Performance System, which alerts the pilot to potential runway excursions, allowing them to adjust their course preemptively. This state-of-art system makes landing a private aircraft safer than ever before, so private jet owners, new and seasoned, can soar through the skies with confidence and peace of mind.
2. Surging demand for Long-Range Aircraft
The longer a plane can go without refuelling, the more desirable the aircraft. That's why current trends in private aviation point toward enhancing fuel efficiency so that passengers can take longer trips to more far-flung destinations.
For example, Dassault's Falcon X series is specifically engineered for making ambitious trips across the globe, boasting sleek interiors that win awards and stoke envy in jet enthusiasts everywhere. The Bombardier Global 5500, a perfect jet for a business mogul on the go, comes equipped with spacious cabins and revolutionary seating to make global travel a luxurious experience.
The Praetor 600 by Embraer is a carefully crafted mid-size jet with upscale interiors and a best-in-class range. These private jets give owners access to the entire world, fuel efficiency and top-notch aerodynamics eclipsing previous models and launching long-range air travel into a comfortable—and classy—future.
3. More Ownership in Private Jets
The world of private jets is changing. With the rise of sustainable and efficient designs, luxury interiors, and enhanced security, we are seeing a shift toward a future where private aircraft ownership is more prestigious, practical, progressive, and accessible than ever.
Nearly 30% of the current private jet owners plan to buy another jet within the next five years.
Fractional ownership allows owners to purchase shares in a fleet of aircraft, thereby reducing costs and increasing flexibility. Fractional ownerships are becoming increasingly popular as more buyers seek to own multiple planes while still enjoying the benefits of renting.
Owners who want to enjoy the perks of owning a private jet but don't have the time or resources to do it all themselves can now lease fractional ownership from companies.
4. Shift to Sustainability
In recent years, the airline industry has been under increasing pressure to reduce its carbon footprint. As it turns out, air travel accounts for nearly 3 percent of global greenhouse gas emissions. This makes it one of the most significant contributors to climate change.
One of the ways to cut down on emissions is to use environmentally friendly airplanes. For example, the Pilatus PC-12 is the world's most efficient jetliner. It uses very low fuel consumption and has a low emission rate compared to other business aircraft.
Conclusion
In addition to the increase in demand, the private jet industry is seeing significant changes. Several key trends are shaping the future of private aviation, from the greater emphasis on safety and security to improved customer experiences and increased environmental awareness. Above-listed is some of the most important trends we see happening in the next five years.
Your Private Charter Journey Starts Here
Subscribe and we'll send the best deals to you