Private Jet Charter vs. First-Class: Detailed Comparison
Jun 03, 2023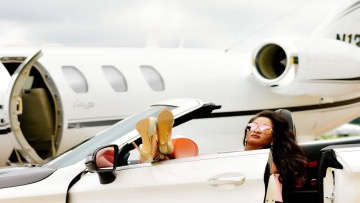 What is the difference between private jet charter and first class? Is one better than the other?

Private jets are becoming increasingly popular among high-net-worth individuals (HNWIs) who want to travel in style. Chartering a private jet service in India can cost anywhere from 1.5 lakh per hour to over 3.5 lakhs, depending on the size of the aircraft.
A private jet charter service is similar to a commercial airline. The main difference is that you pay for the entire plane instead of paying for seats. It means you don't have to worry about finding a seat or checking bags. You also get access to the pilot, so you know your plane will be safe and well taken care of.
A private jet charter company like Blueheight Aviation may charge an hourly rate which includes flight time, fuel costs, maintenance, and crew salaries. It could also have the price of catering and beverages. Depending on the type of aircraft being chartered, there might be additional fees such as airport security, landing permits, etc.
Private Jet Charter Vs. First Class: An Overview
The most significant advantage of using a private jet charter service is convenience. With a personal jet, you won't have to wait around at the airport while baggage goes through security. Instead, you'll be able to board right away.
You can choose from various aircraft types, including small business jets, large corporate jets, turboprops, helicopters, and even seaplanes. You can also choose from a variety of destinations with customized schedules.
If you're looking for more privacy, you can opt for a V.I.P. jet where the cabin has been designed with a separate bedroom, bathroom, shower, living room, dining area, and galley. These planes usually come equipped with Wi-Fi and satellite T.V.
A first-class ticket gets you at the mercy of commercial airlines. You have to abide by their fixed schedules. You have to put up to the security checks as well.

Private Jet Charter
Private jets are reserved for the wealthy elite. They allow you to hire a plane without having to worry about the hassle of flying commercial airlines. You can choose when you leave and return, and the plane doesn't have to stop anywhere. You get to enjoy the comfort of traveling in style while still saving money.
Business people often use charter flights. They provide an excellent opportunity for people to get away and relax. Since there are fewer passengers, you have more space to move around. You can customize your flight experience by choosing your crew.
There are many different charters available, including executive, luxury, and even military ones. These flights come with great convenience and luxury. You can quickly get away from crowds and extended security check queues. Hence chartering a private jet is an excellent time-saver too.
It comes with the flexibility of setting up your travel schedules. Also, you don't need flight changes or layovers once you book a private jet charter for yourself.
Celebrities and sports stars use these planes because they want to travel privately.
First Class Booking
First-class flyers enjoy extra comforts such as priority boarding, reserved seating, and other perks compared to economy class. However, they must follow the airline's schedule and may be subject to crowding and delays. First-class is expensive but provides some advantages over the economy.
You may have to wait longer at the airport and be subject to crowding, but you'll have better service and more privacy. Flying commercial airlines is expensive, but it is much cheaper than buying a private jet or renting a private airplane.
First-class booking comes with certain perks: free meals, larger seats, ample legroom, etc. There is an option of customized seating in many airlines to deliver the utmost comfort to travelers.
Commercial aircraft can only land on the largest airports. If you are flying to attend a meeting in a metropolitan city, you must hire a taxi or car to reach the designated place.
Privater Jet Vs. First Class: Key Differences
Here are some common differences between private jet and flying first class:
Accommodations
Business travelers usually bring along a lot of things when flying. These include pets, sporting equipment, or other bulky items. First-class passengers are allowed to carry more luggage than others. However, they do not have to pay extra fees to check their bags.
Private planes offer more amenities than commercial ones. They are easier to get into and out of. They also have more room for luggage and wheelchair access. Customers flying privately do not need to worry about losing their belongings in checked baggage. They are allowed to bring more luggage than others.
First-class passengers are usually given an exemption from checking in their bags. Private planes are generally smaller than commercial flights, and they are often used by people who need to travel for medical reasons. They are also usually cheaper.
Cost
Private jets are expensive. A chartered jet costs between $1,300 and $13,000 an hour. That cost, however, can be per hour, or it can be higher if there are extra charges for things like waiting time for passengers or if the plane needs to wait for someone else before taking off. Smaller planes cost less than larger ones.
First-class seats on commercial flights are cheaper than first-class seats on charter flights. You can buy a seat or a charter on an airplane. Chartering costs more than buying a seat, but you get better service.
Privacy
Commercial flights are crowded. You will find yourself standing next to strangers all day long. It is especially true during peak hours. Passengers are packed together so tightly that you cannot move around without getting bumped by another passenger. Private jets are spacious, allowing you to stretch your legs and sit comfortably.
Conclusion
If you want to fly in style, consider hiring a private jet. It's a great way to enjoy luxury while traveling. On the other hand, flying first class is probably the best choice if you want to save money.
You May Also Like
What foods can I get on private jet charters?
How to find Best Top Private Jet Charter Companies
How much luggage can I take on a private jet?
How to Book a Private Jet – 4 Easy ways to do.
Common mistakes to be avoided while booking a private jet
How much does a charter plane cost in India?
Your Private Charter Journey Starts Here
Subscribe and we'll send the best deals to you