9 Private Jet Amenities Every Business Jet Traveller Will Appreciate
Jun 03, 2023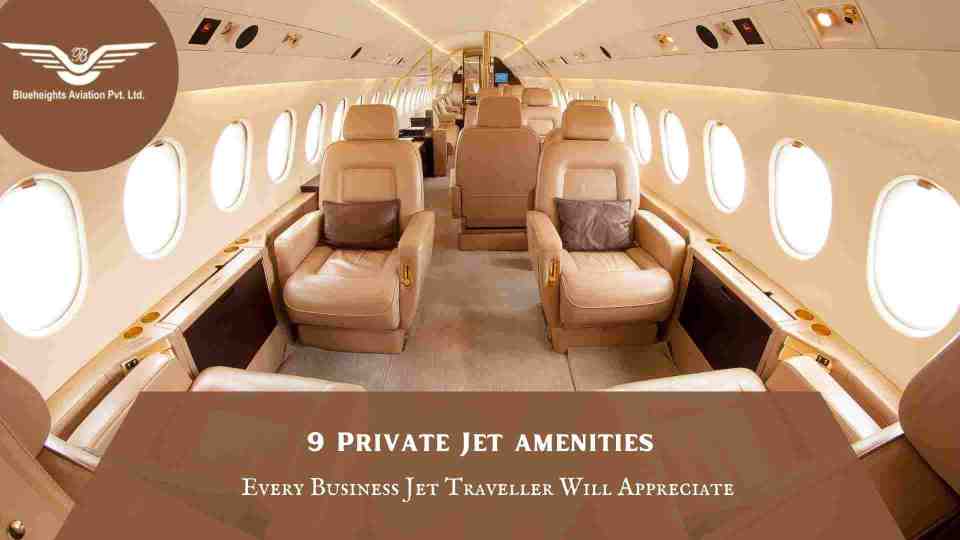 Private jets are no longer just for celebrities and billionaires. In fact, according to the Global Business Aviation Association, there are now about 3,500+ privately owned aircraft flying around the world. And while many private jets offer luxury amenities like gourmet meals, premium liquor, and plush leather seats, one feature that most don't think about is the ability to run multiple computers simultaneously.
1.Privacy
Private airport lounges and charter flights are becoming increasingly popular among business travelers. These perks offer a sense of security and comfort while traveling, especially for those who want to conduct business on the go. They also provide reassurance that no one else can hear what you say or see what you do while you're working.

The peace you need for work, along with the privacy you require to conduct business, are some of the reasons why many people choose to travel via private jet. Here are three benefits of flying privately that make it worth considering.
2.Safety
Blueheight Aviation offers clients a variety of options for private jet travel, including charter flights, fractional ownership programs, and wholly-owned jets. Our team of experts is here to help you find the best fit for your needs. We are committed to ensuring our customers receive the highest service while traveling via private jet.
3. Splendid Travel
The best way to experience the ultimate luxury travel experience is to fly in one of our ultra-modern, spacious executive planes. Blueheight Aviation is proud to offer a wide variety of options, including:
• A choice of three different cabin sizes, ranging from 28 to 38 feet long.
• An array of seating configurations, including single, double, triple, and quad suites.
• Four different types of lavatories, each with its unique design.
• Two types of bathrooms, both with showers.
Our fleet includes some of the industry's newest and most technologically advanced airplanes. Our planes feature state-of-the-art navigation systems, satellite phones, and Wi-Fi connectivity. They are also outfitted with the latest entertainment technology, including flat-screen TVs, DVD players, and premium audio equipment.
4.Dedicated Safety Management Team
Our safety manager reviews all trips before departure to ensure everything is done correctly. He even goes out of his way to personally inspect each aircraft. If he notices anything amiss, he immediately contacts the pilot and owner to resolve the issue.
5. Safe & Reliable Service
Our fleet consists of modern, twin-engine turboprop planes, allowing us to operate flights throughout North America. All of our aircraft are maintained to the highest standards by our experienced team of mechanics.
Our fleet consists of modern, twin-engine turboprop planes, allowing us to operate flights throughout North America. All of our aircraft are maintained to the highest standards by our experienced team of mechanics.
6.Industry Leading Standards
We're part of the premier worldwide provider of air charter services, Paramount Business Jets. This membership provides access to over 15,000 aircraft across the globe. With such a large fleet, we can find suitable aircraft for almost any type of travel.
7.Accessibility
The best thing about flying privately is that you don't have to wait around for hours as you might on a commercial flight. You're free to work while you ride, read a book, or catch up on some sleep. Plus, you'll enjoy the comforts of home without worrying about anything except where to go next.
8.Flexible Schedules
You won't have to check in early or spend hours waiting for your luggage. Instead, you can show up and depart whenever you want. Your schedule will be completely flexible, so you can choose when to arrive at your destination and leave as soon as you've had enough time away from it all.
9.Food options
Travelers love the variety of onboard meals that private jets provide. They range from snacks like nuts and chips to full meals, including appetizers, entrees, and desserts. Many airlines offer complimentary drinks during takeoffs and landings, but private jets offer premium beverages like champagne, wine, and beer.
Key Takeaway
Private jets are becoming increasingly popular, especially among business travelers. They offer privacy, convenience, speed, and comfort, making flying by private jet an excellent option for busy executives.
Your Private Charter Journey Starts Here
Subscribe and we'll send the best deals to you