The Best Private Airlines in India for 2023 ( Private jet travel )
Jun 02, 2023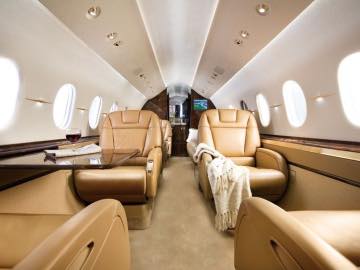 Indian air travel has taken off over the last decade, and the country now has several well-regarded private airlines offering flights to urban and rural destinations alike. Read on to learn more about the top private airlines in India for 2023 and discover helpful information to help you make your decision.

Taj air

Taj air is one of the most popular private airlines in India, providing customers with reliable and affordable flights. All flights are equipped with courteous and professional staff, providing you with the highest level of service. With multiple flights a day to most destinations across India, Taj Air is undoubtedly one of your best options.
Other benefits of Taj Air include a generous baggage allowance, dedicated check-in counters and customer service desks, modernized cabins with Wi-Fi capabilities and power outlets for charging devices. Plus, for those needing special assistance, the airline offers wheelchairs and special meal requests. So whether you're looking for a quick weekend getaway or a long-distance flight across India, look no further than Taj Air. With their reliable services and customer-focused approach, they have earned their spot as one of India's leading private airlines.

Blueheights Aviation
Blueheights Aviation is a top-rated leading private airline in India and they offer flights throughout the country. With low prices, excellent customer service, and state of the art aircrafts, Blueheights Aviation guarantees to provide their customers with the best experience possible. With efficient flight routes and luxurious amenities available in all classes, Blueheights Aviation prides themselves on being one of the best choices for private air travel in India.
Customers of Blueheights Aviation can expect only the best experience while on board. Because of their commitment to customer service, they employ only professional and highly qualified flight staff and cabin crew members who attend to all guests. Every detail is taken care of, from the safety and comfort of passengers to onboard entertainment. The aircrafts are equipped with the most advanced technology and innovations in the industry with luxurious seating options for maximum comfort. Whether you're flying for business or leisure, be sure to fly safely and smoothly with Blueheights Aviation.
Blueheights Aviation is one of the premier private airlines in India. Whether it is to attend a meeting or just for pleasure, you can be sure that you are getting the best services possible. Their planes are fully equipped with an array of amenities and entertainment options to make your flight as comfortable and enjoyable as possible. They also provide special packages for business and leisure travelers alike, offering specially curated experiences like exclusive discounts, complimentary Champagne onboard, dedicated lounges and luxury car transfers etc. With these features at their disposal, Blueheights Aviation has quickly grown to become one of India's "go-to" private carriers for reliable service and luxurious amenities.
Blueheights Aviation stands out among the other private airlines in India with their exceptional on board services and luxurious amenities, allowing passengers to experience the same level of comfort found in bigger airlines. From complimentary Champagne onboard to priority access to lounges, they provide everything you need in order to have a truly comfortable journey. Their dedicated staff is always willing to go above and beyond to ensure each client has an excellent experience every time they fly with them. With these features and services at their disposal, it is no wonder why Blueheights Aviation is quickly becoming one of the most sought-after private airlines in India today.

Jetsetgo
Jetsetgo is a private airline in India that caters to business, leisure, and VVIP travelers. The company's fleet of jet planes are all kept in peak condition and they have an extensive network of domestic routes as well as international routes to select destinations in the United States, Europe, and the Middle East. They provide first class service to each customer and strive to be one of the most reliable private airlines in India for 2023.

Club one
Club one is another great private airline in India that offers frequent flier and loyalty programs for those who choose to travel with them. The loyalty program looks at 13 different criteria to calculate points, such as the type of plane flown and origin/destination of flight. Members can earn rewards like complimentary upgrades, discount fares and priority check-in using these points. This is a great option for business people who often have to fly for work, so they can save even more when flying regularly with Club one.

Air charter service
Owing to the rise in popularity of private air travel, many Indian companies provide air charter service. This is beneficial for business people who are often on tight schedules that don't allow them enough time to book their tickets with a conventional airline. With air charter service, they can customize the flight to their needs and schedule. They can also decide which type of aircraft they want to use, such as a business jet or a helicopter. Basically, if you value luxury and convenience while travelling by air, this is the perfect solution for you!
Air charter service companies in India are thus providing a much-needed alternative to conventional air travel. They guarantee superior services like short-notice flight bookings, special luggage requirements, price flexibility and private lounge facilities for the executives and VIPs. Aside from that, these companies also offer complete safety and security for their travellers. As such, with air charter service, you can make sure that your air travel is efficient, hassle-free and comfortable!
Air charter service companies in India provide the perfect solution to all kinds of air travel, including corporate and leisure trips, as well as medical transportation. With air charter service, you have access to airlines that are not available through commercial airports – enabling you to reach your destination with guaranteed safety, security and comfort. Furthermore, by bypassing the hassles associated with large commercial airports like delays, cancellations and long queues, these services can offer a fast and reliable transport system tailored especially to your needs. Thus, if you're looking for a convenient way to make short-notice trips or get access to private airlines in India – air charter services have just what you need!

( Disclaimer:- this content is published on basis of internet search result , if any objections found from any party , can mail us for removal of their name from this content )
Your Private Charter Journey Starts Here
Subscribe and we'll send the best deals to you