Planning Your Char Dham Yatra Trip in a Helicopter
Jun 02, 2023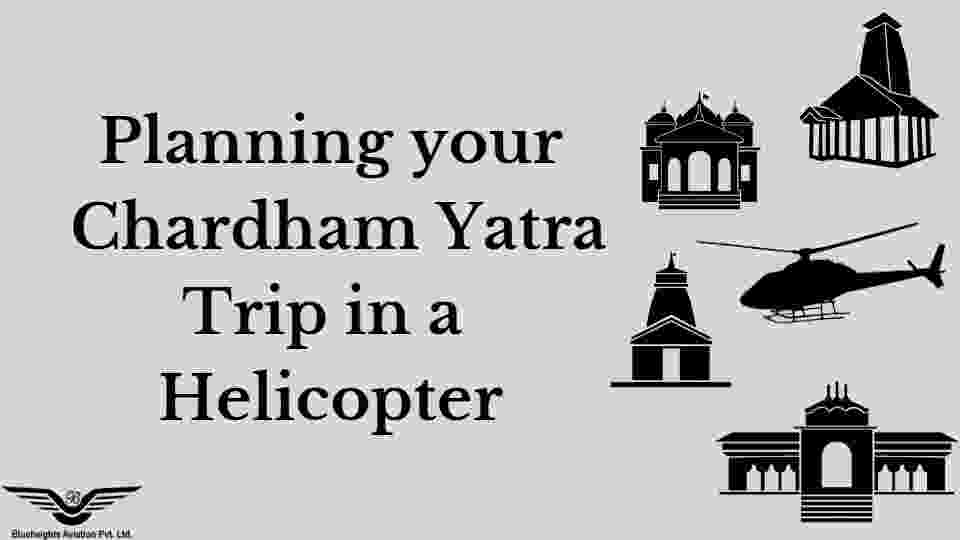 The Char Dham Yatra is a spiritual journey for Hindus to the holiest places in India. Take the trip of a lifetime by experiencing the yatra from a new perspective - traveling in a helicopter. Discover how to plan your perfect Char Dham Yatra helicopter tour, and be enchanted as you take in the magical beauty of these sacred sites.



Book a Helicopter Tour Package
Book a Char Dham Yatra helicopter package to make the most of your spiritual journey. Look for an experienced tour operator who offers an all-inclusive tour to maximize the convenience and ease of your travels so you can focus on making the most of your spiritual journey. A great helicopter package will include flights between each pilgrimage site as well as lodgings and meals while at each destination.
Blueheights Aviation is well known in India for their elite helicopter tour packages and boast an exceptional safety record. Their Char Dham Yatra packages provide a complete experience including every essential for your journey, such as luxury lodges and 5-star accommodation, delicious local cuisine, airport transfers, and of course the flights between each of the pilgrimage sites. And when you book with Blueheights Aviation, you have the peace of mind of knowing that you are in good hands and can focus on connecting to the divine force at each site without worry.
Blueheights Aviation's Char Dham Yatra packages are more than just a pilgrimage tour, they're an experience. Offering stunning aerial views, invigorating outdoor activities, and elegant landscapes you won't find anywhere else. In addition to the guided sightseeing tours included in each package, Blueheights Aviation offers exclusive experiences such as hot air balloon rides, zest for adventure for those daring few who wish to take the pilgrimage to the next level. So what are you waiting for?
Book your Char Dham Yatra with Blueheights Aviation today!
A Char dham Yatra package with Blueheights Aviation will cover all the sacred temples necessities - helicopter services to From Dehradun and back, daily hot breakfast, accommodation in luxurious properties in each city as well as local sightseeing and transfers. You can book your experience through our easy-to-use online booking, or call one of our customer service representatives who can assist you and answer any questions you may have regarding your journey. So get ready for the journey of a lifetime when you book a Blueheights Aviation Char Dham Yatra Helicopter Package!
Blueheights Aviation Char Dham Yatra Package provides four dedicated helicopter tours at a single package. The Char Dham Yatra consists of visiting the divine temples of Kedarnath, Badrinath, Yamunotri, and Gangotri in four different days. Take advantage of an exhilarating ride with our helicopters to and from these locations, giving you the opportunity to explore each place from picturesque heights. Not only that, you'll be able to make the most out of your pilgrimage by exploring the local sights in each city as well. Our friendly customer service representatives are looking forward to helping you start your journey today!
Our helicopter tour packages also include all road transfers from Dehradun to our private helipad, along with highly experienced pilots and a luxury helicopter fitted with comfortable seats. We understand the time constraints faced by pilgrims for these tours and have tailor-made an itinerary that fits in perfectly. Feel free to personalize any tour packages as per your requirements and set off on a divine journey today – at the most reasonable price!
The Char Dham Yatra package consists of visits to four important temples - Badrinath, Kedarnath, Gangotri, and Yamunotri. This tour takes pilgrims through the majestic Himalayan range, passing through valleys with snow-capped mountains, mighty rivers and verdant forests in the backdrop. Your journey will also include other places of religious significance such as Pandukeshwar, Rudraprayag, Gaurikund, Joshimath and many more. Relax in comfort as you visit these sacred sites which are considered amongst the holiest in Hinduism.
Planning your Char Dham Yatra can be a complicated affair. Luckily, it doesn't have to be. You can book a helicopter tour package for your pilgrimage that eliminates the hassle of planning each detail. A helicopter tour package includes all transportation from Dehradun to the destination sites , along with accommodation, meals and sightseeing options in each location. Helicopter tours offer convenience, an incredible view and introduce you to places in the area not accessible on traditional treks or drives. You will enjoy door-to-door service with experienced professionals taking care of every detail so that you don't miss out on important experiences during your trip. So why wait? Book a helicopter tour package and choose the most memorable way to visit these sacred sites of the Char Dham Yatra!
Not only can you book helicopter flights to the sites of Badrinath, Kedarnath, Gangotri and Yamunotri, but there are several options for tours after you reach your destinations. You can explore temples, breathtaking glaciers or experience adventure activities. You will be accompanied by experienced professionals for all parts of your trip and can enjoy some peace of mind no matter how long the journey may last. The experience itself is incomparable!
Booking a char dham yatra in a helicopter ensures you experience the journey of a lifetime. Avoid long queues, potholed roads, and other hazards of public transportation when travelling to these four holy sites. Take in the breathtaking views of mountains and glaciers as you soar high up into the sky. Plus, all char dham tour packages include an experienced guide who will take you to several offbeat locations as well as major landmarks, providing an enriching experience that is more than just sightseeing. So if you're looking to have an epic journey, book your char dham yatra today!
You can easily book a helicopter tour package online with a number of companies, such as Blueheights Luxury tour pvt ltd. They offer packages that include multiple pit stops along the yatra including Yamunotri, Gangotri, Kedarnath, and optionally Badrinath depending on preference. At each stop you can explore the temples and experience the spiritual cultural framework of Hinduism. With an experienced and friendly guide by your side at every turn, this journey will no doubt be like none other.
You May Also Like
Chardham Yatra at Incredible India: A tour to Chardham
5 Things You Didn't Know About Kedarnath Temple Darshan By Helicopter
How Much Does It Cost to Visit Chardham Yatra?
Importance of Do Dham Yatra in Hindu Religion
What is the best time to visit Kedarnath?
Your Private Charter Journey Starts Here
Subscribe and we'll send the best deals to you