Haridwar - Your Gateway to the Char Dham Yatra by Helicopter
Jun 02, 2023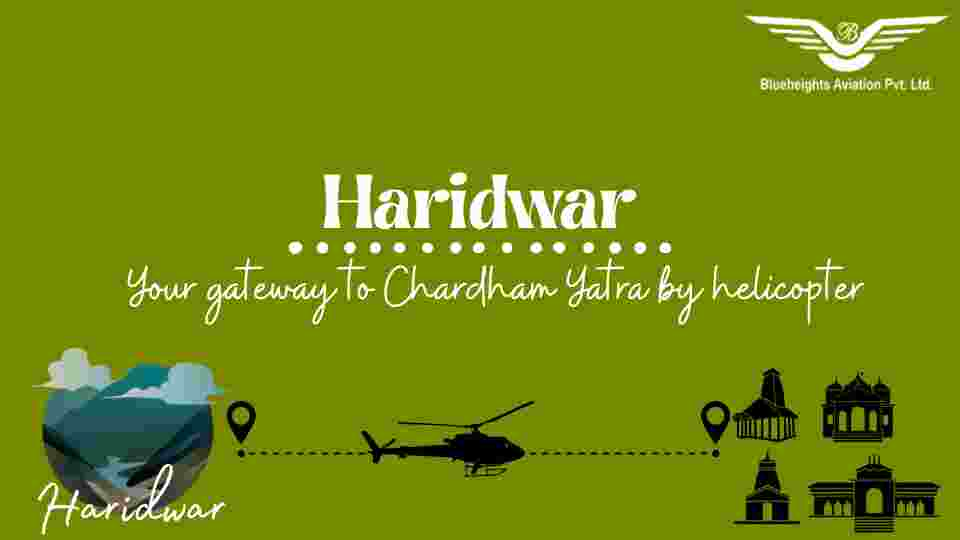 Are you looking for a convenient and exciting way to experience the Char Dham Yatra? Take a helicopter ride from Haridwar and witness panoramic views of Yamunotri, Gangotri, Badrinath and Kedarnath on a breathtaking journey towards spiritual fulfilment.
Choose the right tour package.
As there are many tour packages for the Char Dham Yatra, it is important to choose the right one. Consider how long you want your journey to take, what activities you want to do, and any additional services that are offered. Researching the different tour packages available will help ensure your journey is safe, comfortable and worthwhile.
The Char Dham Yatra by helicopter from Haridwar can typically be completed in one to three days. It is important to consider the weather conditions and altitude of the sites you will be visiting, as well as any other practical details. Choosing the right tour package that meets your needs will ensure a safe travel environment with all necessary facilities and amenities.
Additionally, look for packages that offer an extensive itinerary covering panoramic views of each dham as well as exclusive services such as special rituals at temples, movie showings in flights and gourmet meals. Choosing an experienced tour agency is key to having a pleasant journey.
Prepare your travel documents.
Before beginning your Char Dham Yatra journey, make sure you've prepared all necessary travel documents. This includes booking tickets for the helicopter ride from Haridwar and having proper identification like a passport or government-issued ID card.
Additionally, having necessary items like water bottles and raincoats on hand can help enhance your overall experience of the journey.
Know the safety measures and protocols to follow during the journey.
As with all aerial journeys, safety is our top concern when taking a helicopter ride to the Holy Char Dhams. In addition to having valid travel documents and the appropriate items, it's important to familiarize yourself with the safety protocols for flying in helicopters.
This includes understanding how to buckle yourself into the seat and how to handle any emergencies that might arise during the journey. Additionally, inquire about any weather conditions that could impact your flight before booking as well.
Learn about local attractions, geography and culture of the region.
While on the helicopter ride, take in the sights of the holy cities and explore the local area. Make sure to have your camera ready to capture the beautiful views of snow-capped mountains, crystal clear rivers and lush green landscapes.
Take some time to learn about the culture and history of the area by visiting temples, monasteries and nearby villages, as well as inquiring with locals about their way of life. This will help you gain an enriching experience that'll stay with you long after you've concluded your Char Dham Yatra journey.

As you're transported from Haridwar to the four holy paces of Yamunotri, Gangotri, Kedarnath and Badrinath, the helicopter route offers a slew of attractions. On your journey to the Chardhams you'll pass by many cities that are renowned for its artistic and cultural heritage — from medieval temples in Rishikesh and Haridwar to national parks in Srinagar and Rudraprayag.
You'll also get a glimpse at some of India's most breathtaking landscapes — including idyllic valleys between Uttarakhand and Himachal Pradesh and snow-clad peaks that make up India's portion of the snow-packed Himalayan range.
On this aerial journey, you'll get to learn about the local culture and geography. From rivers flowing in ancient times to modern-day Ganga Aarti celebrations on the banks of the holy Ganges River, Char Dham Yatra brings alive natural and human life within its boundaries.
You'll get a chance to appreciate the beauty of impressive structures like Sri Swami Narayan Temple along the route, which is surrounded by archaeological sites and extraordinary Hindu shrines that speak volumes about local history and sacred rituals.
Additionally, you'll get a glimpse into rural life as you make your way over subdued villages tucked away in valleys or perched atop Kedarnath Mountain Range. So if you wish to experience these divine places from a completely different angle, then book your Char Dham Yatra helicopter tour - it's an adventure like no other!
Moreover, a popular pilgrimage tour takes you on a spiritual journey to the four holy shrines of Uttarakhand including Badrinath, Kedarnath, Gangotri and Yamunotri not only from Haridwar but from Delhi as well. The spiritual package also makes sure that pilgrims get ample time to explore each destination and be ready for their spiritual commitments. You will witness breathtaking traditional architecture en route and explore wildlife reserves around before descending at the helipad in Haridwar.
In the days you have with us, you will gain insight into Hindu religious culture and local geography by travelling over places of scenic beauty - with lush green vegetation surrounding mountain peaks spread out all around!
Avoid altitude sickness with proper hydration and rest stops during the trip.
Flying at high altitudes can cause altitude-related health complications if you are not properly hydrated and rested. Make sure to drink plenty of fluids, rest often and wear light layers so that your body can adjust to the lower oxygen levels associated with high altitudes. Your helicopter ride should also include several stops for rest and Aarti during the journey. This will ensure that everyone is feeling well enough to enjoy the Char Dham Yatra experience!
Altitude sickness occurs when you cannot adjust to the lower oxygen levels found at higher elevations. Symptoms can include fatigue, nausea, dizziness, shortness of breath, headaches and loss of appetite. To prevent altitude sickness during your Char Dham Yatra Helicopter Journey from Haridwar, make sure you are hydrated before your journey begins. Bring snacks and plenty of fluids withyou onboard so that you stay well hydrated throughout the flight (non-alcoholic beverages are best).
You should also wear layers so that you can adjust accordingly to changing temperatures during each leg of your trip. Finally, make sure that the tour includes frequent rest stops and Aarti visits for everyone. These will give you ample opportunity to take breaks and spend time in prayer; reverent rituals which will bring great spiritual benefit to everyone who takes part!

chardham yatra helicopter booking in Uttarakhand, call - 9999506969
Your Private Charter Journey Starts Here
Subscribe and we'll send the best deals to you