Dehradun to Badrinath Helicopter Fare
Jun 02, 2023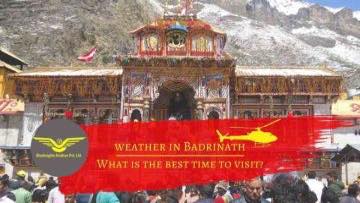 Planning a trip to Badrinath from Dehradun? Get access to the best helicopter fares with this guide! Explore deals on different helicopters services, flight ticket prices and itinerary information here. Learn more about how to book the perfect journey for yourself.

Check Availability Of Helicopter Flights.

Before booking the flight, it's important to check if the chopper services are available on your desired route and time. Search for helicopter ticket prices online and make sure you are aware of the costs before determining your budget. Compare different helicopters services based on their ratings and reviews, then choose one that suits your budget as well as preferences.
You can check the availability and fare of a helicopter service online. Make sure to go through their terms and conditions, such as their cancellation policy, before deciding to choose them. Additionally, it's wise to purchase a comprehensive travel insurance so that if anything goes wrong, you will be reimbursed for all your losses. Once all the details are sorted out and you've made the necessary bookings, then you can relax and prepare for an exciting journey from Dehradun to Badrinath via helicopter!
Research Itinerary And Flight Times Before Booking.

When it comes to booking helicopter fares from Dehradun to Badrinath, researching and knowing what's available is key. Prior to booking, check out the details including itinerary, flight times and availability. Make sure that you book in advance so that you can have time to prepare for the journey. Aside from comparing ticket prices, take a look at other things such as passenger convenience with each provider in order to get the best value for your money.
Aside from researching the flight times and fare, you should also consider taking a look at the airworthiness of the helicopter. Make sure that it is certified by the Directorate General of Civil Aviation (DGCA) as this ensures that the aircraft you are flying on is maintained well and complies with safety regulations. Additionally, you may want to research customer reviews for each helicopter provider before booking your trip. This can give you an idea of what type of experience await you on your journey from Dehradun to Badrinath.
Look Out also For Do Dham Yatra by Helicopter from Dehradun/ Haridwar
Do Dham Yatra by helicopter from Dehradun and/ or Haridwar is an ideal way to make the most out of your trip. This package usually offers special discounts for groups, offering a great way to save on airfare if you're travelling with multiple people. The Do Dham Yatra emphasizes the importance of visiting Badrinath and Kedarnath both; doing so via helicopter saves time and provides greater convenience than other travel options. Look into flight availability and itineraries in order to get the best deal for your trip.
The helicopter flight from Dehradun to Badrinath takes roughly an hour and a half. You'll be flown over scenic views of the majestic Himalayas, giving you plenty of time to take scenic photos or enjoy the view. After landing in Badrinath, helicopters typically make a quick stop at Kedarnath prior to returning back to Dehradun or Haridwar airport for drop-off. While helicopter fare for Do Dham Yatra can range from 90,000–130,000 INR per person, depending on availability and season. If you're travelling with family or friends and book multiple seats at once, these discounts may add up. To ensure you get the lowest fare possible, plan ahead and book tickets well in advance!
Why to book with Blueheights Aviation for helicopter services to Badrinath or Do dham Or Valley of flower or Hemkund sahib ?
Blueheights Aviation provides helicopter services that are perfect for a trip to Badrinath or other locations such as the Valley of Flowers and Hemkund Sahib. This aviation company offers unbeatable prices, excellent customer service and timely departure & arrivals, making it the ideal choice for your travel needs. With experienced pilots on board, you can be assured of a hassle-free journey from Dehradun to any destination via helicopter. Look into special offers and discounts available with Blueheights Aviation in order to get the best deal for your journey.
Blueheights Aviation's fleet of well-maintained helicopters ensures a comfortable flight experience with unrestricted aerial views. They cater to a diverse range of customer demands, like private charter flights and airbridge services for weddings. Here, you can avail the best helicopter fare for your Dehradun to Badrinath trip. Instead of enduring long road trips, why not take an aerial journey that is convenient and cost-effective without compromising service quality? Book with Blueheights Aviation now and get ready for a heavenly experience!
Blueheights Aviation offers an unbeatable variety of helicopter journey packages, including the one-way Dehradun to Badrinath trip. They have a wide range of different helicopters that are well maintained and in perfect condition. All these helicopters are equipped with modern navigational tools, so you can trust that your flight will be free of any technical hitches. Additionally, they provide aerial joy rides to get a 360-degree breathtaking view over Doon Valley, Landour and Mussoorie alike! What's even more incredible is their competitive fare for the Dehradun to Badrinath aerial journey – get ready for affordable yet quality air travel with Blueheights Aviation!
For any aerial journey, Blueheights Aviation is the ideal choice. As logistics and technology are a major concern when it comes to helicopter services, you can be sure that Blueheights Aviation has the best of both. The transport helicopters generally used for the Dehradun to Badrinath journey are MI-17, which has 18 passenger seats and Bell 407 , with 6 passenger chairs. Moreover, at Blueheights Aviation all pilots hold high qualifications from Indian Directorate General of Civil Aviation (DGCA) as well as years of flying experience in choppers over the challenging terrains of Uttarakhand. So seat back and get ready for an amazing flight experience with Blueheights Aviation!
Price :- 5,50,000/- for 6 pax charter
Your Private Charter Journey Starts Here
Subscribe and we'll send the best deals to you