5 Must know Private Jet Etiquettes
Jun 03, 2023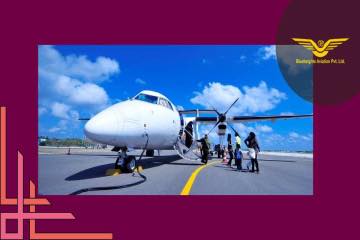 The majority of people are preferring traveling through a private jet. Whether you are a businessman or a celebrity, private jet travel has become immensely popular among all, one can enjoy a private jet charter service at a price which is a little on a higher side but comes with immense privacy and comfort.
If you are preparing for your first-ever trip, you might be skeptical of what is the proper behavior that one follows on a private flight.
Follow these certain etiquettes of private jet to travel to get a smooth and comfortable journey:
Be Punctual
Though private charter offers you the flexibility of choosing flight schedules, you shouldn't take this benefit for granted. It would be very indecent to turn up late even when you had the privilege to set the schedule according to your suited time while booking charter flights. It might hamper the routine of the pilot or other attendants as you never know what they might have planned for the day.
But in case you had a genuine emergency, something which could not be avoided and you turn up later than the scheduled flight time, apologize for the delay caused by you.
While flying on a private jet charter you can skip the various time-consuming process which you must follow with the commercial airline, but it would be polite to arrive slightly early. It is better to show up a little bit early than being late.
Dress Appropriately:
There is no dress code for a private jet per se, you should dress up depending on your circumstances. If you are meeting a business colleague, dress formally. When traveling with family and friends you can dress more casually. You would not like to be overdressed for a leisure trip.
Do not overpack:
When traveling aboard a private jet you should pack lightweight stuff, avoid heavy equipment or clothing if you are going on a short trip. When you travel by a smaller charter each person is allowed only a limited amount of baggage (according to the flight) which will be informed to you upon your booking confirmation.
If you want to follow good etiquettes carry as light as you can. Find the best private jet charter companies and all will recommend not to over-pack.
Let the host choose the seats:
When you travel privately you are not assigned any particular seat like in commercial flights. So, while boarding the charter let the host select his seat first and the others can occupy the remaining seats gradually or you can follow the seating arrangements that your host suggests.
You would be expected to remain seated at your place for the majority of the flight once the passengers are done with the seating arrangement.
This rule can be ignored in a private jet and if you are traveling with someone very close to you would be the icing on the cake.
Appreciate the pilot and the staff:
Most people do not consider it important. They think they have already paid enough that the staff should not be appreciated. But while flying privately, you can be personally introduced to the pilot before the flight takes off in case you are very close to the one owing to the jet.
You have a much more personal interaction with the pilot while traveling through private charter. So, it is always good to appreciate someone if you like the services provided.
The staff of the private charter keeps the matter discussed inside the plane confidential which is one of the many advantages of a private jet for a business meeting.
Conclusion
Follow these simple private jet etiquettes to ensure a memorable, comfortable journey and to avoid any potential embarrassment. These basic manners are to be followed every time you board a private charter irrespective of the size of the plane. Bluheights Aviation promises you memorable and confidential private charter flight services. Book a charter flight now to avail of the services.
You May Also Like
Why Use Private Jet Charter For Your Business?
All You Need to Know About Private Jet Etiquette
First Time flyers Guide to Private Jet Charter
10 Private Jet Charter Myths Exposed | Blueheights Aviation
Your Private Charter Journey Starts Here
Subscribe and we'll send the best deals to you