5 Most luxurious Private Jet Terminals You Must Explore
Jun 02, 2023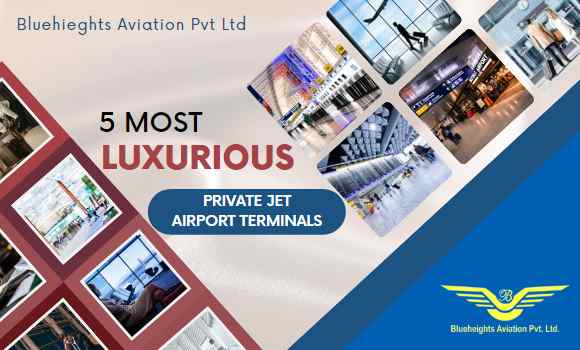 Have you ever dreamt of traveling in style and comfort? You can travel like a VIP and enjoy personalized service, five-star amenities, and state-of-the-art technology by flying on a private jet.
For those who choose to travel by private jets, the experience doesn't stop when you land. For a truly luxurious trip, you should also pay attention to where your private jet takes off from – and luckily, there are plenty of options available around the world.
Whether you're looking for convenience, comfort or style – here are some of the most luxurious private jet terminals in major cities around the world that will make your private jet journey even more special.
Robert Llewellyn Brandshaw Airport
Visiting the Caribbean just got even better, with the KayanJet FBO in St. Kitts. Located beside the island's main airport Basseterre, this jet terminal offers a luxurious experience for travelers. From personalised menus to private sun decks and nap rooms, you can enjoy all the amenities of a five-star hotel without ever leaving the airport. Tax-free shopping is also available, as well as a children's area to keep young ones entertained while waiting for their flight. The concierge services are always at hand to meet any needs that may arise during your stay.
The Robert Llewellyn Bradshaw Airport is one of the most modern airports in the Caribbean and provides an excellent service for travelers coming to St. Kitts. With its state-of-the-art facilities and top-notch customer service, it is no wonder that more and more people are choosing KayanJet FBO when they visit this beautiful island nation. Whether you're looking for a quick stopover or an extended stay, you can be sure that your time at this terminal will be nothing short of exceptional.
Los Angeles Airport
PS at LAX airport is the perfect place for those looking to travel in style and privacy. The private suites offer an exclusive experience, with en-suite bathrooms, widescreen TVs, and food and beverages. It's no wonder that Hollywood stars have been known to frequent the terminal - they can enjoy a luxurious experience without having to worry about being seen by paparazzi or other onlookers.
The terminal also offers a spa service, so guests can get fully relaxed before their flight. Once they're ready to go, they'll be chauffeur–driven directly to their jet - no need to worry about long lines or waiting around in crowded airports. PS at LAX is truly the ultimate way to travel in comfort and luxury.
London Biggin Hill Airport
London Biggin Hill Airport is a popular destination for business travellers due to its Signature Aviation terminal. This terminal offers a range of amenities and services designed to make the travel experience as comfortable and convenient as possible. Passengers can take advantage of conference rooms, a snooze room, and shower facilities to freshen up before their flight. The airport also provides a 6-minute helicopter transfer service to London, with door-to-door chauffeured car service available for passengers who need to get to their destination quickly.
Al Maktoum Airport
The Jetex VIP terminal at Al Maktoum airport in Dubai is a shining example of the city's renowned luxury hospitality. The terminal offers an array of features to cater to all needs, from gym equipment for those looking to stay fit while travelling, to a snack and drinks filled kitchen for those who need a quick bite. For families travelling with young children, there is even a toddler-friendly foosball table.
The Jetex VIP terminal goes above and beyond when it comes to personalisation. They create cappuccinos with images of passengers' faces on them! This unique touch adds an extra layer of luxury and makes the experience even more special. With such attention to detail, it's no wonder that the Jetex VIP terminal at Al Maktoum airport has become one of Dubai's most sought after destinations for travellers looking for a luxurious experience.
Ben Gurion Airport
The Fattal VIP Terminal at Ben Gurion Airport in Tel Aviv is the ultimate in luxury travel. Opened last year by the Fattal hotel group, the terminal offers a range of features that make it stand out from other airports. Passengers have access to plush private rooms with beds and bathrooms, as well as a fully-equipped business centre and cigar lounge. The terminal also provides butler and chauffeur services to take care of all your needs, so you can enjoy a stress-free journey.
In addition to these luxurious amenities, passengers also have exclusive access to two tax-free shops where they can purchase duty-free items such as alcohol, tobacco and cosmetics. With its high level of service and attention to detail, the Fattal VIP Terminal ensures that travelers have an enjoyable experience from start to finish. Whether you're traveling for business or pleasure, this terminal is sure to make your journey more comfortable and memorable.
Conclusion
When it comes to luxury private jet travel, the experience starts from the moment you arrive at the airport. Dedicated private jet terminals offer a range of services that make your journey as smooth and comfortable as possible. From door-to-door service to VIP lounges, these terminals provide an exclusive experience that is second to none.
Your Private Charter Journey Starts Here
Subscribe and we'll send the best deals to you