Helicopter Services for wedding & Election Campaign
Jun 03, 2023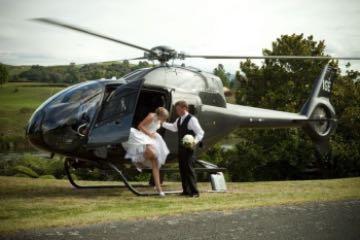 A wedding is a lifetime event and people don't hesitate to be extravagant to make it a memorable one. Wedding planners are finding the newest and unique ways to a.k.e wedding galas memorable. Wedding Helicopter services are widely demanded as it add a royal touch to any wedding.
Whether it's a bridal entry or entry of bridegroom to a reception, a spectacular entry with the helicopter has its charm. As the wedding is of the most important event of your life, why not avail Helicopter services for the wedding to make it a grandeur affair
After all, it is the best surprise you can give your bride/groom and make your wedding day truly memorable. Charter Helicopter operators reveal that they receive hundreds of requests for wedding helicopter services in India.
"The craze for wedding helicopter services is on peak. Everyone wants to make their wedding ceremony an unforgettable day of their life. Compared to Limousine services there are many advantages to avail helicopter services, although the pricing is comparable" Senior executive of renowned helicopter services.
Why people opt for Helicopter Booking Services for wedding?
Here are some of the advantages of opting for Helicopter services for the wedding:
The services of Limousine are comparable with helicopter services. • Flight time helps in running with your schedules as it is the fastest mode of transportation • It renders a unique and unforgettable experience to the people attending a wedding • People also have an option for local sight-sightseeing • Showering of flowers during the wedding add a distinct grace to various ceremonies • It is one of the splendid ways to enter the wedding venue • As you considerably save on time, there is ample opportunity to click photographs with family and friends
What is the cost of hiring a helicopter for marriage?
Hiring a helicopter is not as extravagant as it sounds. The cost of wedding helicopter services constitutes landing charges for the base airport and 2 hours of flying time. If the flying time increases beyond 2 hours, there are some extra charges available.
Some of the other additional charges like Fuel Transportation, Night Halt Watch Hour Extension and Waiting will also be included if availed.
You can book a flight with 25% advance deposit to your aeroplane regulator. You need to pay the balance amount within 3 days before the flight.
Why Helicopter services are indispensable for Election campaigns?
Like any other country, there is a great hush-hush during elections. State head and top leaders consider saving more time on travelling to participate more in election rallies. As air transport is the fastest means of transport, helicopter services are widely used during elections.
Here are some of the reason which makes helicopter services indispensable mode of transport during elections:
• It saves a lot of time and allows the leaders to conduct election rallies in a different part of the country on the same day.
• Helicopters can reach to the far-flung areas where no other transportation facilities like trains are available.
• These helicopter services also offer top-notch security, luxury, and safety to VIPs and VVIPs.
• As helicopters have the potential to reach the venues of public meetings directly, it saves a lot of time for leaders
• Helicopter services are the best way to meet maximum voters during the election in the shortest possible time.
• Wide range of helicopter services is available depending on cost, requirements, safety etc.
• To avail minimum cost, you can also book helicopter on lease and leverage the cost with a maximum number of flying hours.
What are the facilities required along with Helipad to opt for Helicopter services?
If you wish to hire Helicopter Services in India , here are some of the considerations you require in context to your venue:
• There should be a plain and hard surface with a diameter of a minimum of 30 meters for the landing of a helicopter
• For a dust-free landing, there should be proper watering provisions
• The helipad should be prepared with proper markings
• There should be provisions for smoke so that pilot could locate the exact place of landing
• The perimeter of the area should be protected with barricading, cordoning, or fencing to avoid any unauthorised entrance by any person or stray animals
• To judge the wind direction, there should be a flag or windsocks
• There should not be any loose material like carpet, chairs, paper, or plastic on the helipad
Conclusion
For important events like wedding and election campaigns, helicopter services play a significant role. While it adds splendour to any wedding event, it is the fastest means of transports with ultimate luxury and high security for any election campaign. Leaders can participate in rallies across the different part of the country in the shortest possible time.
Most importantly, helicopter services have reached remote areas which are not connected with any other means of transportation.
Your Private Charter Journey Starts Here
Subscribe and we'll send the best deals to you