Haridwar To Kedarnath Helicopters A Comprehensive Guide
Jun 02, 2023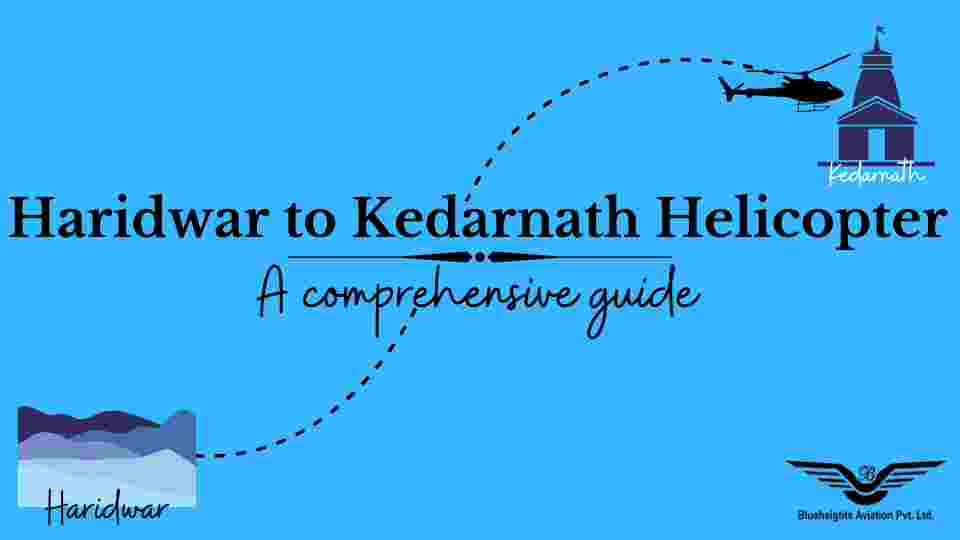 Make your way to Kedarnath with ease and comfort when you take a chartered helicopter ride from nearby Haridwar. Find out more about the cost, operators, and tips for getting the best experience with this comprehensive guide.


Why Choose Haridwar to Kedarnath Helicopters?

Taking a helicopter from Haridwar to Kedarnath is an excellent way to make the most of your sacred pilgrimage. Not only does it let you skip the long queues and hours of travel time along winding roads, but it also provides breathtaking views of the majestic mountains. As such, choosing to fly by helicopter makes for an impressively unforgettable journey that you'll always remember.

Which Operators Provide This Service?
Various operators offer chartered helicopter services from Haridwar to Kedarnath including Blueheights aviation, Global Vectra, Pawan Hans, Himalayan Heli Services and Pilgrimage Helicopters. Depending on the operator, you can either book with them directly or through a local travel agent. Once purchased, the tickets will be ready for you at the check-in counter at Haridwar airport. Before you depart, remember to check if your chosen service is within the permissible weight limit of no more than 70 kg per person.

What are the Costs Involved?
Sersi - Kedarnath shuttle helicopter cost is approximately 4,400 rupees. Of course, the exact cost will depend on the operator , place of helipad operation and any add-ons you choose to include.

It's important to note that chartered helicopter services require upfront payment with all costs non-refundable in case cancellation or postponement due to any unforeseen event.
Lastly, for your reference, the cost of a charter helicopter from Haridwar or Dehradun to Kedarnath and return will range between 80,000 Rupees to 100,000 Rupees per person or Dodham yatra by helicopter from Haridwar or Dehradun will cost 90,000 Rupees to 130,000 Rupees per passenger depending upon selection of helicopter package either same day return or 2N3D return package .

Tips for a Safe and Comfortable Flight
Ensure you get to the pick-up point ahead of time and take note of any local regulations in place. Wear comfortable, loose clothes during the flight and bring a sweater or jacket in case it gets chilly while flying. Don't forget to book your return flight and make sure all documents like medical certificates (if required) are ready beforehand. Lastly, taking out an insurance policy is recommended to provide greater protection in cases such as cancellations or delays.

Book charter helicopter to Kedarnath with Blueheights aviation Pvt Ltd
BlueHeights Aviation is a leading helicopter charter operator for quick transfers for Haridwar to Kedarnath. They offer standard packages with flight durations ranging from 45 minutes to one hour and offer customized packages as well. A variety of helicopters are available fit for both small and large groups, offering an optimal balance of cost and comfort. BlueHeights Aviation also have a proven track record in the industry, making them a reliable choice when it comes to prayer site visits via helicopter.

Your Private Charter Journey Starts Here
Subscribe and we'll send the best deals to you