5 Fastest Private Jets in the World: All You Need to Know
Jun 03, 2023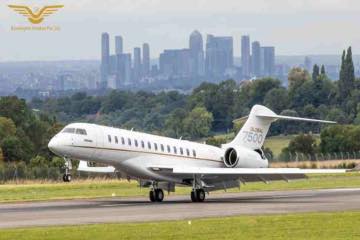 Are you looking for the fastest private jet in the world? If yes, then you might want to check out these amazing aircraft. They are some of the most luxurious and expensive planes around. Private Jets in India have seen an unprecedented rise in demand.
A private jet is a type of airplane designed specifically for commercial or personal use. Private jets are often used for travel, business purposes, and even pleasure. There are several types of private jets depending on their size, speed, ranghonge, and price.
According to Blueheight Aviation, There are several types of a private jets, each with its own unique features. The largest category is the executive jet, followed by the midsize jet, and finally the ultra-light jet. Each has its advantages and disadvantages, so it's important to consider them carefully before purchasing.
Dassault Falcon 900 (Mach 0.84)
The Dassault Aviation aircraft is an elegant French aircraft. It can reach a maximum speed at Mach 0.84 and cruise at 950km/hr. It comes with an impressive range of 4,000 nautical miles. Passengers can enjoy satellite TV, cabin internet so passengers can work or relax, and can enjoy a fine meal before retiring to sleep. It comes with superior fuel economy, making it one of the lightest jets in this category.
This business jet costs $45 million.
Gulfstream G650 /650 ER (Mach 0.925)
A business aircraft that flies non-stop from Singapore (Singapore) to Tucson (Arizona). It takes off at night and lands during the day. It carries up to 18 passengers. It has a top speed of 960 km/hour. It is powered by two Rolls Royce BR725 engines. It has a range of 7500 miles. The jet comes with ample natural light through its large oval windows. There is a separate bar and kitchen along with its living room. You can enjoy an array of amenities such as wireless internet and satellite telephones.
A Gulfstream G650 costs $69.5 million and G650ER costs $71.5 million.
Bombardier Global 7500 (Mach 0.925)
A Bombardier Global 7 500 is among the fastest private jets on the market today. With its top speed at Mach.92, it can fly from one coast to another coast in less than four hours. Powered by GE Passport engines, it has an impressive range of 7670 miles or 13,400 kilometers.
If you are travelling long distances, this is the jet you need! This plane is very luxurious and comfortable. There are four different exclusive suites available. Each suite has its own bathroom, television, and other amenities. The master suite has a permanent bed and a standing shower.
The club suite is equipped with high-definition TVs. The conference suite has a table and a big wall-mounted TV. And if you want to relax after all the hard work you've been doing, there is an entertainment suite with an HDTV, an A/V system, and a media cabinet.
Bombardier's new plane is called Challenger 604. It is the fastest plane ever built by Bombardier. Former F1 racer Niki Lauda owns one of these planes.
Bombardier ultra-long-range aircraft costs $73 million.
Gulfstream G550 (Mach 0.885)
The Gulfstream G550 ranks as one of the fastest private jets in existence. It can reach speeds up to Mach 0.881 or 941 km/hour. With a maximum range of 6,750 nmi or 12,500 kilometres, this plane is ideal for long-distance flights. Jet planes feature 4 distinct areas, vast media resources, and entertainment centers. it can accommodate up to 16 passengers making it perfect for business adventures.
Their prices start at $61.5 million.
Bombardier Challenger 650 (Mach 0.85)
The Challenger is an ultra-light jet designed by Boeing. It has a top speed of over 890 kilometers per hour. It can travel up to 4500 kilometers without refueling. It has a wide cabin with plenty of space and comfort. It seats 12 people comfortably. It has Ka-band high-speed Internet, touch screen cabin controls, and Wi-Fi. It also comes equipped with Bluetooth and On-Demand inflight entertainment systems. The Challenger ranks number 1 in deliveries. More than 1000 Challengers were sold so far.
Dassault Falcon 7x (Mach 0.90)
Falcon 7x! This aircraft can fly at speeds up to 953 km/h (590 mph). It can carry up to 16 passengers. It can be flown by two pilots or three people. It has an advanced digital flight control system and has a wide selection of floorplans.Dassault is a luxury car company that produces high-end vehicles. It has two toilets and an onboard shower.
It costs $47,400,000.
Conclusion
There are many more private jets out there but I have chosen the best ones based on their performance, price, and availability. They are the most popular and they are the most used. If you're looking for something fast and reliable, then look no further.
You May Also Like
What foods can I get on private jet charters?
How to find Best Top Private Jet Charter Companies
How much luggage can I take on a private jet?
How to Book a Private Jet – 4 Easy ways to do.
Common mistakes to be avoided while booking a private jet
Your Private Charter Journey Starts Here
Subscribe and we'll send the best deals to you