Explore The Best Private Jet Interiors The Top 5 Ranked
Jun 02, 2023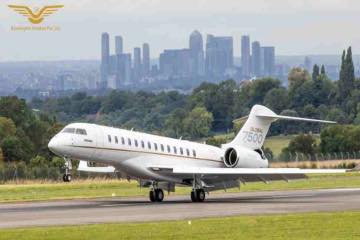 From plush interiors with mood lighting to mini-bars, fireplaces, and even swimming pools, take a look inside the world's most luxurious private jets. From custom closets and sofas to entertainment systems and state-of-the-art kitchens, get ready to explore the top five aviation abodes that make flying an unforgettable experience.


Dassault Falcon 7X & 8X - Customizable Interiors & Extraordinary Cockpits.
The Dassault Falcon 7X is one of the most popular private jets available, and its impressive design features and luxurious interiors make it a top choice. With customizable features like removable heated seating, a sun lounge and mini-bar, this jet is perfect for tailoring to your every need during flight.
Enjoy the spectacular views from its extraordinary cockpits or take advantage of the cutting-edge avionics to ensure ultimate safety. Whether you're looking for exceptional comfort or enhanced functionality, the Dassault Falcon 7X can deliver both with flair.
With state-of-the-art amenities, extraordinary performance, and a range of over 5,950 nautical miles, the Dassault Falcon 7X features some of the most luxurious interiors in private jet travel. You'll be able to customize your cabin with its cutting-edge entertainment systems and deluxe mood lighting to make sure you have everything you need for the perfect flight.
Enjoy the benefits of advanced integrated equipment while traveling with superior ergonomics and a quiet cabin experience. The Falcon 7X has the ability to transport up to 17 people and comes equipped with one of the best cabins on any aircraft, giving you plenty of room for comfort during your flight.

Cessna Citation X+ – Unparalleled Performance & Supreme Comfort.

The Cessna Citation X+ is a powerful private jet that combines ultra-modern aviation technology and innovative design. With cabin amenities such as spacious leather seating, state-of-the-art entertainment systems, advanced climate control and upgraded wireless connectivity, this aircraft provides a VIP flying experience with added comfort and convenience. Enjoy an exclusive flight in one of the world's fastest private jets and experience soaring performance with unparalleled luxury.
The Cessna Citation X+ has a comfortable and luxurious cabin that can accommodate up to 10 passengers. This sophisticated aircraft was designed with the passenger in mind and features ergonomically-optimised seats, discreet lighting, adjustable air temperature controls and advanced noise cancellation technology for a more comfortable flight.
Passengers can also relax in the fully-equipped galley with facilities such as refrigerator, microwave oven, coffee maker and ice maker . As well as this plush interior, this aircraft also has cutting edge avionic systems with state-of-the-art displays providing clear flight data and charts. Whether you're heading overseas or just across the country, the Cessna Citation X+ will get you there on time and in comfort.

Bombardier Global 6000 – Graceful Design With Advanced Connectivity Features.
The Bombardier Global 6000 private jet has been praised for its graceful and efficient design. Its robust cabin layout includes an inviting galley area, four distinct seating areas and generous storage space for luggage.
This model also features advanced connectivity measures such as high-speed Wi-Fi, satellite communication and advanced audio-visual systems allowing you to stay connected even while flying above the clouds. Enjoy a luxurious, private flight experience that begins with this refined aircraft design.
This innovative aircraft maximizes the luxury and comfort of your flight experience. With its extended range, this craft can comfortably fly up to 8.6 hours – more than enough for cross-country travels. Inside you will experience spacious seating with luxurious leather facing, fully adjustable to whatever angle you choose.
For the ultimate in business support, the cabin comes complete with an on-board 17 inch touchscreen display that allows you to monitor status and take control of on-board services such as entertainment options and digital media systems.
Enjoy a peaceful atmosphere created by adaptive noise reduction technology which works together with four distinct zones scattered throughout the interior design to make sure that whatever area you're seated in – you can enjoy maximum peace and tranquility while flying.

Gulfstream G650 – State Of The Art Technology & Stylish Finishes.
With an industry-leading range of 6,400 nautical miles, the impressive Gulfstream G650 is a powerfully designed private aircraft equipped with cutting-edge avionics and navigation technology.
Taking luxury to new heights, this private jet interior contains custom-made furnishings such as leather club seats, stylish carpeting and storage compartments throughout the cabin. Whether for business or leisure it offers a modern travel experience with all the latest technology and innovative entertainment offered on board.
This roomy spacious luxurious private jet can comfortably accommodate up to 18 passengers across two seating areas. Complete with two galleys at the front of the aircraft and a Hi-Def widescreen, passengers can enjoy their journey in comfort and style.
The In-Flight Entertainment system utilizes state-of-the-art technology with airshow, high quality surround sound audio, movies on demand and a sophisticated Wi-Fi system to keep travelers connected. The cabin temperature is fully adjustable and privacy galore but very residential atmosphere make this one of the most sought after private jet interiors out there.

Embraer Lineages 1000 – HighSpeed Cruising & Smart Illumination System
Equipped with a high-speed thunderbolt cruising capability, the Embraer Lineages 1000 is one of the most efficient executive jets with an impressive range of 4,062 nautical miles.
For added comfort on board, its interior features a fully automated light dimming and illumination system which includes adjustable LED lighting for the cabin to ensure optimum visibility in any environment. Whether it's day or night, passengers have plenty of opportunity to customize their private jet experience according to their taste and preference.
It also features 32-inch touchscreens with complimentary high speed internet and a digital audio entertainment system. The jet also includes an automatic position selection and control which allows the pilot to quickly adjust the seating in the cabin to optimize it for takeoffs, landings, and cruising, while offering increased comfort and privacy when desired.
The stylishly designed interior of this private jet provides a luxurious experience, making sure passengers are catered for all their needs and preferences. With its advanced technology and superior amenities, this flagship product from Embraer easily deserves a spot among top 5 luxurious private jet interiors for all kinds of elite travelers.
Your Private Charter Journey Starts Here
Subscribe and we'll send the best deals to you