Experience Heaven On Earth: Make The Most of Chardham With A Helicopter Package
Jun 02, 2023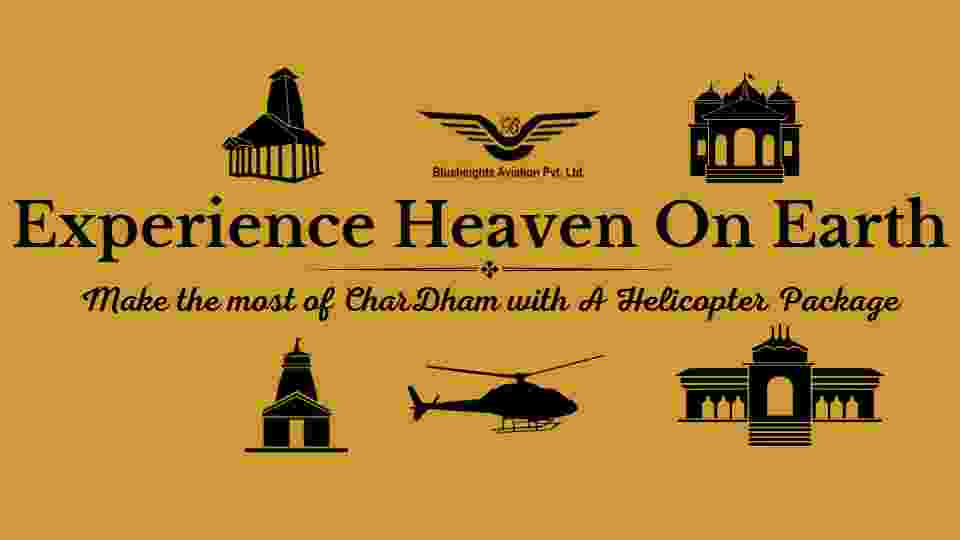 Experience an awe-inspiring journey with a special helicopter package for Chardham. Visit the four most sacred sites of Hindu pilgrimage - Yamunotri, Gangotri, Kedarnath and Badrinath - in the lap of opulence while admiring breathtaking views from the comfort of a helicopter.

Rejuvenate Your Mind, Body and Soul with an Indulgent Getaway.
With a Chardham Helicopter Package, you get access to some of the most beautiful landscapes surrounded by snow-capped mountains. You can experience the breathtaking vistas while meditating and practicing yoga, helping to rejuvenate your mind, body and soul. The luxury helicopter package comes with the convenience of comfortable ground transportation, providing easy access to all the four destinations.
With the Chardham Helicopter Package, you can visit the four prominent sites of pilgrimage - Yamunotri, Gangotri, Kedarnath, and Badrinath. Experience divine bliss and serenity as you explore these holy places and witness the breathtaking scenery by air. You'll get to spend time meditating on calming hilltops—a perfect opportunity to get away from all the stress and troubles in daily life. With professional guides to guide you all through your journey, you'll always feel safe exploring your spiritual refuge!

Experience the Magnificent Landscape From High Above the Ground.

With a Chardham helicopter package, you can revel in the extraordinary sight of the hilltops while travelling from one holy site to the next. The helicopter takes you high above the picturesque landscape, giving you a view like no other. You can take in the mesmerizing views of streams and rivers, glaciers, green and brown tract of land and snow-capped mountains. It's an experience that will be remembered for years to come.
A helicopter package for Chardham also includes an experienced pilot and is convenient to explore the region, allowing you to cover vast distances without undergoing the difficult trek. The two-way journey takes about 6 hours and covers more than 300 kilometers. During the ride you get enough time to enjoy the spectacular scenery from Kedarnath, Bhaironath, Gangotri and Yamunotri our sacred Hindu destinations. Pilgrims looking for luxury travel can opt for a private charter or rent a luxurious helicopter with a dedicated crew and transport. A Chardham helicopter package provides an unforgettable opportunity to experience ultimate beauty at its finest!
With its panoramic views of the Himalayas, the landscape from high above is a feast for the eyes. The emerald green valleys dotted with small villages and distant snow-capped peaks gives spectacular vistas that cannot be matched. On your journey you can also get a glimpse of popular religious sites such as Ujjaini, Laxman Jhula, Badrinath etc. So if you are looking for an experience like no other then make sure to book a helicopter package to Chardham. It is luxurious, convenient and much faster than trekking!
Soar Past Secluded Valleys, Majestic Mountains and Azure Lakes.
With a Chardham helicopter package, you can get a bird's-eye view of some of the most secluded valleys and majestic mountains in India. You will also be able to fly over several azure lakes and get up close with pre-historic glaciers unlike ever before. When in Yamunotri and Gangotri, one can simply indulge in the quaint village life; while Kedarnath is known for its dazzling meadows, Badrinath stands distinct with its snowclad peaks and sky touching temples.
The entire helicopter package for Chardham allows you to take off from Dehradun, a bustling city in the foothills of the Himalayas and soar across the beautiful trails and gorges. On your way to Kedarnath, you can also fly past Yamunotri while having the best view of sights like Saptrishi Kund and Surkanda Devi. The journey further leads you towards Gangotri where one can experience pure bliss as they behold ideal monuments like Bhavishya Badri and Vasudhara falls along with breathtaking views of Gaumukh glacier. Lastly, kinglyBadrinath is situated at an astounding height at more than 3,300 meters above sea level making it one of the most holy places in Uttarakhand. From chanting Vedic mantras to taking in views of Neelkantha peak, this airborne tour will definitely be an unforgettable one!
With this helicopter package for Chardham, you can witness all the Four Dhams situated in Uttarakhand- Yamunotri, Gangotri, Kedarnath and Badrinath– in one single journey. From uncovering wildlife sanctuaries to capturing glimpses of holy rivers like Alaknanda and Bhagirathi, this tour has it all. Apart from that, a special lunch stop facility is also available atGuptkashi between Kedarnath and Badrinath where tourists can take a break and savor delicious local dishes. So why wait? Enhance your Chardhamyatra with the best aerial views and capture life's unforgettable moments through copter chardham!

Take a Refreshing Dip in Each Chardham's Sacred Rivers.

Don't miss out on this holy tradition of taking a dip at each spiritual hub's sacred rivers. Yamunotri and Gangotri are home to the holy River Ganges, while Kedarnath and Badrinath are situated near the Grand Alakananda River. Taking a revitalizing dip in these milky waters will help blissfully renew your mind body and soul, doing justice to your Chardham sojourn!
With a helicopter package for your Chardham jaunt, you can easily avoid any inclimate weather conditions or road blockages that may cause a delay in your itinerary. Not only will the helicopters provide you with safer and more comfortable transport, but they'll also give you panoramic views of the remarkable landscapes around each divine stop. From the Alpine meadows to stunning glaciers to an array of sacred sites, this tantalizing journey is one well worth undertaking!

An added advantage of taking a helicopter package to your Chardham Yatra is that you will get to take a refreshing dip in each of the majestic Ganges, Yamuna, Mandakini, and Alaknanda Rivers. A sacred bath in all these rivers rejuvenates people and brings happiness. The serenity of the surroundings and the peaceful presence of these scenic rivers make it ideal for anyone looking for spiritual solace or inner peace. If a thrilling journey and an opportunity for personal growth through divine encounters were not already enough reasons to book this exclusive journey, then perhaps this small extra incentive is all you need!
Book helicopter package for chardham with Blueheights Aviation.
Your Private Charter Journey Starts Here
Subscribe and we'll send the best deals to you