Char Dham Yatra By Air - Get Started Now
Jun 02, 2023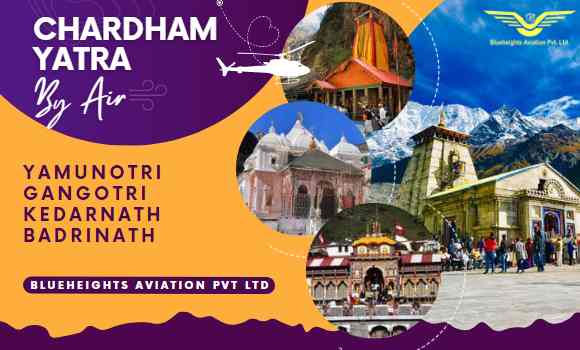 Get ready for an extraordinary experience with your Chardham Yatra by Air! On this spiritual journey of discovery, you will visit four of the holiest sites in India: Badrinath, Kedarnath, Gangotri and Yamunotri. Plan your air Char Dham Yatra and take advantage of the ease and convenience today!
Book Your Flight to the Char Dham Pilgrimage.
Booking your air Char Dham Yatra pilgrimage couldn't be easier. Choose a provider that offers charters, helicopters and private jets for pilgrimage flights. Pack your bag and get ready to explore the spiritual sites of India and experience a divine journey through the land of GOD! for cheap flight ticket ,book with "Gotriplo.com".

Flying directly to the Chardham sites by air charter is the preferred choice for many pilgrims. You can enjoy a bird's eye view of the majestic Himalayan landscape as you fly over forests and rivers on your way to the shrines.
The journey allows you to make stops at many of the nearby places like Haridwar, Dehradun, Mussoorie and many more before finally descending at one of the Char Dham sites. Pilgrims can even opt for VIP treatments such as special facilities, pick up and drop services from their accommodations and access to exclusive lounges at Char Dham airport.

Acquaint Yourself with Essential Travel Regulations and Guidelines.
Before embarking on the Char Dham Yatra, familiarize yourself with the most current guidelines and regulations related to air travel for pilgrims. Make sure that you are aware of any necessary documentation such as visas and vaccinations, as well as safety protocols and regulations. Additionally, research any restrictions in place due to COVID-19 so that you can be better prepared for your journey.

Many flights are now required to be booked in advance, and some contain restrictions or additional protocols that must be adhered to. Make sure you know the exact base fare, taxes, and available discounts to get the most out of your journey. Additionally, check the qualifications for ticket refunds in different scenarios such as flight cancellations or rescheduling.
Weather can also become an issue when travelling by air, so make sure you're aware of any potential delays and airline policies regarding them. Pilgrims should always prioritize safety over anything else when booking flights as well; checking safety ratings can give insight into which airlines offer the safest routes during their Char Dham Yatra.
Create a Char Dham Yatra Itinerary.
Plan ahead and create an itinerary for your Char Dham Yatra. Think about which places you'd like to visit and construct a plan of action including which airports to depart from, the duration of the pilgrimage, budgeting for the journey, booking your accommodations and more. Utilize resources such as online forums or travel agents that specialize in Char Dham Yatra flights to better understand timetables and available flight packages. This will help minimize any inconvenience during your travels so that you can make the most of your experience.

Pack the Necessary Supplies for the Yatra.
Before embarking on your Char Dham Yatra by air, remember to pack all of the necessary supplies and items. Select clothing appropriate for the weather and terrain, ensuring that you're sufficiently dressed and prepared for cold, wet or windy conditions. Carry an ample supply of water bottles to stay hydrated, bring other essential items such as non-perishable foods, medication, a first aid kit and flashlights. It is also wise to make photocopies of your passport and leave an electronic copy at home with a family member or friend in case of an emergency.

Explore the Char Dham Sites of India By Air with Blueheights aviation !
At blueheights aviation, we specialize in helping people experience of the Char Dham Yatra in India. Whether you're a first-time traveler or a seasoned veteran looking to explore new sites, our guided air tours allow you to take in the majestic beauty of India's holiest sites from the comfort and safety of a private plane. From the ancient cities of Yamunotri and Gangotri to the stunning temples of Kedarnath and Badrinath, you can see them all! Contact us today so that we can help you start planning your next epic adventure.

Our Char Dham Yatra tour begins with a flight to the city of Dehradun / Haridwar where we board an air-conditioned bus and make our way along the pilgrim route. From Haridwar, we ascend to Yamunotri and Gangotri, located high in the Garhwal Himalayas. Once at Yamunotri, devotees can visit the temple dedicated to Goddess Yamuna as well as take a dip in its warm thermal springs.
At Gangotri, you'll have the opportunity to marvel at some of India's most spectacular waterfalls and glaciers before visiting a temples devoted to Shiva. Finally, our journey concludes with visits to Kedarnath and Badrinath - two of Hinduism's holiest sites. Come experience the wonders of India by air with blueheights aviation!

Chardham Yatra by Air: Embarking on a Spiritual Journey with Convenience and Comfort
The Chardham Yatra, one of the holiest pilgrimages in Hinduism, takes devotees on a spiritual journey to the four sacred shrines nestled in the Himalayas – Yamunotri, Gangotri, Kedarnath, and Badrinath. Traditionally, this pilgrimage involved arduous treks and long journeys by road. However, in recent years, a more convenient and time-efficient mode of travel has emerged – Chardham Yatra by air. This modern approach to the pilgrimage not only reduces travel time but also provides a comfortable and memorable experience. In this article, we will explore the Chardham Yatra by air, its benefits, the sacred destinations it covers, and how it has transformed the way devotees embark on this sacred journey.
The Significance of Chardham Yatra
The Chardham Yatra holds immense religious significance in Hinduism. These four sacred shrines are believed to be the abodes of four major deities:
Yamunotri: Dedicated to Goddess Yamuna, this shrine is known for its thermal springs and the source of the Yamuna River.

Gangotri: The birthplace of the holy Ganges River, this temple is dedicated to Goddess Ganga.

Kedarnath: This shrine is dedicated to Lord Shiva and is one of the 12 Jyotirlingas. It is located amidst the breathtaking Kedarnath Valley.

Badrinath: Dedicated to Lord Vishnu, specifically in his Badrinath form, this temple is one of the holiest in Hinduism.
For devout Hindus, embarking on the Chardham Yatra is not just a pilgrimage; it's a journey of faith, devotion, and self-discovery.
Benefits of Chardham Yatra by Air
Chardham Yatra by air has revolutionized this ancient pilgrimage in several ways:
Time Efficiency: The most significant advantage of traveling by air is the time saved. What used to be a journey spanning several weeks can now be completed in a matter of days.

Comfort: Traveling by air offers a level of comfort and convenience that is unmatched by road or trekking. Devotees can embark on this spiritual journey without the physical hardships associated with traditional methods.

Accessibility: The remote locations of these shrines can be challenging to reach by road, especially during certain seasons. Aerial travel ensures accessibility even in adverse conditions.

Aerial Views: Passengers are treated to breathtaking aerial views of the Himalayan landscape. The journey itself becomes a memorable part of the pilgrimage.
Chardham Yatra by Air: The Journey
The Chardham Yatra by air typically starts from Dehradun or Delhi, where devotees board a flight to the closest airport to the shrines. Here's an overview of the journey:
Yamunotri: The journey often begins with Yamunotri. Devotees land at the Jolly Grant Airport in Dehradun and proceed to Yamunotri via helicopter. The trek to the temple is significantly shortened.
Gangotri: From Yamunotri, devotees return to Dehradun and then fly to Harsil, the nearest airstrip to Gangotri. A helicopter ride further reduces the trekking distance.
Kedarnath: Kedarnath is accessible via helicopter from Phata, Sersi, or Guptkashi. The flight lands devotees close to the shrine, and a short trek completes the journey.
Badrinath: The final destination, Badrinath, is reached via helicopter from Phata or Joshimath. The temple is within walking distance from the helipad.
Chardham Yatra by air has made this sacred pilgrimage accessible to a wider range of devotees. It combines the essence of spirituality with the convenience of modern travel, allowing more people to embark on this transformative journey. Whether you're a devout follower or someone seeking a profound spiritual experience, Chardham Yatra by air offers a unique opportunity to connect with the divine while exploring the majestic Himalayan landscape.
Frequently Asked Questions (FAQ) on Chardham Yatra by Air
What is Chardham Yatra by air?
Chardham Yatra by air is a modern and convenient way to undertake the sacred pilgrimage to the four holy shrines in the Himalayas – Yamunotri, Gangotri, Kedarnath, and Badrinath. Instead of long and arduous journeys by road or trekking, devotees can now reach these shrines quickly and comfortably by helicopter.
What are the four shrines covered in Chardham Yatra by air?
Chardham Yatra by air covers the following shrines:
Yamunotri (Goddess Yamuna)
Gangotri (Goddess Ganga)
Kedarnath (Lord Shiva)
Badrinath (Lord Vishnu)
What are the benefits of Chardham Yatra by air?
Some key benefits include time efficiency, comfort, accessibility to remote locations, and breathtaking aerial views of the Himalayan landscape. It reduces the physical hardships associated with traditional methods of travel.
Where does Chardham Yatra by air typically start?
Chardham Yatra by air usually begins from Dehradun or Delhi, where devotees board flights to the nearest airports to the shrines. From there, they proceed to the respective shrines by helicopter.
How long does Chardham Yatra by air take to complete?
The duration can vary, but it typically takes a few days to complete the entire Chardham Yatra by air. This is a significant time-saving compared to traditional methods that could take several weeks.
Are there any age or health restrictions for Chardham Yatra by air?
While the convenience of air travel is beneficial for people of various ages and health conditions, it's essential to consult with a healthcare professional before embarking on the journey, especially if you have specific health concerns.
What is the best time to undertake Chardham Yatra by air?
The ideal time for Chardham Yatra by air is during the pilgrimage season, which typically begins in April or May and continues until October or November, depending on weather conditions. The specific dates may vary each year.
Is it necessary to book Chardham Yatra by air in advance?
Yes, it's advisable to book Chardham Yatra by air in advance, especially during the peak pilgrimage season when demand is high. Booking in advance ensures you secure your seats and preferred travel dates.
What is the cost of Chardham Yatra by air?
The cost of Chardham Yatra by air can vary based on factors such as the type of helicopter, the duration of the journey, specific routes, and additional services. As a rough estimate, it can start at approximately INR 1,80,000 to INR 2,00,000 per hour of flight time.
Is Chardham Yatra by air suitable for families and groups?
Yes, Chardham Yatra by air is suitable for families and groups, as twin-engine helicopters offer greater seating capacity and comfort. It allows for a collective and convenient pilgrimage experience.
Chardham Yatra by air offers a modern and accessible way to embark on this sacred journey while preserving the spiritual essence of the pilgrimage. It's a unique opportunity to connect with the divine and explore the stunning Himalayan landscape with ease and convenience.
Your Private Charter Journey Starts Here
Subscribe and we'll send the best deals to you