Can you Smoke on a Private Jet Flights?
Jun 03, 2023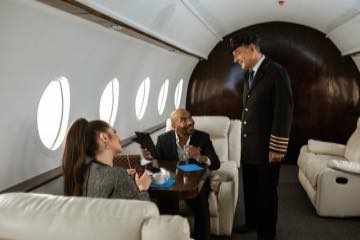 Chartering a private jet is all about enjoying privileges like hassle-free boarding, landing in remote areas etc. While travelling through a commercial flight, you are not allowed to smoke. In 2000, smoking in a commercial plane was prohibited by law.
However, the flights must install the appropriate ashtrays inside the lavatories. If you are addicted to smoking, long-travel via commercial jets can be an unpleasant experience. However, a private jet gives you the flexibility to smoke. Although, it also depends on case to case and depends on the aircraft you are going to charter.
Yes! Private jets are known for customization to offer a home-like experience to their esteemed clients. As aircraft have their policies, there might be few which do not allow smoke on board. But majorly private jet aircraft allow their passengers to smoke.
Once you put-forth your request to travel to any private jet aviation, they seek your preferences by asking you to fill up a form. If you mention enjoying a cigar, cigarette or pipe, they arrange the aircraft that let your smoke without any hassle.
People having an allergy to nicotine, tobacco or smoke need to inform the aviation company in advance to make the arrangements accordingly. To find the right aircraft for you, private jet aviation companies look for your preferences and make the necessary arrangements accordingly.
Detailed regulations are laid in FAR (23.853 – Passenger and Crew compartment Interiors) for the Private Jets to allow the passengers to smoke. There must be an adequate number of ashtrays to be installed along with appropriate signage where the smoking is prohibited like a cockpit.
Vape pens and E-cigarettes
E-Cigarettes are strictly prohibited by the law in commercial flights like cigar or cigarette. But it can be assumed for E-cigarettes that it would also be allowed in a private jet like its counter-parts. It is highly recommended to check with your private jet operator if they allow the vape pens and E-cigarette to avoid any potential hassle while travelling.
Can I smoke Marijuana on Private Jet?
If you are travelling to/from a country/state where possessing or smoking Marijuana is an offence, you cannot smoke Marijuana on such Private Jet. In the United States, LSD, Marijuana and heroine are still considered a controlled substance.
An aircraft flying in the specific territory must adhere to its rules. Due to ventilation systems, as the smoke reaches to the cockpit, aircraft are unlikely to allow smoking marijuana on Private Jet.
What if I smoke on an aeroplane?
Under the FAA, smoking on a commercial plane is an offence for which you can be barred from the flight. However, this rule varies from airline to airlines and not strictly enforced. The attendant on the flight typically reminds the passenger smoking on the flight to refrain from it. Although, the act does not make smoking, a jailable offence.
Is Pilot allowed to smoke on Commercial flights?
Smoking is prohibited on the deck under FAA regulation. However, pilots are allowed to smoke in their respective cockpits. But many commercial airlines adhere to stringent policies applicable to the crew, staff and passengers – to not to smoke.
While many international airline companies allow their pilots to smoke, it is still prohibited in most US-based airlines.
Conclusion
If you are seeking a reliable answer for – Can you smoke on a private plane? the answer is simply Yes. However, there are a certain set of rules and regulations which every flight must adhere to. Private Jet Aviation companies like Blueheights Aviation gives you the flexibility to enjoy your smoke during a private jet flight.
You May Also Like
5 Must know Private Jet Etiquettes
Why Use Private Jet Charter For Your Business?
All You Need to Know About Private Jet Etiquette
First Time flyers Guide to Private Jet Charter
Can a private jet land at commercial airline airport?
KEDARNATH-BADRINATH By HELICOPTER @ 125,000 PER PERSON ( 3N4D) with one night stay at kedarnath and one night stay at Badrinath
Chardham By Helicopter from Dehradun @190,000 per person including one night stay at Dehradun with vip darshan at all char dham
Your Private Charter Journey Starts Here
Subscribe and we'll send the best deals to you