Can a private jet land at commercial airline airport?
Jun 03, 2023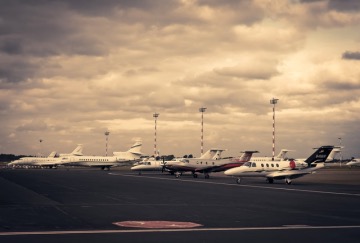 The best part of flying with a private jet charter is to get the flexibility to land anywhere. Yes, you got it right. Private jets have a privilege to land at private airports as well as commercial ones. However, the preference of these private operators is to land at smaller private airports to save considerable time and money.
Landing on the commercial airline can defeat the purpose of hiring a private jet – to save valuable time of its passengers. Landing a private jet at the commercial airport involves a certain hassle and takes a much longer time.
Here are some of the reasons why private air flyers avoid private jet landing at commercial airports:
To save considerable time
At larger airports, large congestion is common. However, most of the private pilots are hurried to land their flights on these commercial airlines due to large rush, leading to unpleasant experiences to pilot. FBO options are higher at private airlines as compared to commercial ones thus ensuring better fuel prices, landing and ramp as well.
Easy Custom Procedures
The ultimate luxury of flying with a private jet can be delivered with a private airport landing where the passengers are exempted from the strenuous custom procedure. It saves considerable time as well. At smaller airports, instead of passengers queuing up for security checks, the security agent comes to the passenger for various security and paper checks, thus offering the ultimate luxury.
Better Convenience
Vehicles are not permitted to enter the tarmac in commercial airports for pick-up and dropping passengers. However, at a private airport, passengers are generally drop-off alongside the aeroplane. Secondly, there is no waiting for passengers at private airports.
Parking and Taxi facilities
Against roomy and large runway at commercial airports, hanger space and taxi times are limited at these airports due to large congestion by various commercial flights. Against the Private Jet myth of having limited space due to smaller airports, most of the private airports ensure excellent Taxi and parking facilities to the private jets to ensure quick flying.
To deliver the best
The aim of developing a private airport is to deliver the best of facilities to esteemed customers. Smaller airports are less chaotic and no intervention of air traffic control. To ensure the highest safety standards, private jets are advised to maintain the speed at or above 200 knots at commercial airports. To ensure the smooth landing, Most of the smaller private jets control their speed on private airports.
Road delays
It is common to experience huge road traffic jams around the larger airports as several commuters enter or exit these airports simultaneously. However, private airports are relatively smaller and offer faster gateways to their passengers with limited traffic movements
Where do private jets land?
As discussed above,private jet airports offer more facilities and are ideal for private jets. Thus most of the private jet client prefers the smaller airports over the larger airports meant for commercial flights. With higher security checks and massive traffic, commercial airports are not able to deliver the exclusive services which any private jet passenger expects. Often the poorer landing techniques leads to unpleasant flying experience in private jets at commercial airports as they are required to maintain higher speeds to ensure considerable distance from larger jets behind them.
Conclusion
Private jets have the flexibility to land anywhere – commercial as well as private airports. But, private aeroplane prefers to land at private airports for their considerable advantages. These airports offer VIP arrangements and ensure less travel time. These airports are well-prepared to receive private air flyer passengers with better facilities. As holding is common at commercial airports due to sheer volumes of aircraft, there is no delay for the private jets on private airports.
Blueheights Aviation is a one-stop Private Jet Charter Company which offer customized solutions to your private jet flying needs. Contact now to know more!
You May Also Like
Why Use Private Jet Charter For Your Business?
All You Need to Know About Private Jet Etiquette
First Time flyers Guide to Private Jet Charter
10 Private Jet Charter Myths Exposed | Blueheights Aviation
Your Private Charter Journey Starts Here
Subscribe and we'll send the best deals to you