Go High Above the Clouds: Book Your Helicopter Tour Package to Explore Chardham Now
Jun 02, 2023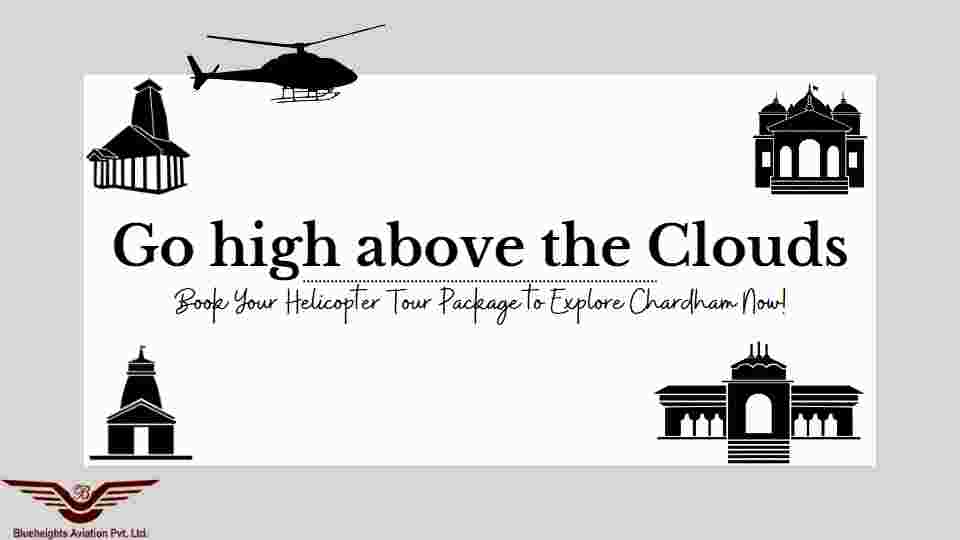 Embark on an unforgettable experience with a helicopter package to explore the holy land of Chardham! Enjoy breathtaking views as you soar above its revered shrines, feel the sense of joy and adventure that awaits you, and get ready for one of the most invigorating journeys imaginable.


Choose the Right Company
When booking your Chardham helicopter tour package, you want to make sure you're flying with a trusted tour operator. Look for a company that offers experienced pilots, top-notch helicopters, and proper safety measures to ensure an enjoyable and safe experience. Additionally, look for tour packages that provide tips on how to better prepare for the journey so you can be assured of a smooth ride.
Be sure to inquire about how many passengers the helicopter can accommodate, and if they offer private and/or group tours. A quality helicopter tour company should offer a variety of options to choose from depending on your budget, needs, and preferences.
Do some research online or ask for recommendations from friends and family who have visited Chardham before. Checking reviews is always a good idea as well — make sure you're flying with a reputable operator so your trip will be hassle-free.

Book Your Package
Before you take off on your journey, make sure that your helicopter tour package includes all the safety requirements. Look for a company with a certified team for ground as well as air operations and an aerial tour guide who can give you an in-depth understanding of Chardham from an aerial perspective.
Make sure that they also have emergency procedures in place and adhere to local safety regulations. Doing so will provide you with peace of mind while cruising high above the clouds.
There are a few companies that offer helicopter packages for the Chardham Yatra, an important pilgrimage tour of four Hindu temples in India. You can choose from single-day or two-day package for your aerial tour of Chardham including Kedarnath, Badrinath, Yamunotri and Gangotri shrines.
These packages typically include flight services, ground transportation facility and a trained air tour guide. Once you've booked your ticket, you will get to experience the thrill of flying across some of India's most spectacular mountain ranges like Dhauladhar Himalaya and picturesque hamlets with snow-capped peaks below.

Pre-Departure Preparations
Before you embark on your journey to Chardham, it is important to make sure that you are well-prepared for the tour. Research the weather conditions and check for any flight restrictions in the area. Also, come with comfortable clothing, sunscreen, sunglasses and any other items necessary for the aerial trip. Additionally, make sure you read through all the terms of your helicopter tour package and understand what services are included. That way, you can enjoy a smooth flight experience without any surprise costs later down the line.

Prepare for Take Off
Now that you have your helicopter package booked, it's time to get ready for take off! Before you board the aircraft, it is important to review all the safety guidelines and regulations. Ensure that you understand what seat belts and emergency procedures need to be followed during the flight. Additionally, note any restrictions about permitted luggage and photography equipment in the aircraft so that you can make any final adjustments before boarding.

Enjoy an Unforgettable Adventure
With your helicopter tour package, you will be able to enjoy the incredible views of Chardham while seated in luxurious comfort. As we take off, relax in your seat and observe the majestic mountains, holy rivers and breathtaking waterfalls from thousands of feet up in the air. Get ready to experience something new and extraordinary from one of the most beautiful places on Earth!
Our tour package includes a stop in a private helipad of your choice, where you can get off and check out the surrounding attractions. You'll be able to admire the stunning natural beauty from above, as well as visit temples, shrines and other religious sites in the region.
We will also provide professional ground staff who will assist you with any needs you may have during your journey. With this once-in-a-lifetime experience, don't miss out on the chance to explore Chardham as never before!

Why to consider Blueheights Aviation for chardham yatra by helicopter package?
Blueheights aviation is a private aviation company having experienced of successfully delivering tour package to more than 2000+ passengers in May- June season 2023 and 1000+ passengers in September October season 2023. Their google page reviews and rating Is 4.8*/5* .

Guest will experience personal and caring services from Blueheights aviation team. In spite of Chardham yatra , company provide private jet charter in india , air ambulance services in all cities of india and charter helicopter services in all major metro cities. They have special helicopter package for chardham from all major cities of india .
For booking helicopter services for chardham, just call only to 09999506969, 09650578989.
Your Private Charter Journey Starts Here
Subscribe and we'll send the best deals to you