5 Ultimate Benefits of Private Jet for Family Vacation
Jun 03, 2023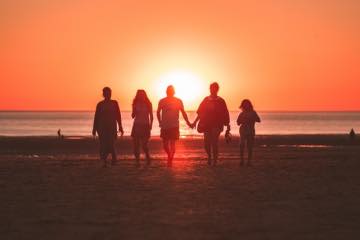 A family trip is always a 'private' affair with loads of fun and excitement to spend a memorable time with your loved ones. However, if you are travelling with toddlers or skimpy teenagers, you need to be more cautious about your family vacation planning. Private Jet Charter is one of the lucrative options which sets you for a splendid family vacation.
It is a common myth that private jet charters are meant for businesses purposes. Today, it is widely used as a means for a rejuvenating family vacation. The best part of opting a private jet charter is, it is flexible in meeting the family's specific needs and competent to operate in different circumstances.
As more and more holiday spots are turning into over-developed resorts due to high tourist's penetration, commercial flights heading to these destinations are also in huge demand.
Boarding such over-crowded flights is not an exciting idea, especially when you are travelling along with your family.

If you are looking for a fun-filled vacation, here are
the top four reasons to plan a family vacation via Private Charter:
Onboard Entertainment
From iPad to DVDs, Wi-fi and TV screens, a private jet charter has all kind of amenities to entertain you to its best. If you are boarding a long flight, you can plan a movie with the whole family. Unlike commercial flights, kids have ample space to play around. So, there is no point of getting bored during the flight.
Make sure to make advance arrangements for the required amenities to make it a perfect deal on-board.
Quick & Easy boarding
Unlike commercial flights, you don't have to wait in long queues for security checks and boarding. Especially, when you are travelling with your family, it is hard to keep all your documents and other things to run through the strenuous process of boarding.
Private Jet Charter gives you the freedom from such a stressful process and allows a quick and easy boarding without any delay.
As you can carry your luggage in the aircraft, you don't have to wait to collect your luggage as well. However, you must know the private jet etiquettes to ensure a smooth flight.
Customized catering
You can enjoy the gourmet cuisine in your private jet charter. Moreover, many private jet charters also arrange the food from your preferred food chain for an exemplary flying experience.
The food options on commercial flights are certainly limited. Also, if you or your family members are prone to a severe allergy, it is not saved to travel via commercial flights. As there are several co-passengers travels along with you, it becomes difficult to avoid potential allergens.
Great privacy
In commercial flights as there are several seats arranged back-to-back, it is hard to maintain privacy. Boarding a private jet charter not only gives your ultra-comfort and best entertainment but also allow you to enjoy the highest amount of privacy. Although you will be seated along with your loved ones, there will be ample space to enjoy your privacy.
No doubt, hiring a private charter for your next family vacation and elevate your holiday experience magnificently. The private jet charter ensures a tranquil environment to the travellers to make their flight a memorable experience.
Whether you are travelling with your young children or pregnant wife, Private jet charter ensures a hassle-free flight with utmost flexible travelling options. Right from controlling the plane's temperature to choosing your preferred entertainment, you are free to choose everything as per your comfort.
Final Thoughts
Blueheights aviation is one of the renowned private jet charter services which are known for its highest safety standards to ensure a memorable family vacation for you. With the wide range of jets offered by this aviation, they ensure to meet each need with their global network of vetted operators.
You May Also Like
How much does a charter plane cost in India?
6 Major Benefits of Charter Helicopter- Save your Time & Energy
Top 5 lowest cost Private Jet available in World
Pros and Cons of Chartering a Private Jet
Your Private Charter Journey Starts Here
Subscribe and we'll send the best deals to you