5 Most Beautiful Hill Stations in Uttarakhand
Jun 02, 2023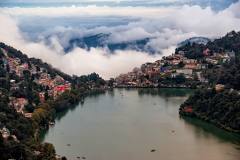 From lush green valleys and snow-capped mountains to tranquil lakes and bustling hill towns, Uttarakhand is home to some of India's most stunning hill stations. Explore the top destinations like Nainital, Mussoorie, Auli and more for an unforgettable experience in nature's lap.
Nainital – The Queen of Hill Stations.
Nainital is one of the most popular hill stations in India and is often referred to as the 'Queen of Hill Stations'. With its spectacular views of the Himalayas, this mesmerizing piece of paradise offers plenty to explore such as boat rides on Naini Lake, exotic flora and fauna of the Nainital Wildlife sanctuary, trekking trails through the lush green forests, and so much more. Look no further for a truly blissful escape!
Situated at a height of 1,938 meters above sea level, Nainital boats stunning views of the snow-capped Himalayas that can be enjoyed from its viewpoints such as Naina Peak and Snow View. A mecca for tourists seeking adventure, it has some thrilling activities to offer like paragliding, rock climbing and rappelling. For a more relaxed experience, visitors can enjoy boat rides on Naini Lake or explore the many tourist spots across the town such as Naina Devi Temple, Eco Cave Gardens and Hanuman Garhi. Whether you're looking to get away from the hustle and bustle of city life or want an exhilarating mountain escape, Nainital is sure to prove an unforgettable experience!
Mussoorie – The Heart of Uttarakhand.
Mussoorie, one of the most picturesque hill stations of Uttarakhand, is fondly called the 'Queen of Hills'. It offers incredible views of the Himalayas and panoramic landscapes. The idyllic town provides spectacular silhouettes at dusk as well as a pleasant climate throughout the year. Mussoorie has numerous places of interest to explore such as Waterfall Estate, Gun Hill, Bhatta Falls, and Cloud End Adventure Park. Whether you are in search of a relaxing getaway or an adrenaline pumping adventure, Mussoorie can provide both!
From the celebrated Mall Road to the beautiful Lal Tibba and Kempty Falls, there are plenty of experiences here to captivate tourists of all kinds. Adventurer's can climb to highest point in Mussoorie, Gun Hill where a ropeway service provides breath-taking views of the entire city and its varying landscapes. Or simply enjoy leisure walks along camel back roads flanked by de6nse vegetation as you make way for Lal Tibba - the highest viewpoint in Mussoorie. The cedar forest estate surrounded by tall trees is known as Waterfall Estate and is just 3km away from Gun Hill. Finally, relax your body at Bhatta falls - a popular picnic spot near Landour region or take some exciting activities such as rock climbing, rappelling, zorbing and tree house at Cloud End Adventure Park!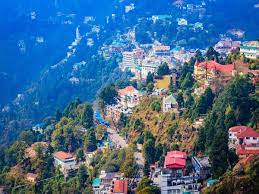 Almora – A Scenic Delight.
Almora is a charming town located in the foothills of the Kumaon Hills. The city is known for its wonderful vistas of snow-capped mountains and dense pine forests, as well as its rich cultural heritage. It is home to numerous temples and old monuments with notable sights like Golu Devta Temple, Kasar Devi Temple, Jageshwar Temple group, Nanda Devi Murti, Binsar Zoo, Chitai Golu Devta temple etc. Offering plenty of activities for tourists such as trekking, rappelling and rock climbing, Almora is a must-visit destination!
Almora is a great destination for all visitors looking to enjoy a peaceful and scenic holiday in the foothills of the Himalayas. Whether you are someone who loves adventure or just looking to relax among nature's beauty, Almora has something to offer everyone. The captivating views from the top of the hill and gorgeous sunsets make it even more attractive. Other popular activities include shopping for souvenirs in the local markets, trying out some delicious Kumaoni Cuisines, visiting Ayurveda centres for relaxation, and exploring nearby attractions like Ranikhet, Binsar Wildlife Sanctuary and Jageshwar Temple Complex.
Ranikhet – Home of the Kumaon Regiment Center.
Located at the tip of the Jhula Gharhi region in Uttarakhand, Ranikhet is a beautiful hill station surrounded by lush green forest areas. It is home to the Kumaon Regiment Center, one of India's seven regimental centers and a popular tourist destination. Trekkers can explore nearby peaks and valleys as well as some ancient temples such as Jhula Devi Temple, Hawaghar Eco Park, Majkhali Temple etc. Visitors can also enjoy activities like paragliding and parasailing here. With its magical surroundings, Ranikhet is definitely a scenic place to visit!
The beautiful Pines and Dewals (Villages) in Ranikhet provide a great contrast to the natural environment. For the nature lovers, trekking is a must for exploring the nearby trails and marvel at some of the best views of the Himalayas. You can also find a variety of bird-watching spots which are abundant with species like Cuckoos, Orioles, Honey Buzzards etc. The region is rich in ancient history too – from archaeological sites from the times of King Tarilon to monuments from 19th century British rule. With its quiet presence in nature, Ranikhet's beauty will fill one's soul with spiritual harmony and soothe away all worries!
Auli – Ski Resort and Adventure Hotspot.
Auli, located at an altitude of 3050 mtrs above sea level, is one of the most beautiful hill stations in Uttarakhand. It is popularly known as a ski resort and adventure hot spot due to its proximity to the snow-covered Himalayan mountains. Visitors are sure to be mesmerized by Auli's surrounding beauty, including majestic views of Durung Glacier, Nanda Devi Peak and Chenab Lake. Skiing enthusiasts can enjoy skiing down the slopes from December to March, while nature lovers will be delighted by the rich floral and fauna here. Adventure seekers can indulge in activities like trekking, paragliding and cable car rides here too!
In addition to its natural beauty, visitors to Auli can enjoy other activities such as exploring the nearby ancient Gurso Bugyal meadow and discovering nearby quaint hillside villages. Shopping enthusiasts can purchase local handcrafted items from the local market or visit Joshimath, a popular pilgrimage center nearby. Apart from its many activities, Auli also offers plenty of potential for relaxation and peacefulness. With a number of resorts and similar accommodations available for all budgets, Auli is an exciting yet tranquil escape in the beautiful hill station of Uttarakhand.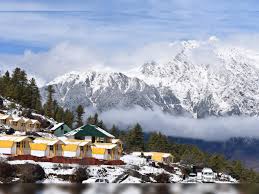 Your Private Charter Journey Starts Here
Subscribe and we'll send the best deals to you