Uttarakhand Airports List
Aug 29, 2023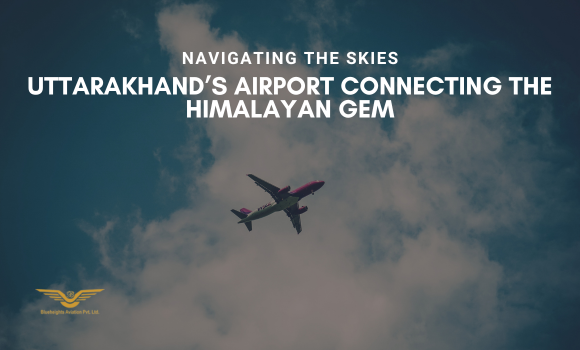 Nestled in the lap of the Himalayas, Uttarakhand is a land of pristine beauty and spiritual significance. As the state welcomes a growing number of tourists and pilgrims, its airports have emerged as crucial gateways, bridging the gap between modern convenience and the ancient mystique of the region. In this article, we delve into the airports of Uttarakhand, exploring their locations, facilities, and the role they play in enhancing travel and connectivity.
1. Jolly Grant Airport, Dehradun

:
Jolly Grant Airport, located in Dehradun, is Uttarakhand's most prominent domestic airport. Serving as the gateway to the state, it provides easy access to popular destinations like Rishikesh, Haridwar, and Mussoorie. The airport's modern infrastructure and well-connected flights have contributed significantly to the growth of tourism in the region.
2. Pantnagar Airport:
Pantnagar Airport, situated in the Kumaon region, serves as a vital link for tourists and locals alike. It offers connectivity to destinations like Nainital and Jim Corbett National Park, making it a crucial resource for those seeking to explore Uttarakhand's natural wonders.
3. Naini-Saini Airport, Pithoragarh:
Naini-Saini Airport, nestled in the scenic town of Pithoragarh, is a small airport that plays a pivotal role in providing connectivity to the remote regions of Kumaon. Its strategic location near the borders of Nepal and Tibet makes it a key access point for both travelers and defense purposes.
4. Pithoragarh Airstrip:
Although not a full-fledged airport, the Pithoragarh Airstrip offers landing facilities for smaller aircraft. Its location in the eastern Himalayas provides access to the rugged terrains and picturesque landscapes of the region.
5. Gauchar Airstrip

:
The Gauchar Airstrip, located near Chamoli, is an essential landing point for helicopters. It becomes especially significant during the Char Dham Yatra, facilitating pilgrims' journeys to sacred sites like Badrinath and Kedarnath.
Enhancing Connectivity and Tourism:
Uttarakhand's airports have not only improved accessibility but also contributed to the growth of tourism, economic development, and disaster management. They've made it easier for pilgrims to embark on their spiritual journeys, adventurers to explore the Himalayan wilderness, and travelers to experience the region's diverse culture.
Challenges and Future Prospects:
While these airports have made commendable strides, challenges like weather conditions, geographical constraints, and infrastructure development remain. The government's continued investment and efforts to improve these facilities will be crucial for fostering sustainable growth in the aviation sector.
Jolly Grant airport Highlights:
Jolly Grant Airport, situated in Dehradun, Uttarakhand, is a pivotal hub that connects this picturesque state with the rest of the country. Named after the former Prime Minister of India, Chaudhary Charan Singh, whose popular nickname was "Chaudhary Saab," the airport has played a significant role in enhancing connectivity, tourism, and economic development in the region. Let's delve into the various aspects that make Jolly Grant Airport a vital component of Uttarakhand's transportation network:
Jolly Grant Airport is strategically located around 30 kilometers southeast of Dehradun, the capital city of Uttarakhand. Its proximity to major tourist destinations like Rishikesh, Haridwar, Mussoorie, and the Char Dham pilgrimage sites has made it an indispensable gateway for both leisure travelers and pilgrims.
The airport boasts modern infrastructure and facilities that cater to the needs of passengers. From well-designed terminals to efficient baggage handling systems, Jolly Grant Airport ensures a smooth travel experience.
Jolly Grant Airport is well-connected to major cities like Delhi, Mumbai, Bengaluru, and Kolkata through regular domestic flights. This connectivity has made it easier for tourists and pilgrims to reach the picturesque state of Uttarakhand without the hassle of long road journeys.
The airport's existence has significantly boosted the tourism industry in Uttarakhand. It serves as the entry point for those seeking to explore the spiritual charm of Rishikesh and Haridwar, the tranquil beauty of Mussoorie, and the adventure-packed terrains of the Garhwal and Kumaon regions.
For those embarking on the Char Dham Yatra, Jolly Grant Airport is a blessing. It reduces the travel time to pilgrimage sites like Yamunotri, Gangotri, Kedarnath, and Badrinath, allowing devotees to focus more on their spiritual journey.
The airport's presence has led to economic growth in the region. It has generated employment opportunities in various sectors, including tourism, hospitality, transportation, and retail.
Connectivity to Neighboring States:
Jolly Grant Airport also serves neighboring states like Himachal Pradesh and Uttar Pradesh, acting as a vital air link for those regions as well.
Challenges and Future Prospects:
While Jolly Grant Airport has brought about positive changes, challenges such as weather conditions during the winter months and potential expansion for increased capacity remain. The government's ongoing commitment to infrastructure development will be crucial to meeting these challenges.
The airport engages with the local community by promoting sustainable tourism practices and supporting local initiatives, thereby fostering a sense of responsible tourism.
Helipad and Helidrome in Uttarakhand
In Uttarakhand, helipads and helidromes serve as critical infrastructure for air travel, especially in the hilly and remote regions of the state. These facilities provide a lifeline for transportation, facilitating easier access to pilgrimage sites, remote areas, and regions that are otherwise difficult to reach by road. Here are some of the key helipads and helidromes in Uttarakhand:
Kedarnath Helipad

: Located near the Kedarnath Temple, this helipad is an essential access point for pilgrims visiting the sacred shrine of Lord Kedarnath. It shortens the journey for those participating in the Char Dham Yatra.

Badrinath Helipad

: Situated near Badrinath Temple, this helipad simplifies travel to one of the Char Dham pilgrimage sites, making it more accessible for devotees.

Gangotri Helipad

: For pilgrims headed to Gangotri, this helipad in Harsil provides a convenient way to reach the temple dedicated to Goddess Ganga.

Yamunotri Helipad

: Near the town of Kharsali, this helipad is a gateway for those visiting the Yamunotri Temple, another prominent Char Dham site.

Pithoragarh Helidrome

: Pithoragarh, being a remote and hilly district in the Kumaon region, relies on the Pithoragarh Helidrome for air connectivity. It's a critical facility for transportation and connectivity.

Gauchar Airstrip

: Located near Chamoli, Gauchar Airstrip plays a pivotal role during the Char Dham Yatra, enabling pilgrims to reach destinations like Badrinath and Kedarnath.

Naini-Saini Airport, Pithoragarh

: Although primarily an airport, Naini-Saini in Pithoragarh also serves as a helidrome, offering connectivity to this remote region in the eastern part of Uttarakhand.

Mussoorie Helipad

: Mussoorie, a popular hill station, has its own helipad that provides air access for tourists and travelers.

Dehradun Helipad (Sahastradhara)

: Dehradun's helipad at Sahastradhara is a crucial facility for both civilian and military purposes. It's often used for medical evacuations and emergencies.

Haridwar Helipad

: This helipad in Haridwar caters to tourists visiting the holy city, reducing travel time for those who want to experience its spiritual and cultural offerings.
These helipads and helidromes play a significant role in ensuring connectivity, safety, and accessibility in Uttarakhand's challenging terrain. They provide an alternative pmode of transportation, especially during the Char Dham Yatra season when the region witnesses a surge in pilgrim footfall. These facilities not only ease travel but also contribute to the state's economy and tourism industry.
Conclusion

:
Uttarakhand's airports are more than just travel hubs; they're the gateways to a land of spirituality, natural beauty, and cultural richness. As these airports evolve and adapt, they'll continue to weave together the ancient heritage of the Himalayas with the modern conveniences of the 21st century, ensuring that this enchanting region remains accessible to all who seek to experience its wonders.
Jolly Grant Airport stands as a testament to the modernization of Uttarakhand's transportation infrastructure. It not only facilitates seamless travel but also contributes significantly to the state's economy and tourism industry. As Uttarakhand continues to thrive as a sought-after destination, Jolly Grant Airport will continue to play a vital role in connecting visitors to the serenity and charm of this enchanting Himalayan state.
Your Private Charter Journey Starts Here
Subscribe and we'll send the best deals to you