How to Complete Char Dham Yatra in 10 Days ?
Jun 03, 2023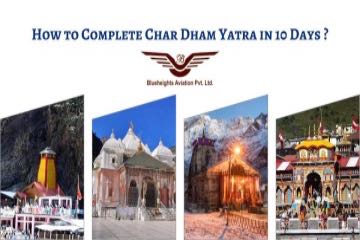 Chardham Yatra is the famous Hindu pilgrimage in Uttarakhand. It includes the visit to the four significant holy sites - Yamunotri, Gangotri, Badrinath and Kedarnath temples. When and how these pilgrims got associated with Char Dham, it is not known yet. However, each of these places hold high relevance in Hinduism and have their own legendary history.
The pilgrims start their journey from Yamunotri Dham and proceed to Gangotri Dham. Thereafter, they visit Kedarnath (the abode of Lord Shiva) and Badrinath Temple (the temple of Lord Vishnu). This concludes their Chardham Yatra.
If you are looking for a Char Dham Yatra in 10 days, this blog will help you to understand – How to complete your Char Dham Yatra in 10 days?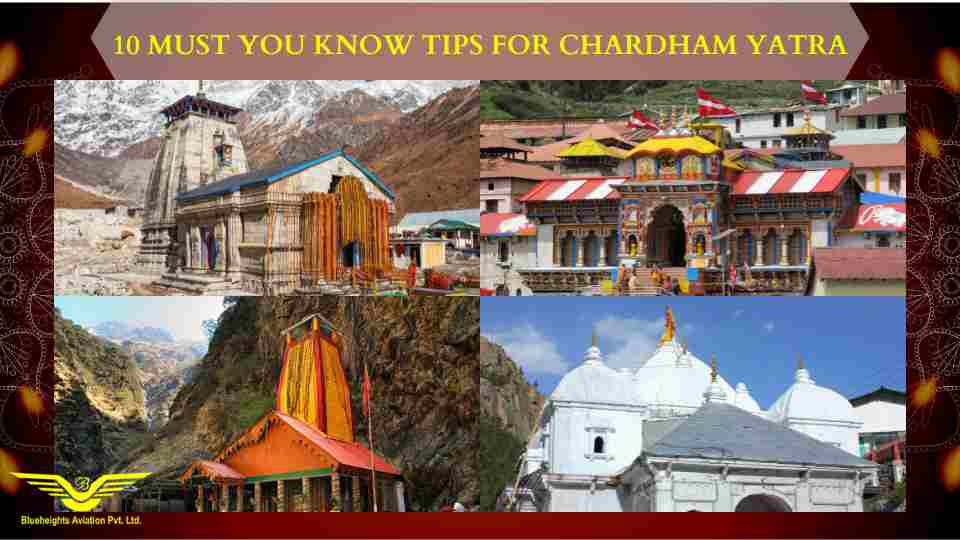 What is the best time to visit Char Dham yatra?
Avoid visiting during the monsoon period. The best times to visit are between May and June, when you can expect clear skies, little rain or humidity in the air, beautiful floral arrangements that will make your trip worth it! July and August are rainy seasons though and hence the visit to Char Dham should be avoided at this time. September to November are considered as the colder months and not suitable for the people who avoid extreme weather conditions.
Chardham Yatra – 10 days itinerary
Here is the 10-day itinerary for Chardham yatra:
Day 1: Reach Barkot
The journey to the holy Haridwar will be an enlightening one. Start your journey with a stop at Barkot, which is 215 km away and takes about 7 hours of travel time. From Haridwar Railway Station, drive down to Barkot via Mussorie.
The temperature at Barkot varies between 25-30 degrees Celsius in Summer which is pleasant.
Day 2: Reaching Yamunotri Trek
A day at the Janki Chatti will give you a chance to start your yatra early. From here, start your trek to Hanuman Chatti and Phoolchathi for 6 km before arriving at your first stopovers during the journey.
After reaching, take a bath in Garam Kund, if time permits or offer prayers at a nearby temple (if not finish the trip by same afternoon). You may also catch glimpses of important places like Surya Kund and Yamunotri Temple. Depending upon how much free time one has available, they can enjoy these sacred places without feeling rushed through their vacation stay over.
Day 3: Reaching Uttarkashi
The next day, you'll be taking a four-hour journey to Uttarkashi. It has some of the country's most beautiful temples as well!
Your first stop should be Prakateshwar Caves - dedicated to Lord Shiva, who resides here with his wife Parvati (also known as Shakti). After that, head towards Vishwanatha Temple. It is believed that the elephants were sacrificed before building this place. Hence the foundation would never sink into the ground forever due to erosion or anything else.
Day 4: Visit Gangotri
Reach Gangotri early morning and perform the prayers. You can take the holy dip in Gangotri and, after that, return to Uttarkashi that.
Day 5: Go to Guptakashi
After you have reached Uttarkashi, head south to Guptkashi, it is a 10-hour journey that will take 223 kilometers through high scenic mountains and deep valleys in Central India with views along the way, including one of Mount Kailash.
Explore Chaukhamba Peak and spend overnight at Guptkashi. There are many hotels from budget to luxury from where you can stay. ArdhNarishwar and Vishwanath Temple are famous spots among travelers.
Day 6: Kedarnath Temple darshan
Spend another day at Guptakashi and visit the Shiva temple as well as the hot springs nearby. You can use Helicopter or go by trek for darshan in Kedarnath Temple. Your will start from Sonprayag and reach Gaurikund. Then your trek starts from Gaurikund to Kedarnath ji.
Day 7: Kedarnath to Rudrakashi
After an 'Abhishek' in Kedarnath at early morning, you can trek down to Sonprayag. Drive down to Guptakashi thereafter. There will be 1-night halt by checking into the hotel.
Day 8: GuptaKashi to Badrinath
Drive down to Badrinath after having breakfast in hotel. Take a bath in Tapikund and attend the darshan of Badrivishal & Aarti in evening. Bhimkund, Vyas Gufa, Maatamoorti, Mana, Charanpaduka and Mukh of Saraswati river are other significant sight-seeing options here. An overnight stay at Badrinath is soul-satisfying.
Day 9: Coming back to Rudraprayag
On Day 9, it's time to come back to Rudraprayag. You may check out all the places which you missed at the beginning of the journey.
Day 10: Back to your Home
As you have contemplated your journey, time to take a relaxing tour of your own town. Get ready to narrate your stories of fun and spirituality along with your experience at Char Dham yatra
Frequently Asked Questions (FAQs)
How long does it take to reach Badrinath from Rishikesh?
It takes around 10 hours of yatra to reach Badrinath from Rishikesh. This journey comprises buses, trains, flights or yatra on foot.
What are the places to visit in Uttarakhand?
There are many forts, temples, palaces, and lakes. Some famous places include Kedarnath Temple, Badrinath Temple, Haridwar-Rishikesh, Auli-Joshimath, Ranikhet-Almora, Nainital-Kausani, and many others.
What is the best time to visit Uttarakhand?
The best time to visit Uttarakhand is from March to April and September to October. Popular activities like Paragliding, Trekking and Char Dham are the most popular activities that draws tourist towards the Uttarakhand during summer season.
Which is the best route for yatra to Badrinath?
Haridwar – Guptkashi – Kedarnath – Guptkashi – Badrinath is the best route for yatra to Badrinath. The starting point of the yatra is Haridwar which marks the beginning of four holy shrines. Badrinath is accessible by roads but your have to trek towards the Badrinath temple. The shortest distance between the kedarnath and badrinath is 210 km via road.
Conclusion:
Uttarakhand is a very famous pilgrimage spot, and many people from all over the world come here for the yatra. If you are planning Char Dham yatra, it is a worthy opportunity worth exploring the beauty of Uttarakhand. Book chardham yatra tour package with Blueheights Aviation.
You May Also Like
CharDham Yatra at Incredible India: A tour to CharDham
5 Things You Didn't Know About Kedarnath Temple Darshan By Helicopter
10 Must You Know Tips for Chardham Yatra
What is the best time to visit Kedarnath?
How Much Does It Cost to Visit Chardham Yatra?
7 Lesser-known facts about Door Opening of Kedarnath temple
KEDARNATH-BADRINATH By HELICOPTER @ 125,000 PER PERSON ( 3N4D) with one night stay at kedarnath and one night stay at Badrinath
Chardham By Helicopter from Dehradun @190,000 per person including one night stay at Dehradun with vip darshan at all char dham
Your Private Charter Journey Starts Here
Subscribe and we'll send the best deals to you