Explore Kedarnath - How Helicopter Services Make it Easier
Jun 02, 2023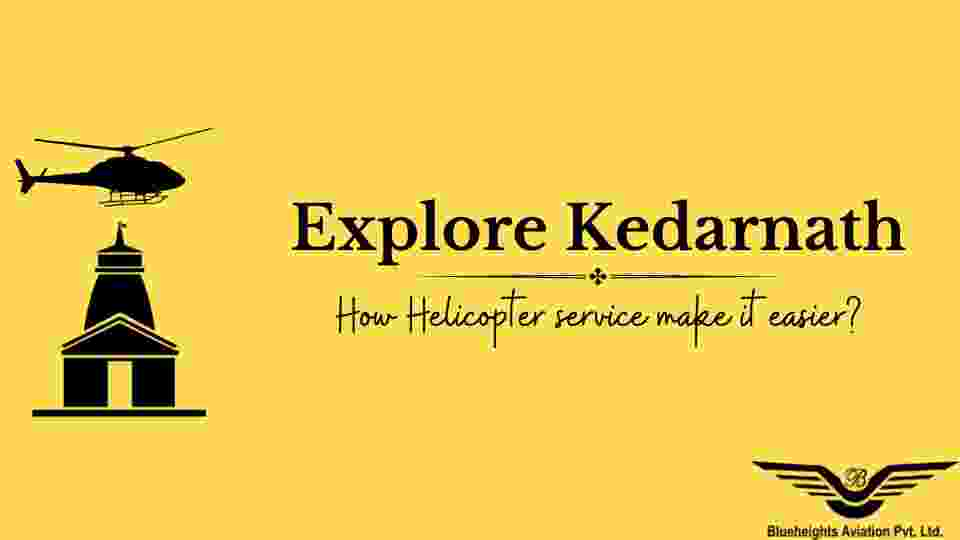 Experiencing the beauty of Kedarnath can now be done without dealing with tiring camping or long strenuous walks. Using a helicopter service to reach the site is not only easier but can also be a safe and convenient way to explore this stunning area. Learn more about the different helicopter services available for your journey to Kedarnath.

What is the significance of Kedarnath?

Kedarnath is one of the most important spiritual sites in India with a rich history and religious significance. Located in the mountain ranges of Uttarakhand, the site is venerated by not just Hindus, but also members of other faith groups like Buddhists and Sikhs. It is believed that the site was visited by Adi Shankaracharya and has witnessed many historical incidents.
Kedarnath is today accessible only through helicopter services, due to its location high in the Himalayas. Tourists often book these services in order to visit the remote temple, with stunning views on the way. One of the biggest benefits of taking a helicpter ride to Kedarnath is that you can get there quickly, without having to spend time on a long mountain trek. Passengers also get an aerial view of some of the most beautiful sights in this region, such as snow-capped mountains, lush greenery and gushing rivers.

What are the benefits of using helicopter services?

Helicopter services to Kedarnath make it much easier for visitors to explore the area, especially if they are short on time. Helicopters provide a bird's eye view of the surroundings and make access easily as they can land almost anywhere. Furthermore, helicopters reduce the long-distance to travelers, providing them with a convenient method of transportation that is cheaper than private cars or railway services.
Using helicopters services to Kedarnath also provides visitors with an opportunity to make their visit memorable. The helicopter ride will provide the traveler with fantastic views of the mountains, lush valleys, and green meadows. Furthermore, helicopters offer a hassle-free way for visitors to explore the area in comfort and Safety away from traffic and difficult terrain such as narrow paths and steep roads. As air travel is not affected by weather disruptions that affect road infrastructure, there is a high level of reliability ensuring that one travels on schedule without much delay or interruption from bad weather.
How can you book a helicopter service to Kedarnath?

Booking a helicopter service to Kedarnath is an easy process. Most companies provide online booking services, allowing you to browse through the available flights and find one that fits your needs and budget. Additionally, you can contact the company directly to discuss the details of your trip and get answers to any questions you might have. Once you've made a booking, it's just a matter of arriving at the departure point on time for take off!
Before you book a helicopter service to Kedarnath, it's important to be aware of the other services that may be included as part of the package. Many companies offer packages such as hotel pick-up and drop-off, land transport from an airport to the helipad, and pick-up at specific points within Kedarnath itself. Be sure to check these details before making a booking so that you can be sure all your needs will be catered for. Additionally, make sure to inquire about discounts or special offers that may be available – some companies offer discounts for large groups or multiple trips booked in advance.

What weather conditions should be kept in mind before traveling?

Bad weather can be an obstacle to traveling to Kedarnath by helicopter. The company you are booking with will check the weather conditions at the time of take off and decide if it is safe to fly or not. It's important to keep in mind that the area can experience strong winds, rain, snow and fog all year round. Be sure to check the local weather forecast prior to your departure and reschedule if necessary.
During the monsoon season from June-September, conditions are generally very wet and windy. Fog and strong winds can also be a problem in winter months, so it is important to check the weather conditions before making your flight booking. Many companies offer flexible rescheduling options if you need to change the date due to bad weather. It is advisable to take out travel insurance with helicopter services in Kedarnath, just in case you need to cancel due to inclement weather.
Are there any other tips for availing the best helicopter services for exploring Kedarnath?
Absolutely! It's important to book in advance as the demand for Kedarnath helicopter services can be high during peak season. And while prices do vary, it is always helpful to compare the different service providers and choose based on your budget and other amenities offered. Also, don't forget to go through their detailed terms & conditions before booking to ensure a smooth ride.
Additionally, it's wise to check the weather forecast in Kedarnath during your desired time of travel and stay up-to-date on any changes. Since most of the helicopter services require passengers to disembark at an airport before taking a chopper, be sure to research the closest airport and make sure you arrive with plenty of time to spare for check-ins and boarding. Lastly, make sure wear comfortable clothing since some helicopters might have limited space or fewer seats than one expects. Follow these tips and you'll have a pleasant journey to Kedarnath!
When selecting a helicopter service, tourists should consider the flight route, the company's safety record, and the cost. Additionally, compare reviews from past customers for qualitative assurance. Although exploring Kedarnath through a chopper requires more balance of the budget than perhaps you had planned, at least you know you are in safe hands when travelling! Enjoy the aerial view and all that nature has to offer!

Book now , Kedarnath Yatra Helicopter services from Dehradun with Blueheights aviation.
Your Private Charter Journey Starts Here
Subscribe and we'll send the best deals to you