Experience Char Dham Pilgrimage - With Comfort & Luxury of a Helicopter Ride
Jun 02, 2023
Experience the Char Dham Yatra like never before by taking a comfortable and reliable helicopter ride. Soar above majestic mountain ranges, witness awe-inspiring panoramic views of snow-capped hillsides and visit some of the holiest sites in India in style and comfort.
Confirm Helicopter Flight Plan, Schedules and Prices.
Before embarking on your pilgrimage, be sure to confirm the flight plan, schedule and prices beforehand. Research the various helicopter operators that provide charter Helicopter to the Char Dham for comparative prices and packages. Make sure to read reviews on each company and choose one which has proven reliability and quality service.
Speak to the helicopter operators and arrange for the most cost-effective flights based on departure and return dates. Consider trips that come with packages that include accommodation, food and transport as they offer a convenient way to travel without worrying about taking care of these details once you reach your destination. Review the list of activities recommended by each operator and seek their advice on which package would be best suitable for your spiritual journey. Reconfirm scheduling details with the operator prior to booking your tickets to ensure an enjoyable ride for the Char Dham Yatra.
Research the flight rates, time and route of the helicopter trip that operates between Dehradun airport and your city in India. For a smoother journey, discuss possible departure times with the operators and plan for a session with an expert heliport manager to gain insights on the best routes to take from each location.

Enquire about facilities such as transport available at the airport, food delivery services and access to nearby medical centres for consultation should you need it. With all this information in hand, you can begin planning for a safe, comfortable trip through the grand peaks of Uttarakhand.
Chardham weather check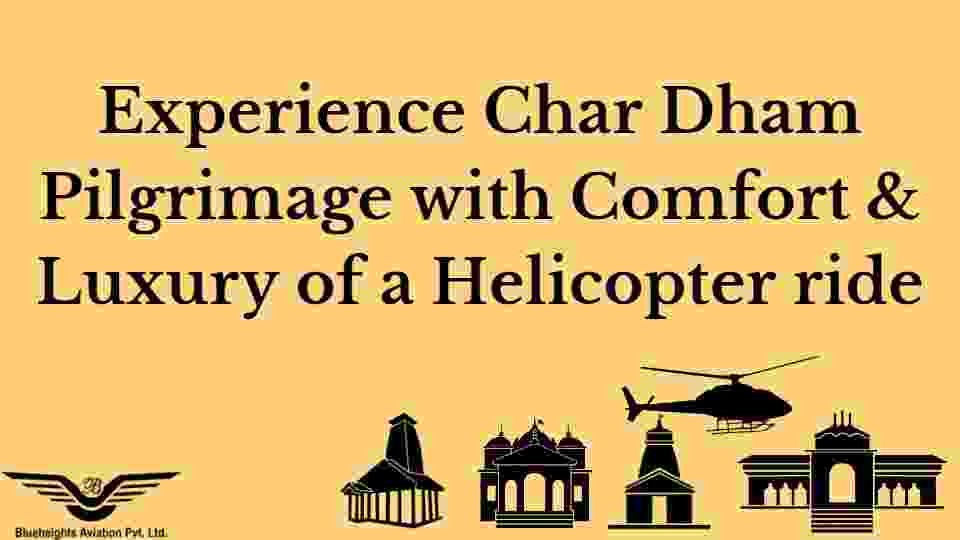 Before setting off, review the weather conditions of the valleys and foothills along your route. Check the temperatures of each region in advance so you can pack suitable clothing for day and night. Also, plan for specific altitudes that your helicopter may fly through; some regions may experience high wind speeds due to its terrain shape so be sure to confirm if aerodynamics are ideal for your flight path. By doing all this research, you will ensure a safe, productive Char Dham Yatra with the convenience of hotel bookings made in advance, comfortable living conditions and scrumptious local delicacies prepared by experienced chefs. All these amenities will guarantee that you make beautiful memories during your pilgrimage.
Furthermore, make sure that your travel logistics for the season is in place. You will need to check with helicopter service providers and confirm their flight plans, schedules and prices. Ensure that the helicopters are registered with the necessary permits and safety measures are in place prior to setting off your journey. Last but not least, look at alternative routes aswell just in case any unanticipated events arise during the course of your trip; having alternate routes can help circumvent potential issues or delays.
Furthermore, it is recommended that you complete the paperwork required prior to departing. Ensure your documentation such as identity and insurance papers are up to date and valid, so you do not face any interruptions during the course of your journey. It's also advisable to have spare clothing and snacks in case a stopover becomes necessary.
Despite these prep measures come in handy, find comfort in knowing that helicopter companies provide impeccably professional service with safety as their primary focus—taking utmost care from ground operations all the way until touchdown at your destination. Going with a helicopter tour for your char dham yatra guarantees an unforgettable experience.
Before embarking on your journey, always remember to brief yourself thoroughly on the flight plan and schedule. Most helicopter companies operating char dham yatra offer convenient packages with several start spots. Make sure to properly research and look into customer reviews to pick the right one that fits your requirements. Additionally, inquire about prices being charged for the service—inquire about any additional charges or fuel surcharges which may incur along the journey. Taking time out to look up these options is essential as it helps in avoiding foreseeable complications down the line.
The flight plan should has the start and end points as well as your destinations. Check with the company ahead of time to ensure that you are aware of how long your flight will be and what altitude you will be flying at. The times for take-off and landing must also be agreed upon in advance so that any potential changes can be made, if required. Furthermore, make sure all safety protocols are followed to ensure a safe journey. This includes making sure that you have all the necessary permissions, such as permits from military authorities before taking off.
It is also important to enquire early about the estimated costs of your flight. Some helicopter companies offer discounted rates, bulk packages or customized packages depending on the duration and number of passengers. Make sure you understand what each package entails and decide which one would suit your needs best. Lastly, ensure that you thoroughly read all terms and conditions set by the pilot or operator before booking the Char Dham Yatra with helicopter.
Before you book your Char Dham Yatra with helicopter, confirm the details of your flight plan, such as the number and size of helicopters allotted for the journey, the routes that will be taken, travel times and stopping points. Additionally, it is important to inquire about safety protocols in place while you are aboard. Reputable helicopter companies have a team of qualified pilots and staff who adhere to stringent standards when it comes to their passengers' welfare.
Additionally, inquire about the cost of helicopter flights. The cost of the char dham yatra in a helicopter depends on whether you are arranging private one-way or return trips, specifcally tailored packages and helicopter sizes used. Discounts may be available depending on availability and peak travel seasons, so it is best to arrange your flightchar dham yatra with helicopters ahead of time. Furthermore, confirm that all fees and taxes as included in your final ticket price before proceeding with your booking.
Before booking your helicopter flight for the char dham yatra, ensure that your chosen helicopter service has an efficient ground and air crew. This provides you with a safe and efficient journey, during which comfort and ease of travel should always be considered as priority. Additionally, check whether your provider allows stops in nearby regions and what meals they provide while en-route. Many flights offer vegetarian or vegan options as well. Finally, investigate if any other services are provided like yoga classes or spiritual lectures - to truly make the most out of your char dham yatra with helicopters.
Now that you have confirmed the services provided by your chosen helicopter provider, it's time to check into their flight plan and schedules. It is important to ensure that all places of interest are covered in the route and that any planned stops are included. Additionally, make sure to know about the approximate journey duration and expected flying speed for a more accurate estimation on arrival times. Lastly, inquire about the price - understand the costs incurred from ground transport, guide fees, meals and other extras. Make sure all these details are recorded before proceeding with booking!
To make your char dham yatra with a helicopter as smooth and seamless as possible, it is essential to coordinate with your chosen helicopter provider before embarking on the journey. For peace of mind, ensure that they have adequate Insurance coverage in case of complications. Most providers usually have helicopters suited to different group sizes - from four to eight passengers - depending on required range and distance. Additionally, make sure to discuss any additional safety allowances such as health reports or Body Mass Index (BMI) for every passenger, as offered by some operators. That said, once you have confirmed all these details prior to booking, you can rest easy knowing that you're in capable hands for your char dham adventure!
Furthermore, research on the flight schedules and prices from your starting point to each destination. Some packages may be offered for one-way or round-trip flights - inquire as to which is more cost efficient for your journey. Aside from the attractions of each holy destination, also ask about scenic views along the way. There may be alternates routes that offer more breathtaking sights than others. Carefully analyzing the pros and cons of different helicopters and operators will ensure that your char dham trip is both safe and enjoyable!
Additionally, make your char dham yatra planning more efficient by confirming the flight plan and duration of the journey with your helicopter operator in advance. According to the type of operators and their services you decide, verify if they can safely fly across the Himalayas during these months - in many cases, strong winds and inclement weather conditions can make flying dangerous. Also consider flight restrictions that may be placed due to risks from floods or other calamities. Accurately estimating travel time helps avoid exhausting delays later on in your arduous trek.
Book Chardham Yatra with best private aviation company like Blueheights Aviation Pvt Ltd for smooth and reliable journey of lifetime.
You May Also Like
Chardham Yatra at Incredible India: A tour to Chardham
5 Things You Didn't Know About Kedarnath Temple Darshan By Helicopter
How Much Does It Cost to Visit Chardham Yatra?
Importance of Do Dham Yatra in Hindu Religion
What is the best time to visit Kedarnath?
Your Private Charter Journey Starts Here
Subscribe and we'll send the best deals to you