Chardham Yatra Helicopter Booking 2023
Jun 02, 2023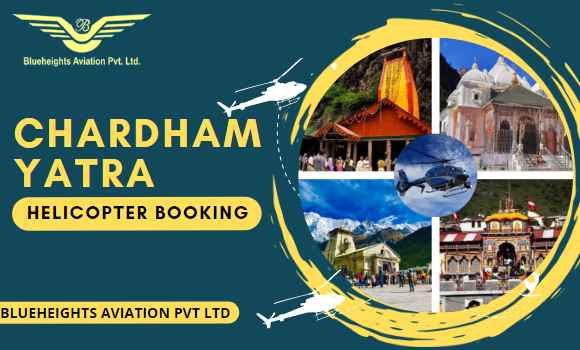 Searching for an exciting and convenient way to experience the sacred sites of India? Make your Chardham Yatra journey even more special with a comfortable helicopter ride – easily book your own private yatra today for a hassle-free adventure you won't forget!
Understand the Chardham Yatra and Its Importance.
A spiritual journey to the four holiest sites of India, known collectively as the Char Dham Yatra is a devout pilgrimage. With a visit to Yamunotri, Gangotri, Kedarnath, and Badrinath – known as "the four abodes" – each pilgrim will get to experience the divinity of these sacred places. For Hindus, this journey can bestow moksha or liberation from material life and open up one's inner spiritual world. For many people around the world , this lifetime experience is what makes Char Dham Yatra truly special.

Choose the Mode of Transportation That Suits You Best.
Choosing the right mode of transportation is important if you want to make sure that your journey goes as smoothly as possible and that you can truly enjoy the experience. Traditional modes such as walking, driving, or taking a train are still popular; however, booking a private helicopter ride service from a reliable tour operator such as Himalayan Heli Tours can give you the convenience and comfort of traveling comfortably in luxury and consequently saving time for greater spiritual exploration. Plus, with us, there's no need to worry about planning your own travel itinerary – we have everything covered for a safe and pleasant Char Dham Yatra.

Discuss Budget & Fees with Operators.
Before embarking on your Chardham Yatra, it is important to consider the budget and fees associated with booking a private helicopter ride. Himalayan Heli Tours offers reasonable rates that are tailored to suit different traveler needs and budgets. Moreover, by talking directly with our operators you can learn more about our packages, guarantee availability of flights, as well as choose the best time and date to take off on your spiritual journey. Start planning your unforgettable Char Dham Yatra adventure today!

Research Helicopter Companies & Check Reviews.
Doing the proper research is essential when booking a helicopter tour. Make sure to take into account feedback from past guests as this will help you in your decision-making process. Talk with our operators at Blueheights Aviation or Gotriplo.com, and get an understanding of what packages we offer and which one best fits your budget, requirements and travel dates. Additionally, read online reviews from former visitors that have already experienced the amazing views of Char Dham Yatra by helicopter.

Book Your Helicopter with Blueheights Aviation ,Well in Advance and Prepare for Your Adventure!
Booking your helicopter well in advance is an important step on the road to Char Dham Yatra. If you plan on doing the Chardham Yatra, be sure to book with Blueheights Aviation today! With packages available that include vegetarian meals and comfortable seating, you can make sure that your trip of a lifetime will be hassle-free and enjoyable. We also offer a variety of on-ground activities for visitors to take part in during their stay at each temple - giving you the full experience of this spiritual journey!

Blueheights Aviation is a trusted and experienced provider of Chardham Yatra helicopter booking services, offering more than 20 years of experience as aerial tour specialists. We use the latest technology combined with clinical levels of safety protocol to ensure a stress-free Chardham Yatra experience. Our teams are experienced in including luxury tour and travel packages, as well as corporate charters, across Delhi and NCR. Each trip can include VIP passengers along with full scale logistics to organise ground transport facilities for the pilgrims during their stay at each temple in the region. You won't be disappointed with Blueheights Aviation – book your Chardham Yatra helicopter flying today!

Your Private Charter Journey Starts Here
Subscribe and we'll send the best deals to you