Top 5 Chardham Holiday Packages to Make Your Trip Memorable
Jun 02, 2023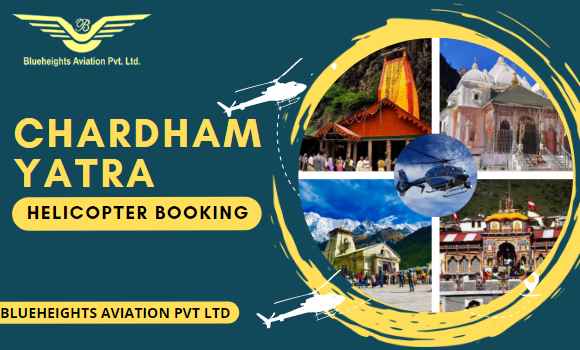 Looking for the perfect holiday package to make your Chardham pilgrimage special? We have a range of packages that offer an unforgettable journey filled with spiritual fulfillment. From the top 5 packages, you can choose one that fits your budget and timeline to explore some of India's holiest sites.
Chardham Yatra by Helicopter Package 5N6D
Take on a spiritual journey like no other with our 5N6D Chardham Yatra helicopter package! Begin your expedition with a memorable helicopter ride and then proceed to explore the sacred sites of Yamunotri, Gangotri, Kedarnath and Badrinath. Along the way you can also witness majestic snow-capped mountains and green lush landscapes. Enjoy an unforgettable trip at the end of which you will be rewarded for your dedication and devotion!

This package includes air-conditioned helicopter selections to and from the most important destinations of Chardham Yatra – Yamunotri, Gangotri, Kedarnath and Badrinath along with full board meals, lodging in luxurious accommodations provided by the Yatra company. While on this spiritual journey you will have many opportunities to visit religious places and temples, partake in adventure activities such as skiing and camping, spend time appreciating natural beauty including mountains lined with snow and also take advantage of other exciting activities that are arranged exclusively for our customers.

Do Dham Yatra By Helicopter Tour Packages 3N4D, dehradun
Our 3n4d Do Dham Yatra By Helicopter Tour Packages from Dehradun will give you the opportunity to relish a mesmerizing helicopter ride. The same day pickup and drop facility for Sikar- New Tehri- Gangotri – Kedarnath -Badrinath are further provisions of our efficient services making your entire journey an enjoyable one. You shall get plenty of up close chance to witness nature's glory from air as these flights are charters and very much on demand by tourists and pilgrims alike!

This amazing expenditure features the visit of two Dhams - Gangotri and Badrinath in two days with en route visits to Gaurikund and Kedarnath. The helicopter journey shall begin from New Tehri airport wherein a luxurious vehicle will convey you from Dehradun along with a highly professional guide who would enlighten your entire travel with creative stories. Trek up to the sacred temple is facilitated by us without any issue and you can completely relish the divine beauty of glittering rivers and serene surroundings throughout the trip. You can choose to spend your time enjoying campfire nights, getting comfortable accommodation at enchanting locations and adding memories worth cherishing.

Dodham yatra same day helicopter package
After being picked up from the airport or hotel, you will be taken on a guided tour of the Do Dham Yatra which includes a thrilling helicopter ride to each destination. You can visit Sikar, New Tehri, Gangotri and Kedarnath and then end your trip with a visit to Badrinath. Whether it is taking in the breathtaking views of the Nanda Devi peaks, this tour will make your spiritual journey memorable.

Offering one of the best helicopter packages, this tour lets travelers explore many majestic sites of Uttarakhand. Depending on the package chosen, you will be taking in breathtaking views of snow-capped mountains, lush green valleys and deep gorges throughout your journey. You can relax and enjoy a unique adventure while exploring all the holy temples of the Chardham in a single day. With this package, you can take back home wonderful memories that you made during your pilgrimage to Do Dham Yatra by helicopter.

All Inclusive Char Dham Tour Package from Delhi.
This all-inclusive trip package covers pickup and drop in Delhi, comfortable accommodations with meals and snacks along the way, travel insurance, scenic helicopter rides to the Char Dham destinations, local sightseeing and other spiritual experiences. With this comprehensive tour package, you can truly enjoy your spiritual journey without any stress!

For your convenience, this package allows you to customize the itinerary according to your interests and needs. Our expert travel agents can take care of all the bookings and arrangements for a hassle-free experience. You will be provided with an experienced driver who has extensive knowledge of the region's terrain, while our team also offers personalized counseling at each of the Char Dham destinations so as to get deeper into the spiritual vibe of these holy places.

Family Char Dham Tour from Haridwar with Luxurious Transportation .
Make your Chardham Yatra experience even more memorable with our family tour package from Haridwar. All-inclusive in the package is luxurious transportation to and from various places located on the Chardham route, thus providing a carefree and hassle-free experience for the entire family. Enjoy comfortable economy hotels with complimentary meals along the way, local sightseeing options, knowledge-based guided tours of each destination temple, and more exciting experiences!

With our Chardham tour package from Haridwar, your family will have the opportunity to visit some of India's most breathtaking and spiritual tourist locations. Along the way you'll see natural wonders such as the majestic Himalayan range, experience local culture by visiting villages and temples, and get a better understanding of ancient Indian history as you make stops at iconic sites like Badrinath Temple or Kedarnath Temple. Throughout your journey our team of experienced coordinators will be with you providing tips on regional specialties, engaging stories about the places visited, and ensuring that everything runs smoothly with convenient transportation options. So plan an escape to nature this summer and embark on an unforgettable Chardham journey with us today!

Your Private Charter Journey Starts Here
Subscribe and we'll send the best deals to you