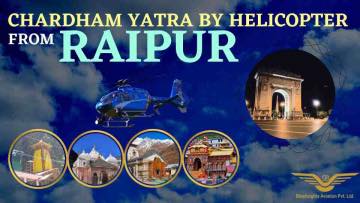 Char Dham Yatra Tour Package By Helicopter From Raipur
Raipur is one of India's vibrant cities, known as the capital of Chhattisgarh. From terracotta industries to stunning temples and mesmerizing lakes, Raipur has plenty to offer to tourists in Raipur. Every year, the city witness hundreds of devotees coming down to Uttarakhand to complete the Chardham Yatra Circuit.
Uttarakhand, also known by many names, including Dev Bhumi or the Land of God, is home to numerous sacred places and welcomes pilgrims worldwide for its spiritual offerings. One of the most popular pilgrimage circuits in the state is the Char Dham yatra.
This Yatra or pilgrimage is a trip to four holy sites -Yamunotri, Gangotri, Kedarnath, and Badrinath– nestled high up in India's Himalayan mountains. These are the abode of Goddess Yamuna, Goddess Ganga, Lord Shiva, and Lord Vishnu, respectively.
The high-altitude shrines remain closed for about six months every year. Yatra opens during the summer season in Northern India from April to November.
While the traditional way of completing the Chardham Yatra was via road, it refrains the devotees from a strict schedule to visit. The most popular way to complete Chardham Yatra is by Helicopter nowadays. It is the quickest and easiest way to end the circuit.
Itinerary for Chardham Yatra By Helicopter
Here is the brief itinerary for Chardham Yatra By Helicopter from Blueheight Aviation:
Day 1: Raipur to Dehradun
Around ten connecting flights from Raipur to Dehradun take around 6 hours to reach Dehradun. You can also opt for a train journey from Raipur to Dehradun that takes about 26 hours to get, which is the same as the road journey. Once you reach the Dehradun, a representative from Blueheight aviation will escort you to the hotel for a complimentary overnight stay.
Program Summary:
From Raipur to Dehradun
An overnight stay at Dehradun
Day 2: Dehradun to Yamunotri
The revered Dham Yatra will start from the Dehradun to Kharsali Helipad near Yamunotri temple. The route from Kharsali Helipad to the temple can be covered by riding a back horse or the Palki. The temple is around 6 km from the Helipad, and you may also choose to trek. After the darshan, pilgrims return to Kharsali and are allowed to explore its beauty. A peaceful night's rest is waiting for the pilgrims near Kharsali.
Program Summary:
Flying to Kharsali Helipad
Kharsali Helipad to Yamunotri temple on the backs horses or via Palki
Overnight stay and exploration of Kharsali.
Day 3: Yamunotri to Gangotri
The group will head by taking the helicopter from Kharsali to Harsil Helipad. From Harsil, we'll travel by car towards Gangotri temple. The distance is about 25 km. VIP Darshan provides ease of access to the temple.
Harsil is a gorgeous valley with dense forests and breath-taking views. As you travel across the valley, you'll come across numerous stunning places to admire the beauty of nature. Take pictures that will make your trip unforgettable for the rest of your life. Stay for the night and eat a meal in Harsil Gangotri.
Program Summary:
The flight operates from Kharsali to Harsil Helipad
Harsil towards Gangotri temple via vehicle
Overnight stay near Harsil
Day 4: Gangotri to Kedarnath
We will head from Harsil to the Sersi base to proceed to Kedarnath. A shuttle helicopter service is taken to reach Kedarnath. You will be escorted to Kedarnath temple, Bhairo mandir and Adi Shankaracharya Samadhi accompanied by a crew member from Blueheight aviation.
Sightseeing at Triyuginarayan mandir is an exhilarating affair. This temple is the celestial venue for the marriage of Lord Shiva and Goddess Parvati.
Program Summary:
Harsil to Sersi
Connecting shuttle to Kedarnath
Darshan at Kedarnath temple
Sightseeing at Triyuginarayan Mandir
Day 5: Kedarnath to Badrinath
The next day is scheduled for the darshan at Badrinath. We will head from Sersi Helipad to reach Badrinath. You will be taken to Badrinath temple in the afternoon with an allotted time of 2 hours for Darshan. Enjoy the hot springs of Badrinath and sightseeing at Mana Village.
Program Summary:
Flying from Sersi to Badrinath
Visiting the Badrinath temple in the Afternoon
Sightseeing at Mana Village
Day 6: Back to Dehradun
Time to head back to Dehradun. On the way, we'll enjoy stunning panoramas of the area. The spectacular views of these confluences are the perfect feast for those in awe of the natural beauty.
We fly through stunning valleys of dense forests. The flight takes us over five confluences of rivers like Vishnu Prayag, Nanda Prayag, Karna Prayag, Rudra Prayag, and Dev Prayag.
Once you arrive in Dehradun, you will collect all your drop off your luggage that you left at the beginning of Yatra. Head to Dehradun Airport/Railway station as your next destination and return to Raipur.
Tour concludes with unforgettable memories.
Program Summary
Badrinath to Dehradun Drop off
Why Avail Chardham Yatra By Helicopter from Raipur?
Blueheights Aviation, a leading helicopter charter company in India, offers char Dham yatra by helicopter. The company has been operating charters for over ten years and has earned the trust of its clients with its safe and reliable services.
It provides char Dham yatra service to pilgrims visiting various holy places across India. The company also offers travel-related services like air ambulance, sightseeing tours, corporate events, etc.
BlueHeight Aviation is one of the best Chardham yatra companies in India that offer char Dham yatra packages at affordable prices. The company's char Dham yatra package includes all the expenses, such as accommodation, food, transportation, and guide fees. The company also arranges special char Dham yatra flights on demand.
Frequently Asked Questions
Is there any Limitation for Baggage in Chardham?
Yes! As you must travel via Helicopter for all the Dhams, a baggage weight of up to 2 kg in hand is allowed in the Helicopter per person, owing to the weight limits. You can keep the luggage at the respective hotels and bring the essentials to avoid last-minute hassles.
Is it possible to Complete Char Dham Yatra In 1 Day?
No, it takes a minimum of 5 Days to complete the Darshan of all the four Dhams. However, if you are short on time, you can consider a 2-Day Do Dham Yatra by Helicopter. It covers the two most important shrines - Kedarnath and Badrinath.
Are Discounts or Deals Available on Char Dham Yatra By Helicopter from Blueheight Aviation?
Yes! We offer the most competitive rates in the market and assured premium Chardham Yatra by helicopter services. Depending on your travel package, the discount rate varies. You can enjoy the early booking discount by paying the total amount when booking the Chardham Yatra by Helicopter.
How many refunds Can I expect in the event of Cancellation?
In the event of the Cancellation of Chardham Yatra due to some unforeseen circumstances by Blueheight Aviation, we assure to initiate the return of the entire amount you deposit at the time of booking. However, if you cancel the Yatra, only a prescribed amount shall be refundable based on the payment schedule.
Why is Blueheight Aviation the Best Aviation Company for Chardham Yatra By Helicopter?
With years of experience, Blueheight aviation is a pioneer for Chardham Yatra by Helicopter. We have served hundreds of clients with a beautiful experience of Chardham yatra. Our fleet of helicopters and experienced staff is equipped with end-to-end servicing to the devotees to make their Chardham yatra a memorable affair. We offer a complete package of food, accommodation, transportation, and helicopter services.
To Book a Customized Chardham Yatra by Helicopter Package, Call Us Now!
Your Private Charter Journey Starts Here
Subscribe and we'll send the best deals to you