Char Dham Tour Package By Helicopter From Mumbai (2023)

India's most eclectic city Mumbai is the capital city of India and the reigning place for Bollywood stars. The city is visited for its incredible British architecture, dazzling nightlife, historical relevance, and beaches. Famous places of worship like Sidhi Vinayak Mandir also draw devotees to pay tribute and seek blessings. And the excellent connectivity of Mumbai with Char Dham inspires them to extend their spiritual journey.
Chardham Yatra by Helicopter from Mumbai is one of the sought-after journeys that devotees wish to explore. It is an excellent escapade for Mumbaikars who want to take a break from the bustling city and dive into spirituality. After all, the Chardham yatra has so much to offer!
If you are a proud Mumbaikar who wants to go for Chardham Yatra By Helicopter from Mumbai, you are at the right spot.
Why Consider Chardham Yatra?
Chardham Yatra is considered highly auspicious in Hinduism. It is believed to be the religious duty of every Hindu to at least once complete the Chardham Yatra once in their lifetime. It is believed that visiting the Chardham Yatra helps you attain Moksha (breaking the vicious circle of birth and death). The yatra covers four holy sites: Badrinath, Kedarnath, Gangotri, and Yamunotri.
The yatra opens in April and ends in October/November. April and May are considered the best months to visit as the weather is pleasant.
While the traditional way of Chardham Yatra is by road, it is tiring and time-consuming too! Hence Chardham Yatra by Helicopter is the most convenient and shortest way to complete Chardham yatra.
Here is a detailed itinerary from BlueHeight Aviation:
Day 1: Mumbai to Dehradun
Both Direct and indirect flights are between Mumbai to Dehradun. Each day, about thirty-nine flights depart from Mumbai to Dehradun, out of which three are direct flights. It takes approximately two hours to reach Dehradun from Mumbai via the airway. If you're searching for a cost-effective alternative, think about traveling by train.
However, the journey by train is long and takes approximately 32 hours from Mumbai to Dehradun. When you reach Dehradun Railway Station/Airport, the representative will accompany you to your hotel in Dehradun.
Quick Itinerary
Mumbai to Dehradun
Night stay at Dehradun
Day 2: Dehradun to Yamunotri
This holiest Dham Yatra will start from the Dehradun to Kharsali Helipad (Yamunotri temple). The trek between Kharsali Helipad to the temple can be easily covered via trek on the road or over horses or a Palki.
The distance between the Kharsali helipad and the Yamunotri temple is just 6 km. Following the Darshan ceremony, the pilgrims will make their way back to Kharsali. Enjoy the famous hot springs of Yamunotri, known for their medicinal properties. You can also take a trip to Shani Mandir and Yamuna Mata Mandir in Kharsali. Sovernightight to rest and rejuvenate for the next day.
Quick Itinerary
Shastradhara to Kharsali Helipad
Visit Yamunotri temple via trek or horses or Palki
Night stay and sightseeing at Kharsali
Day 3: Yamunotri to Gangotri
Early morning, get ready to leave Kharsali and move towards Harsil Helipad. From Harsil, Blueheight will arrange a Cab to reach Gangotri temple. The distance is around 25 km, and it will take about 50 minutes to complete the trip. Harsil is a stunning valley with dense forests and stunning mountains.
Traveling along the valley, you'll see several stunning places to appreciate natural beauty. Make sure to capture photos to make your experience memorable in the future. Highlights include the Shiv Temple in Harsil, walking through the forest from Jhalla, and a short hike towards Chholmi Village. Stay overnight at the hotel and feast on a delectable meal sourced with local cuisine.
Quick Itinerary
Yamunotri to Gangotri via Helicopter
Darshan at Gangotri Temple
Sightseeing in Harsil
Day 4: Gangotri to Kedarnath
Check out early morning from the hotel at Harsil to reach the Sersi base. Shuttle service will be provided for guests to reach Kedarnath Dham after breakfast. It will take about 2 hours for Darshan at the Kedarnath temple.
Blueheight Aviation Crew will take you along for the Darshan at The Bhairo Mandir, Adi, and Shankaracharya Samadhi after visiting the Kedarnath temple. A soulful visit to Triyuginarayan Temple is worth treasuring. The place is widely regarded as the divine union of Lord Shiva and Goddess Parvati.
Quick Itinerary
Gangotri to Sersi Helipad
Darshan at Kedarnath temple
Sightseeing in Sersi
Day 5: Kedarnath to Badrinath
We will leave the Sersi base to reach Badrinath via Helicopter. Badrinath is considered to be the holy abode of Lord Vishnu. The temple is just 1 km from the helipad, and you can easily reach it by car. After a spiritual visit to Badrinath temple, you can enjoy the sightseeing in its surrounding areas. Mana Village is a popular tourist attraction since it is the only town in India. Then Mana Village, the Tibet frontier begins.
Quick Itinerary
Sersi Base to Badrinath
Soulful Darshan at Badrinath
Heritage Walk at Mana Village
Day 6: Return to Dehradun
It's time to return to Dehradun. We'll leave the Sersi to get to the Sahastradhara Helipad. While traveling, you will be mesmerized by the natural beauty. We'll fly over stunning forests that are thick and shady and see the confluence between five rivers, namely Vishnu Prayag, Nanda Prayag, Karna Prayag, Rudra Prayag as well as Dev Prayag.
After arriving in Dehradun, you can collect the luggage you dropped off at the Dehradun Hotel at the beginning of your journey.
Tour ends with unforgettable memories.
Quick Itinerary
From Badrinath to Dehradun, Drop off
Why is Blueheight Aviation the Best Charter helicopter Company for chardham yatra?
Blueheight Aviation is a pioneer Helicopter Charter company with years of relevant experience. We have catered more than 1000 yards with our premier Chardham Yatra by Helicopter. We provide a comprehensive Chardham yatra package, including hotel stay and transfers from respective hotels to Chardham. Our team of dedicated professionals is always ready to help you out. So, book your Chardham Yatra now and enjoy the journey.
Frequently Asked Questions
Q: What is the easiest way to reach Uttarakhand from Mumbai?
Ans: Jolly Grant Airport at Dehradun is considered the nearest airport for the Char Dham Yatra at Uttrakhand. The Chardham yatra begins from Shahastradhara Helipad in Dehradun. A representative from Blueheight aviation will escort you from Dehradun Airport to the Hotel for a complimentary overnight stay.
Q: Is there a direct flight between Mumbai and any city in Uttarakhand?
Yes! There are three direct flights available between Mumbai and Dehradun. It takes around 2 hours to reach Dehradun via direct flight.
Q: Is there a direct train from Mumbai to Uttrakhand?
DEHRADUN EXP is the direct train from Mumbai to Uttrakhand, covering a distance of 1355 km between the two places.
Q: When does the 4 Dham Yatra begin?
The Chardham Yatra begins in April on the auspicious day of Akshaya Tritiya.
So, what are you waiting for? Call Us Now to book your Chardham Yatra by Helicopter at competitive prices!
You Might Also Like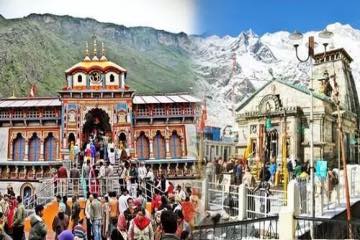 Your Private Charter Journey Starts Here
Subscribe and we'll send the best deals to you