Chardham Yatra By Helicopter from Kerala
Ranked among the ten paradises of the world by National Geographic travelers, Kerala is a popular tourist destination for its mesmerizing backwaters and varied demography. Also known as 'God's Own Country,' the stunning beauty of Kerala is worth exploring along with laid-back beaches.
It is a small southwestern coastal state in India that comprises 1% of the entire country's population. About 55% of the total population in Kerala accounts for Hindus, which is one of the prominent reasons why the city witnessed an outflow of hundreds of devotees towards Uttrakhand to undertake the Chardham Yatra.
According to Hindu Mythology, it is the religious duty of every Hindu to visit Chardham atleast once in their lifetime. The Char Dham Yatra is a circuit of four holy sites in Uttarakhand, comprising Yamunotri, Gangotri, Badrinath, and Kedarnath.
It is a circular route, and it is recommended that pilgrims follow the clockwise direction while traveling. While you can also consider going via road, the Chardham yatra by Helicopter is the most convenient way to cover the yatra.
If you are looking to cover the char Dham Yatra from Kerala, here is the brief itinerary:
Day 1: Kerala to Dehradun
You can board a train from Kerala to reach Dehradun. The train takes almost 2 days and 4 hours to complete the journey. The approximate distance between the two cities is around 2835 km. Blueheight recommends boarding a flight to Dehradun from Cochin. There are various direct flights from Cochin to Dehradun.
The aerial distance between Kochi and Kerela is around 54 kms, which takes almost 3 hours. Once you reach Dehradun, a Blueheight representative will assist you to the hotel for a complimentary stay.
Itinerary at Glance:
From Kereal to Dehradun
Overnight Hotel Stay at Dehradun
Day 2: Dehradun to Yamunotri
The sacred Dham Yatra is believed to start from the Dehradun to Kharsali Helipad, closest to the Yamunotri temple. The journey from Kharsali Helipad to the Yamunotri temple by riding on the back of a horse or riding on a Palki is simple. It's just a 3.5 km trek up to the shrine. After the Darshan, pilgrims will return to Kharsali. They can choose to explore Kharsali or head back to the hotel to rejuvenate themselves.
Itinerary at Glance:
Flying to Kharsali Helipad
Kharsali Helipad to the Yamunotri temple
Sightseeing and Night Stay at Kharsali.
Day 3: Yamunotri to Gangotri
Next day, you will head to the Kharsali helipad in the morning to reach Harsil - the nearest helipad to Gangotri. From Harsil, we'll drive to Gangotri temple for Darshan. The distance is approximately 30 kilometers, which takes almost 2 hours to reach. Harsil is a beautiful valley with thick forests and beautiful mountains.
While traveling through the valley, you'll discover various beautiful spots showcasing the iconic beauty of nature. Remember to take pictures that will make your visit unforgettable for the rest of your life. A restful overnight stay will gear you up for the next day.
Itinerary at Glance
Kharsali to Harsil
Harsil to Gangotri temple via car
Overnight stay at Harsil.
Day 4: Gangotri to Kedarnath
After Gangotri Darshan, the next Dham on the list will be Kedarnath. It is referred to as the holy abode of Lord Shiva. The guest will head to Sersi Helipad to board a helicopter to reach Kedarnath. A shuttle flight will be available to Kedarnath. It takes approximately 2 hours to complete the Darshan at Kedarnath temple. You will be escorted to the Bhairon Mandir and Adi Shankaracharya Samadhi.
Enjoy sightseeing at Triyuginarayan Mandir in the evening.
Itinerary at Glance
Sersi to Kedarnath
Soulful Darshan at Kedarnath
Sightseeing at Sersi
Have a restful stay at the hotel
Day 5: Kedarnath to Badrinath
The devotees will head to the Sersi base in the morning to reach Badrinath. You will be taken to the Badrinath temple for Darshan and Pooja in the afternoon via Car. Explore the hot springs at Badrinath. Reserve your evening for a trek to Mana Village, the last village on the Indian Border with Tibet.
Itinerary at Glance
Sersi to Badrinath
Darshan at Badrinath Temple
Sightseeing at Mana Village
Day 6: Back to Dehradun
Following breakfast, we'll take a flight back to Dehradun. As we travel, we can enjoy the stunning views of Uttarakhand from a Helicopter. The breath-taking images of confluences provide a feast for nature lovers. We fly over spectacular valleys of thick forests and the confluence of 5 rivers - Vishnu Prayag, Nanda Prayag, Karna Prayag, Rudra Prayag, and Dev Prayag.
Tour ends with lovely memories.
Itinerary at Glance
Badrinath to Dehradun Drop off
Why Consider Blueheight Aviation for Chardham Yatra By Helicopter?
Blueheight Aviation has provided char Dham yatra services to tourists for the last 10 years. Our pilots and crew members are well-trained and experienced in handling weather conditions.
We provide char Dham yatra service with complete safety measures and security.
We offer char Dham yatra packages, including accommodation, food, and travel arrangements.
Frequently Asked Question
What are the Darshan Timings at Badrinath Temple?
The darshan timings of Badrinath temple are in - Morning, from 4 AM to 12 PM. and In the Evening: from 3 PM to 9 PM.
Where to Stay In Gangotri? Are Rooms Easily Available?
There are many hotels in Gangotri for staying over. Chardham Yatra By Helicopter packages from BlueHeight Aviation are inclusive of the hotel stays. So, you can handle the hotel availability at any Dham. We have exclusive tie-ups with some of the best Hotels in all the Dhams to make your Yatra memorable.
When Does Chardham Yatra Begin and End?
Every year, Chardham Yatra begins in the month of April-May and continues till October/November. The doors of all the temples get closed around Diwali - considered the most auspicious festival of Hindus. After this, the region becomes inaccessible due to adverse climate conditions such as heavy snowfall and freezing temperatures.
Is Chardham Yatra Very Difficult?
No, Chardham Yatra By Helicopter is easy and hassle-free. Once, it used to be considered the most challenging yatra in the Himalayan region due to the trek involved. But over time, the facilities like palki and pony made these treks easier.
Time to dive into the holy spirits of Chardham Yatra By Helicopter with BlueHeight Aviation
Call Us Now!
You Might Also Like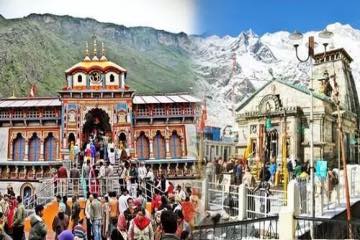 Your Private Charter Journey Starts Here
Subscribe and we'll send the best deals to you