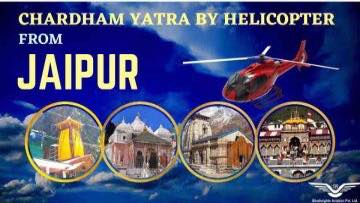 Chardham Tour Package By Helicopter from Jaipur (2023)
The Pink City of India – Jaipur, has always been a premium tourist destination for its enriched offerings of magnificent forts, temples, and enriching historical relevance. This capital city of the largest Indian State – Rajasthan, also witness the outflow of hundreds of devotees for the Char Dham Yatra.
Char Dham circuit is a pilgrimage site in the Uttarakhand state of India. The circuit consists of four holy places: Badrinath, Kedarnath, Gangotri, and Yamunotri. These four temples are considered sacred by Hindus. They believe these places are their holy god and goddess' abode.
Hinduism is the oldest religion in the world and originated in the Vedic period. This faith is also known as Sanatana Dharma or Eternal Religion. According to Hindu mythology, the three worlds, i.e., Earth, Heaven, and Hell, exist within the body of every human being. To attain salvation, one should perform penance (austerities) at least once in their lifetime.
It is firmly believed that visiting Chardham Yatra attains Moksha (freeing from the vicious circle of life and death).
What Are the Important Dhams covered in the Char Dham Circuits?
Four essential Dhams are covered in Char Dham Circuit in Uttrakhand as follows:
Badrinath: It is situated on the banks of the River Ganges near Rudraprayag town in the Chamoli district of Uttarakhand. It is believed that this place was visited by an avatar of Vishnu, Nar-Narayan, who performed penance here to attain moksha. Badrinath is known for its Badrinarayan Temple, which is also a significant part of the Do Dham Yatra.
Kedarnath: Located in the Garhwal Himalayan range, Kedarnath is the heavenly abode of Lord Shiva. Kedarnath temple is one of the holiest temples, which is also prominent among the 12 jyotirlingas dedicated to Lord Shiva. It is also one of the most important temples among Panch Cedars.
Gangotri: Gangotri is located in the Uttarkashi district of Uttarakhand. It is the source of river Bhagirathi, which flows through the plains of Uttarakhand and finally merges with the Alaknanda river at Deoprayag to form the River Ganga. King Bhagiratha meditated here to please the Goddess Ganga and clean away his ancestor's ashes.
Yamunotri: Located in the Uttarkashi district of Uttarakhand, it is believed to be the abode of the Holy River Yamuna. The source of river Yamuna is Champasar glacier which is just 1 km away from Yamunotri.,
How to Reach Chota Char Dham Circuit?
The Chota Char Dham circuit can be reached via road, rail, or Airway. Char Dham Yatra By Helicopter is one of the easiest and most convenient ways to visit Chardham. Premier Air Aviation companies, like Blueheight Aviation, offer char Dham tour packages at the most competitive prices.
A comprehensive 5D/6N package to Char Dham Yatra By Helicopter takes you on the unforgettable journey of Char Dham Yatra. You will experience the beauty of nature, culture, traditions, and spirituality of this region.
Chardham Yatra Itinerary From Jaipur
Here is the detailed itinerary for Chardham Yatra by Helicopter:
DAY 1: Jaipur - Delhi – Dehradun
It is easy to reach Delhi from Jaipur by hiring a private car, chartering a bus, or taking a flight. Jaipur has been the attraction for the cultural heritage of India and draws thousands of tourists every year to explore its glorious history.
The aerial distance between Delhi to Jaipur is 241 kms, while the road distance is around 267 kms. Once you reach Delhi, you can board another flight for Jolly Frant Airport in Dehradun to embark holy Chardham Yatra.
Day 2 Dehradun to Kharsali
Our trip to Char Dham begins with Yamunotri. In the morning hours, you'll get an excellent breakfast. You'll be geared up for the journey to Dehradun Helipad Sahastradhara. The Helicopter will arrive at Kharsali in less than 20 minutes. Following that, you'll be transported to your lodging.
After lunch, go to Yamunotri temple to witness the hot springs later in the afternoon. You can use either to walk or hire a horse, palki, or pony. The Shani temple is also on the way to returning to the hotel. Once you return to the hotel, it is time to relax and unwind.
Day 3 Kharsali to Harsil
The next day, Get ready to visit divine Gangotri Dham, a seat for the holy river Ganga. Harsil can be described as the Helipad to Gangotri Dham. We'll travel to Gangotri temple to bless with Darshan upon reaching Harsil. Along the way, you'll see the vast apple orchards and the incredible beauty of Himalayan paradise. It will take about 50 minutes to get to The Gangotri Temple by road.
Day 4: Harsil to Sersi
The next day starts with a delicious breakfast and then traveling towards Harsil Helipad to get to Sersi Helipad for the Kedarnath darshan. A shuttle flight will transport passengers toward Kedarnath Ji. It takes about 2 hours to perform Pooja at Kedarnath Ji. Kedarnath Ji is the holy residence home of Lord Shiva and is a significant part of Chota Char Dham.
Day 5: Sersi to Badrinath
The devotees leave for Badrinath after the breakfast meal in Sersi. When the Helicopter arrives in Badrinath, the devotees will be transported to the Badrinath temple by car. Mana village is among the most popular tourist destinations close to Badrinath. Mana village is also described as India's final village in India due to its proximity to the China border.
Day 6: Back To Dehradun
After visiting all four Dhams of this region, it's time to return with some beautiful memories. If you've purchased tickets for an event such as Maha Abhishek Puja, or Maha Abhishek Puja, you must be there between 4:30 and 6:30 in the early morning. We will leave the Badrinath at around 9 Am to reach the Shastradara helipad in Dehradun.
From there, you'll be transferred to the Dehradun hotel by taxi, which is where you will be able to collect your luggage from the hotel. Following that, the representative from Blueheight Aviation will transfer you to the closest airport or train station to take you to Delhi. Blueheight aviation will also help you book tickets for flights and helicopter charters between Dehradun to Delhi by the client's preference.
Frequently Asked Questions
Is There Any Medical Certificate Required For Chardham Yatra?
There is no formal fitness parameter for visiting Chardham Yatra if you are below 50. But you must trek from Yamunotri to Janki Chatti for about 6 kms. Hence, you need to be physically fit to complete the trek. Similarly, visiting high altitude Dhams like Kedarnath need an oxygen level of 87%-89%. The road yatra is a tricky proposition, and one needs to be physically active to complete the Chardham yatra.
However, Chardham Yatra by Helicopter is convenient and hassle-free. It is highly advised for older people and people traveling with kids due to its unparallel convenience.
If you are above 50, a medical fitness certificate is required.
Is Chardham Yatra Suitable for Heart Patients?
Yes! Chardham Yatra By Helicopter is safe for heart patients. However, if you are required to walk a long distance, it can cause some health hazards. Heart patients should avoid unnecessary fatigue, and hence they should opt for the yatra by Helicopter only.
What is VIP Darshan At Chardham Yatra?
VIP Darshan refers to the priority Darshan at Badrinath and Kedarnath, where you don't need to wait for long hours in queue for the Darshan. VIP darshan is usually clubbed in the Helicopter packages and thus offers unparallel convenience.
Why Blueheight Aviation is the Best Air Charter Company?
With more than a decade of experience in Air Aviation, we offer the industry leader in aviation services. We can guarantee the highest level of safety and security in Chardham Yatras via Helicopter. We provide customized plans for your Chardham Tour Package 2023 departing from Jaipur to meet your needs and budget. Our comprehensive Chardham service offers our customers the most enjoyable possible experience to ensure a pleasant travel experience.
For an ultimate Chardham Yatra experience, call us now!
You Might Also Like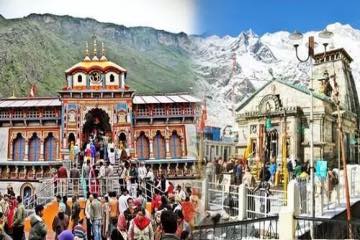 2N3D Helicopter Tour Package
110,000/ pax for charter

5N6D Helicopter Package
199,000/ pax for charter

Same Day Return
100,000/pax for charter

Same Day
85,000/pax for charter
Your Private Charter Journey Starts Here
Subscribe and we'll send the best deals to you