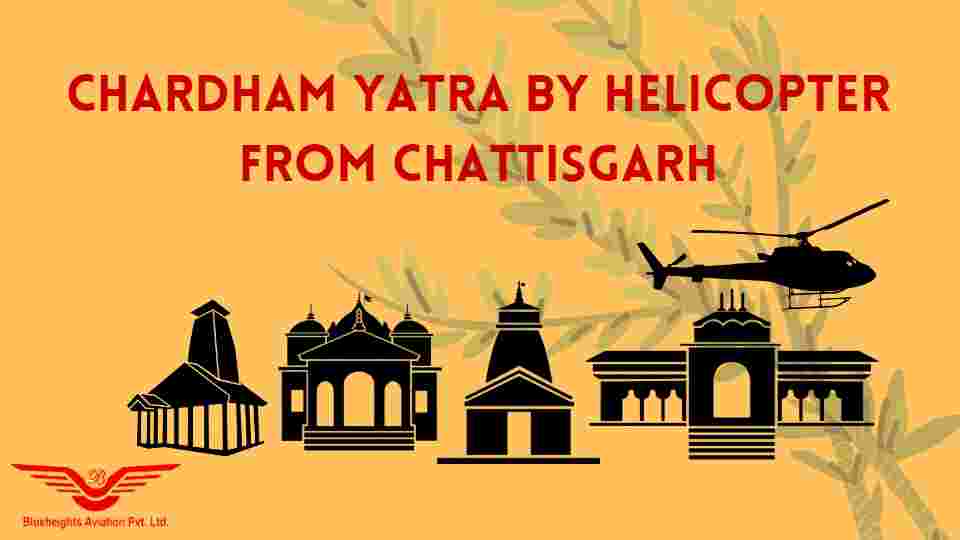 Chardham Yatra By Helicopter from Chattisgarh
The Chardham Yatra is one of India's most revered pilgrimage circuits, located in the Garhwal region of Uttarakhand. It consists of four temples - Kedarnath, Badrinath, Yamunotri and Gangotri - considered to be the spiritual sources of the four sacred rivers Ganga, Yamuna, Alaknanda and Mandakini. Thousands of devotees brave the harsh weather and treacherous mountain roads to visit these holy sites every year.
Adi Shankaracharya started the tradition of visiting these pilgrimages each year in the 8th century. He believed that a person who sees all four temples would attain moksha or liberation from the cycle of birth and death. The Chardham Yatra is thus an essential part of Hinduism as it provides an opportunity for devotees to seek blessings from God and gain spiritual enlightenment.
Chardham Yatra By Helicopter
Now, Chardham Yatra is easier and more convenient with Chardham Yatra helicopter packages by Blueheights Aviation. The helicopter journey begins from Sahastradhara in Dehradun and takes pilgrims to the four holy sites, each on one day.
Char Dham Yatra by Helicopter provides a safe and comfortable journey for the elderly and physically challenged pilgrims who may be unable to undertake the long trek. You can cover the Yatra in the shortest time and in the most convenient way via helicopter.
Chardham Yatra Helicopter services are all you need if you are aspiring to experience the spiritual beauty of these holy sites without enduring the long and arduous journey by road. It is the most convenient and safest way to seek blessings from God and gain spiritual enlightenment.
Itinerary for Chardham Yatra by Helicopter from Chattisgarh
Day 1: Chattisgarh to Dehradun
The journey from Chattisgarh to Dehradun takes about 26 hours to cover via Bundelkhand Expressway. It takes more than a day to complete the journey via train. The easier way to reach Dehradun is to board a flight from Raipur to reach Dehradun. There are 9 connecting flights available from Raipur. It takes around 2 hours to reach Dehradun.
You can also book a private charter flight with Blueheights aviation to reach Dehradun most conveniently. Once you reach Dehradun, our executive will escort you to the hotel for a complimentary overnight stay by Blueheights Aviation.
Day 2: Dehradun to Yamunotri
In the morning, it is time for you to check out of your hotel in Dehradun and make your way to the Shastradhara Helipad. From here, you will board a helicopter that will take you to the Kharsali Helipad in Yamunotri. Our representative will be waiting at the helipad to meet you before escorting you to your hotel in Kharsali. After taking a break, you can visit the majestic Yamunotri Temple for darshan, after which you are free to explore the quaint village of Kharsali. Your itinerary includes an overnight stay at Kharsali's hotel - all courtesy of Blueheights Aviation.
Day 3: Yamunotri to Gangotri
Kharsali Helipad is the embarkment point for your Chardham pilgrimage, and from there, you will board a helicopter to reach Harsil Helipad in the proximity of Gangotri. An ensuing fifty-minute ride will take you to the holy shrine at Gangotri. After paying homage to the temple, devotees can enjoy the scenery in Harsil. Returning to Harsil after worshipping, spend the evening there, followed by an overnight stay at a hotel.
Day 4: Gangotri to Kedarnath
Your next stop is the reverential Kedarnath, considered Lord Shiva's residence. Start from the Harsil Helipad in the morning and take a helicopter flight to the Sersi Helipad. Afterwards, transfer to Kedarnath Temple via shuttle for Darshan and pooja - you'll have about two hours allotted for the rituals. Later, I spent some time in Sersi and sightseeing at Triyuginarayan Mandir, where Lord Shiva and Goddess Parvati had their sacred nuptials.
Day 5: Kedarnath to Badrinath
Your Chardham journey concludes at the revered town of Badrinath, believed to be Lord Vishnu's abode. Your morning will begin with a helicopter ride from the Sersi Helipad to Badrinath. There, you can enjoy hot springs as well as a heritage walk through Mana Village.
Day 6: Return to Dehradun
Concluding your Chardham trip, you will sail from Badrinath and take a helicopter journey to the Sahastradhara Helipad in Dehradun. Our representative from Blueheight Aviation will move you to your chosen hotel in Dehradun, where you can gather your belongings. Afterwards, you can return to Chhattisgarh via train, plane or road. Alternatively, an overnight stay in Dehradun is offered at an extra cost.
What are the advantages of the Chardham Yatra by Helicopter?
Taking a helicopter for the Chardham Yatra is a fantastic experience that offers several advantages.
Firstly, it allows you to cover all four sacred destinations of Uttarakhand within a short period and without any hassles. The most obvious advantage is the speed and convenience which it provides.
Secondly, it provides an aerial view of the Himalayas and other mythical places associated with Hindu mythology. This incredible experience is something that passengers won't be able to match when travelling by traditional means of transport.
Thirdly, it ensures safety and security as helicopters are equipped with modern navigation systems that can be monitored from the ground.
Lastly, all Chardham Yatra helicopter packages include accommodation, transfers and other arrangements to offer a flawless journey experience.
Why is Blueheights Aviation the best in the industry?
Blueheights Aviation is the premier service provider for Chardham Yatra via helicopter. They offer seamless experiences, with access to user-friendly and cost-effective aerial tours.
With Blueheights as your travel partner, you'll be provided with a stress-free and safe journey to four of India's holiest shrines in Uttarakhand. Their team will provide you with round-the-clock customer support and personalized services that make your experience incredible.
The team at Blueheights ensures that their helicopters are well-maintained and held to the highest safety standards. Moreover, they have one of the most experienced teams of pilots who ensure that every flight is delivered on time and safely to your destination.
Our pricing packages are also highly competitive, giving customers the maximum value for their money when booking Chardham Yatra by helicopter via Blueheights Aviation.
Frequently Asked Questions
When is the best time to go on this pilgrimage?
Ans: Chardham Yatra opens only for 6 months, from April to November. The freezing weather of the Himalayas makes the region inaccessible for the rest of the year. The best time to visit Chardham is from April to June. The overall climate is present during this time. Towards the end of June, Chardham starts experiencing monsoons leading to landslides at times. Weather in September and October is chilly, with the possibility of snowfall towards the end of October.
Is the journey safe for senior citizens?
Ans: Chardham Yatra by Helicopter is highly safe for senior citizens. It is an arduous journey by road that takes a lot of strength and good fitness into account. But, if you are travelling via helicopter, it is the most convenient and quickest way to complete the Chardham yatra.
Is there any issue in finding accommodation at such heights?
Ans: No, there are enough hotels established in the state and the regions where you will be making your halt on the way to the pilgrimages. But, if you are visiting the sites in the peak season, you need to be proactive in booking your hotels in advance, or else you won't find a good place to stay. However, with Blueheights Aviation, you can handle your accommodation and transfers. We ensure the full arrangements to make your Chardham Yatra a memorable experience.
How To Book Chardham Yatra By Helicopter?
It is effortless to book Chardham Yatra by helicopter with Blueheights Aviation. You can give us a call +91-9999-50-6969 or send us an email. chardham@blueheightaviation.com, mentioning your suitable dates for travel and any other (specific) requirements. We promise to arrange a memorable Chardham Yatra to make it a life-long cherishing experience.
We also provide customized Chardham Yatra by Helicopter tours matching your requirements. Call us now to avail the most competitive packages for Chardham Yatra by Helicopter.
Your Private Charter Journey Starts Here
Subscribe and we'll send the best deals to you